Video: Chicago Band Leadfoot Takes On Ween @ Harte's 10/27/12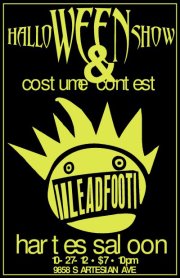 Not sure how this show slipped under my radar, considering I had previewed dozens of shows from all over Chicagoland over Halloween weekend.  But rest assured, we'll be keeping closer tabs on Leadfoot and the happenings at Harte's in Evergreen Park in the future.
On Saturday, October 27th, the Chicago jamgrass outfit dedicated the entirety of their second set to the music of Ween.  You might expect a heavy dose of 12 Country Greats -- and those tunes are well represented -- but they do a fair job at tackling tunes from throughout the catalog (and don't bother going for the "hits" like "Push The Little Daisies" or "Roses Are Free") with the help of Jim Cole on keyboards.  All in all, this show is a pretty ambitious and impressive statement from a band that ably fuses some of the more eclectic and experimental touches of a band like Ween with traditional sounds and acoustic instrumentation.
Here's the setlist for the Ween set.  Full video of this set and the originals leaning first set are embedded below.
The Mollusk, Bananas & Blow, Buenos Tardes Amigo, I'm Holding You, Japanese Cowboy, Piss Up A Rope, I Don't Want To Leave You On The Farm, Pretty Girl, Mr. Richard Smoker, Powder Blue, Help Me Scrape The Mucus From My Brain, You Were The Fool, I'll Be Your Johnny On The Spot, Polka Dot Tail, Booze Me Up And Get Me High, What Deaner Was Talking About, Waving My Dick In The Wind, Pumpin' 4 The Man
The first set...