Stream or Download: Lou Reed @ Skyline Stage 6/15/03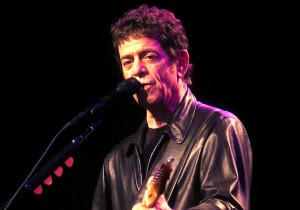 Photo via Chicagotribune.com - Lou Reed 6/15/2003
We never did give Lou Reed a proper eulogy here on the site, but I guess it's only fitting since his is the sort of presence that hovers around a lot of the music featured here, but is never quite front in and center.  Best way I can give him the spotlight here is by showcasing this interesting Chicago gig from one of his last tours through the area.  The 2003 jaunt found him, of all places, at Navy Pier's Skyline Stage, and his comments from stage give us an indication of place and time.  An interesting monologue in "Sweet Jane" give insight onto how to build a career out of three chords.  For more insight into this jaunt, check out Jim DeRogatis' piece written immediately after the performance.
 "How Do You Think It Feels" from the 1973 concept album "Berlin" was a haunting tour de force. The title track of 1978's "Street Hassle" was a chilling William S. Burroughs-inspired monologue about a drug overdose that benefitted from the wall of sawing strings. "The Day John Kennedy Died," a sleeper from 1982's "The Blue Mask," found Reed recalling that fateful day in November 1963 from his perspective as a student at Syracuse University. And the Velvet Under-ground was well-represented with some surprising choices, including a revved-up version of "All Tomorrow's Parties" and a lovely reading of the idyllic "Sunday Morning."
Yes, the setlist grabs a bit from everywhere in Reed's famous career.  Although unheard, can you feel the presence of Reed's Tai Chi instructor, Master Ren Guangyi, who performed during portions of the show?
LOU REED, vocals, electric and acoustic guitar
MIKE RATHKE, electric and acoustic guitar
FERNANDO SAUNDERS, electric and acoustic bass
JANE SCARPANTONI, cello
ANTONY, vocals
REN GUANGYI, Tai-Chi perfomances
The Stream
[box type="download"]Download Entire Set[/box]