Stream Or Download | Pat Metheny Group @ The Vic 11/29/87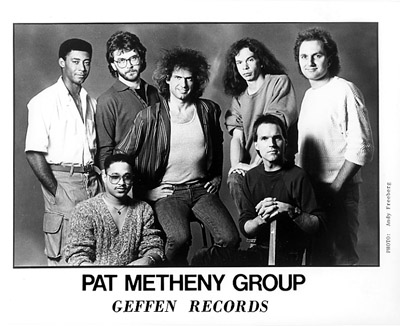 Pat Metheny Group was arguably at a high point of their long-running career in 1987.
With the release of Still Life (Talking), the band continued to incorporate Brazilian influence into their mix of soft, harmonic jazz-fusion. The tour found the band at The Vic in November, which was fortunately recorded by XRT.
The set reaches back to earlier eighties releases such as Full Circle and Offramp while still included a handful of Still Life tracks, including the renowned "Minuano (Six Eight)."
Accompanied by six additional musicians, Metheny leads his band through a variety of textures within each song. With drummer Paul Wertico joined by Brazillian percussionist Armando Marçal,each track is built atop a complex layer of rhythmic percussion. Vocals by David Blamires and Mark Ledford match melodies on guitar and piano, creating thick harmonies and additional melodies along the way.
As one would expect, the musicianship is top-notch, with each part performed with impeccable precision. Yet the strength of the show really comes from the band's ability to work together cohesively to accomplish the ambitious tone set by each song.
From the vocal-led, spacey sections of "Last Train Home" to the soft piano and guitar duet of "Letter From Home" to the absolutely spastic jazz of "Third Wind," the band pushes the boundaries of jazz-fusion without losing sight of their accomplished sound.
A high quality recording from a talented band at the top of their game, this is a must hear for fusion fans.
The Stream
[box type="download"]Download Entire Show (mp3 .zip)[/box]
Pat Metheny Group:
Pat Metheny - Guitar
Lyle Mays – Piano
Steve Rodby - Bass
Paul Wertico – Drums
David Blamires - Vocals
Mark Ledford – Multi-instrumentalist, Vocals
Armando Marçal – Percussion, Vocals