Stream or Download: Sun Ra Arkestra @ Jazz Showcase 9/8/74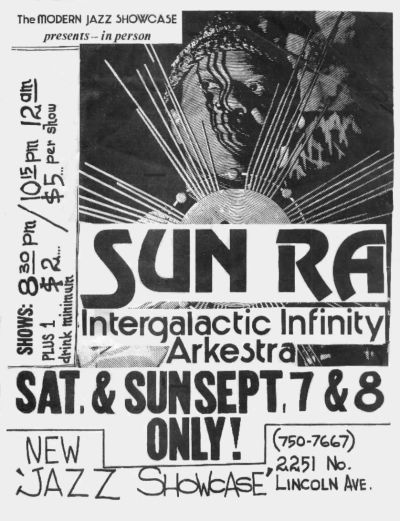 Sun Ra, an eclectic and beyond-prolific musician, has deep roots in Chicago -- his tenure in the city during the 1960s led to some of his best recordings.
Yet shortly after moving from Chicago Sun Ra became significantly more experimental, with larger percussion sections, longer improvisation and a wider use of electronic technology
This brings us to Sun Ra's 1974 performance at Chicago's Jazz Showcase, a club that opened in 1947 and a perfectly fitting venue for the wild performer.
"Images" begins the show with Sun Ra's piano skills in the forefront, working his way up and down the keys with frantic, free-jazz energy. Then his Arkestra kicks in, horns and percussion breaking into the song in a Mingus-esque explosion of sound.
This energetic feel remains for the next seven minutes, with splashing drums and a left-field trumpet solo working hard to sound like no other jazz musician of the day.
Sun Ra's skills are top notch throughout the performance, his solos exemplifying his ability to change styles and moods to fit any composition. "Somewhere Else" stands as an obvious highlight, giving every musician a chance to shine throughout its 20-minute runtime.
The songs shift drastically in sections, never lingering in one creative space too long. Vocals finally appear in "Outer Spaceways Incorporated."
The show contains eight songs in roughly an hour, a testament to the kind of free-jazz improvisation Sun Ra was into at the time, reliant largely on dynamics and musical emotion, the latter being simply undeniable.
A warm recording from a spacey jazz great playing without restraint in an old hometown, this is a recording worth your time.
- Alex Wood
The Stream
[box type="download"]Download Entire Set[/box]