The 21 Greatest Halloween Concerts Of All Time
Any day with great music is like a holiday, but there are certain days on the calendar that make the live music experience even more celebratory. Even without music, the transformation that occurs in late autumn takes on a surreal, ominous tone, it's no wonder that ancient societies create myth and ritual that mirrored the dwindling sunlight and sudden chill.
And as always, music is right there to capture the spirit of the season -- evoking pageantry and wonder -- with bands dressing up both musically and physically for the occasion. Halloween is a day when music freaks have an excuse to get just a bit more freaky, and bands step up to goad them along. Occurring in the heart of the fall touring season, it's the one holiday that more-often-than-not finds bands hitting their stride on the road, playing shows in more intimate indoor environments.
With this in mind, I've set out to inventory the 21 greatest Halloween concerts ever performed. In doing so, I set up a few ground rules:
No band could make the list more than once. Other significant shows by the same artist are listed as Honorable Mention
The show had to happen on October 31st. I know some bands declare that their official Halloween show falls anywhere from the 26th to the 30th if it happens to be more weekend friendly, but if it didn't happen on Halloween, it's disqualified.
Elements that went into The Barn's top secret ranking formula: significance in the band's career, quality of the music (originals and covers) performed, holiday spirit, other Halloween goodness (costumes, location, theme).
In most cases, I've included a link in the heading to view the setlist and listen to the entire show.  Select highlights are provided in line for your listening pleasure.
21. Backyard Tire Fire 10/31/09 - Coconut Louie's - Bloomington, IL
Before going into hibernation, I don't think Backyard Tire Fire ever truly got the recognition they deserved. For a small band, they thought big and had high aspirations. The 2009 show from their hometown of Bloomington is perfect example. While most bands save their Halloween shenanigans for the second set, BTF comes out swinging with a blistering run through of the Stones' Some Girls album, even nailing the Jagger country honk twang on "Far Away Eyes" and Keith Richards snarl on "Before They Make Me Run" for an unfairly small crowd.
20. Little Feat - 10/31/75 - Orpheum Theater - Boston, MA
Let's face it, Halloween in the '70s was a different animal, but this show gets the nod in the number twenty slot because of its staying power and symbolism. Recorded at arguably the absolute peak of Feat's musical prowess, broadcast to the masses via radio and available nearly instantly in some kind of high quality bootleg format ever since. It's a near perfect boot and a fine Halloween concert, it features all the customary mid-period Feat hits and a couple others that Waiting For Columbus fans may be unfamiliar with.
19. The Motet - 10/31/08- Cervantes Masterpiece Ballroom - Denver, CO
It was probably inevitable that The Motet tackled Talking Heads at some point -- sharing a mutual love of world rhythms and off kilter funk. This Halloween performance plays like a greatest hits set, and features String Cheese Incident's Kyle Hollingsworth on additional keys. Some of the jams are nice and juicy, adding a dimension to the live sound that the Talking Heads only flirted with.
Honorable mention:
The Motet's Funk Is Dead 10/31/11
18. Smashing Pumpkins 10/31/08 - Newport Music Hall - Columbus, OH
A sense of humor and playfulness is often associated with bands who make a big deal of their Halloween shows, not typically attributes one assigns to Smashing Pumpkins. But, it's great to see Billy Corgan and the '08 Pumpkins assume the dress up role for this concert. A parade of covers, including first time playeds like "Louie Louie" and "Hang-on Sloopy" find their way into the set. I particularly like the thematically appropriate "Monster Mash" and dead-serious take on Kenny Rogers' "The Gambler". For good measure, Rush, Airplane and The Nuge are all teased in the set closer.
17. String Cheese Incident 10/31/00 - State Theater - Portland, ME
The wild and opposing forces that co-exist within SCI essentially tore the band apart. From 2001 and on, it sent them down some weird paths, and Halloween was no exception, producing wildly inconsistent and questionable cover choices, and *ahem* even stranger band costumes.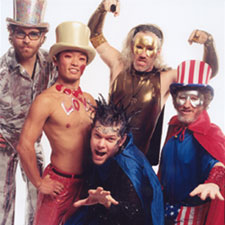 But in 2000, they were definitely one of the best things going. Even their humble, democratic approach to choosing Halloween covers was just-exactly perfect. With each band member selecting a song during an encore "mini-set". Choices were all good, especially "The Wedge" coming a few weeks after Phish hung it up and announced an indefinite hiatus. I loved the nod then and it stands as a fine summary of what SCI was capable of before things went to shit.
16. Aquarium Rescue Unit 10/31/92 - W.o.W. Hall - Eugene, OR
While there's nothing particularly Halloween-y about this show, the fact that it's the goddamn ARU, with all original members (including the elusive mandolinist Matt Mundy), on Halloween night in the heart of freak-ville (Eugene, OR) qualifies it for #16 with a bullet. From the opening "Compared To What" to the show-stopping "Elevator To The Moon", this unparalleled raw collection of talent with a leader that was dropped of on this planet from world's unknown, makes this a holiday to remember.
15. Steve Kimock Band 10/31/05 - Mexicali Blues - Teaneck, NJ
Steve Kimock plays and carries himself with an almost devout seriousness. Just about the last artist you'd think of when it comes to mixing it up with off-the-wall covers and Halloween treats. Granted, most of this show flows like a typical Kimock show, and the "Five B4 Funk" and "Why Can't We All Just Samba?" here are just as glorious with Robert Walter and Reed Mathis as they usually are. But its a bouncing reggae-ish take on The Police's "Spirits In The Material World" and uber-drummer Rodney Holmes taking a vocal (!) on Rush's Tom Sawyer which totally elevate this show. Though Hendrix' "Little Wing" is part of the Kimock canon, I don't think anybody was complaining about it's inclusion here to close the show.
14. Jerry Garcia Band - 10/31/87 - Lunt Fontaine Theater - New York, NY
Jerry on Broadway. If there was anything remotely Halloween-like about this show (save for the "Werewolves Of London") it would have rocketed to the top of the list. As it stands, Jerry leads both an acoustic an electric band through 40 different songs in four sets across two ticketed shows (a matinee and an evening performance) with nary a repeat. In the heart of Times Square, on Halloween night, I'm guessing this music ripped a serious hole in the fabric between our world and the spirit realm. It is no wonder that every note was captured and released commercially as a part of the Pure Jerry series.
How bout some JG covering Van Morrison?
13. Perpetual Groove 10/31/08 - Freebird Live - Jacksonville Beach, FL
Most bands work in a handful of covers or even dedicate a set to covers, some will even don costumes for the occasion (which may or may not tie into the musical theme), but let's give P-Groove their due, they went full bore for three whole sets on Halloween night 2008 in Florida. The first set featured special guests Michael Blair, Gary Paulo and Heather Perry -- configuring the entire band into Lazy D & The Recliners -- a top flight funk and soul cover band who can roll out credible version of Bobby Womack's "Across 110th Street". Awesome.
In set two, they emerged as the The All Valley All-Stars, with Adam Perry as Daniel LaRusso and the rest of the band as student of the Cobra Kai dojo, dropping Karate Kid samples throughout the set before bringing down the house with the KK jock-rock classic "You're The Best" to close. But there were jams to be had in set three (and another costume change... this time as the iconic skeletons the Cobra Kai wore in the film) with at 20+ minute "Teakwood Betz" and creepy riff filled "Three Weeks" to send the Halloween crowd off.
12. Karl Denson's Tiny Universe 10/31/09 - Bowery Ballroom - New York, NY
Michael Jackson is often dismissed as lightweight or associated with some of his more unsavory personal peccadilloes. But leave it to Karl Denson to set aside preconceptions and just deliver an unforgettable set, interspersing the King Of Pop's tunes with his own on a Halloween night in New York City. This is straight up funky goods all night long.  "Don't Stop Til You Get Enough" has always been at the top of my MJ list, and KD and friends do it justice.
11. Leftover Salmon 10/31/97 - Fox Theater - Boulder, CO
Yes, shit gets crazy at Salmon shows. Nobody denies this. Here's some old school Salmon where they were young, hungry and playing on their home Colorado turf. Open the second set with Stones medley? Yup. A Monkees sandwich? Uh-huh. Two different takes on "We're Fucked Up"? Why the hell not! This is a festival, with even more teasing and segueing than normal across the 4 dozen or so different tracks that get a run on an rollicking Halloween night.
10. Gov't Mule 10/31/08 - Orpheum Theater - Boston, MA
What the heck was in the air on Halloween 2008? This is the fourth show which makes the list from that year. Thirty three years after Little Feat dropped a Halloween classic at the Orpheum, Mule decides to show the Beantown crowd what's what. Where's my Mule? They're in Boston cranking out a set long medley of Pink Floyd that spanned career highlights as well as any pro Floyd cover band on the planet. Sure, bring in some guest vocalists and sax player, too -- all the better to supplement Warren and friends on this night. But my favorite track has got to be the set opening "One Of These Days", which is just the power foursome. Excellent.
9. Phil Lesh & Friends 10/31/07 - Nokia Theater - New York, NY
Twenty years after his GD brother Jerry stormed Times Square on Halloween, Phil looks to finish the job of contacting the spirit world. To help his cause, Phil reaches for the spookiest setlist he could crank out, treating the NYC crowd to no fewer than 8 (five of them first time played) songs tied to the occult, devil or horror themes and even conducting a reading of Edgar Allen Poe's "Pit & The Pendulum".  I'm a sucker for the Phil bombs that populate the cover of Phish's "Story Of the Ghost".
He thought so much of the performance, Lesh released the whole thing in a pristine quality soundboard for fans for free. Go get it at archive.org.
7. Umphrey's McGee 10/31/10 - The Pageant - St. Louis, MO
The guys in Umphrey's are nothing if not innovators. They attempt an awful lot of things to see what sticks, from improv-only sets to taking fan direction via text messages to hosting their own summer camp retreat.  One of the most intriguing is the concept of covering, and inventing, musical mash-ups for their Halloween gigs.
It is a testament to the talent of the band that listening to these inspire truly WTF moments -- it is a can't-believe-your-ears experience. This particular gig is on record as guitarist Brendan Bayliss' favorite and includes mashed up covers with their own material (Guns N Roses' "November Rain" + "Cemetery Walk", The Verve's "Bittersweet Symphony" + "Hajimemashite"), pop chestnuts (Tears for Fears' "Everybody Wants to Rule the World" + Michael Jackson's "The Way You Make Me Feel"), and modern rock and classic rock (Phoenix's "1901" and Van Halen's "Jump").
But, the piece de resistance was the seamless blend of  Journey's "Don't Stop Believing" and Rush's "Spirit Of The Radio" -- two songs that are so remarkably similar that the lines between them just seemed to evaporate.

And yes, the band was dressed in their own mashup costumes: G.I. Joakim Noah (Farag), Yoko Bono (Bayless), Paul Stanley Cup (Cinninger), Pope John Paul Shaffer (Cummins), Larry David Letterman (Myers), and Dr. Evel Knievel (Stasik).
6. Frank Zappa - 10/31/78 - The Palladium - New York City, NY
Halloween in New York City was a Zappa tradition (he played 20 times on the holiday), but the '78 show was perhaps the longest (and greatest?) Frank show ever.  Don't take it from me.  Here are some comments by Richard Harrold, a fine Zappa blogger.
This concert had some serious head-banging heavy metal guitar solos that stimulate your entire body with scintillating current; you will hear the magical musicianship of the band as it displays complete mastery of some of Zappa's most difficult material; you will be awed by Denny Walley's super sweet and melodious slide guitar delivered with a Delta blues fingerprint so implacable and delicious that it's like a savory sweet potato pie; and the interplay between L. Shankar's electric violin and Zappa's guitar approaches the mystical.
With 38 songs, staples and rarities alike, and clocking in at almost four hours, there is something here for every Zappa fan.  I'm sure the freak show was out in full force this evening.
Parts of this was official released by the Zappa family as a DVD-A entitled Halloween, but you can download this set from Guitars 101.
5. moe. 10/31/09 -Washington Avenue Armory - Albany, NY
moe. often "went big" in Halloween shows, setting up whole themes with set decoration, themed covers and antics that spanned iconic topics such as The Simpsons or Wizard Of Oz. But by 2009, they came up with a so-crazy-it-just-might-work concept of just straight up asking fans to vote on a setlist.  The top vote getters would get played -- simple as that.
The result of which was brain-popping mix of long lost moe. tunes ("Farmer Ben"), the big heavy hitters("Rebubula", "meat"), explicit nods to jambands ("Dark Star", "Stash") and classic rockers (an "Echoes" sandwich), and out-of-leftfield choices like Miley Cyrus and Tenacious D covers. It was a one of a kind, interactive experience that I'm sure many in the room and participating in the various campaigns to get these songs played won't ever forget.
4. Benevento Russo Duo > Bustle In Your Hedgerow 10/31/04 - The Funk Box - Baltimore, MD
Imagine a Halloween experience so profound that it births an entirely new band. After playing a set as The Duo, Marco Benevento and Joe Russo invited Scott Metzger and Dave Dreiwitz for a second set of Zeppelin covers so intense that it couldn't be contained within a single show.
Offering cover choices which span the storied history of the band, the foursome (since christened Bustle In Your Hedgerow) funnels their love of the source material into every note they play.  Benevento whipping up Plant's vocal lines on the organ, Russo slapping skins like with the spirit of Bonham -- they play suitable homage to the songbook, and also transform it.  But the musicians also lend a bit of their jazz sensibilities to the mix -- with an infusion of improv, delicious segues and some nasty funk.  These guys felt such a connection with the music, and the audience response was so great, that it became a semi permanent band, forming for festival gigs or short tours whenever the band members schedules have allowed in the 8 years since.
3. Grateful Dead 10/31/91 - Oakland-Alameda County Coliseum - Oakland, CA
Having played the date only 13 times over their 30 year career, The Dead celebrated Halloween the old fashioned way, by terrifying the fuck out of people. My guess is that more than a few attendees at the 1991 gig lost their shit during the "Dark Star" in the second set.
The show is rounded out with a amped up first set, which opens with "Help > Slip > Franklin's" and closes with "Let It Grow". Coming at the tail end of the Bruce Hornsby era, this show has all the hallmarks of his time with the band -- adventurous setlist choices, subtle jams and teases (we get the first glimpse of the "Dark Star" during "Spoonful"), and all sorts piano poking and prodding for Jerry to react to.
But things don't get truly weird until the aforementioned "Dark Star".  After the intro, this beast of a version morphs into a downright menacing jam to accompany the entry of Ken Kesey to the stage.  Kesey then delivers a spooky dual eulogy for both his son and the recently deceased Bill Graham.  Quoting / paraphrasing poet e.e. cummings, he lays on a truly psychedelic sheen to the proceedings, admonishing... "In any given situation there's always going to be more dumb people than smart people. We ain't winning!" and "What I really want to know is... how do you like your blue eyed boy now Mr Death?".  Terrifying.
The band closes the show with "Werewolves" (for good measure).
 Honorable Mentions: This was a tough call, with some awesome compeition.  10/31/71 was released as Dick's Picks Volume 2 has a magnificent "Dark Star". The 1980 Halloween gig at Radio City Music Hall features three sets, including an acoustic set, and is available as a pro-shot video.
2. Widespread Panic 10/31/98 - UNO Lakefront Arena - New Orleans, LA
Widespread Panic. New Orleans. Halloween. The band has played many places for the holiday, but no other city is so synonymous with the celebration. This was the first time the band invited friends Dirty Dozen Brass Band to the party and together they delivered a second set that will certainly hold up as one of the greatest of their career.
But let's not forget about the first set, opening with a rocking superfecta of "One Arm Steve", "Fishwater" an absolutely huge "Diner" and "Porch Song".  Continuing what was at the time an uninterrupted streak of Halloween Doors covers, they offer the one that even the most jaded Doors-hater will have to tap his feet to, "Peace Frog", and follow it up with a "Pusherman" with another nice jam.
But like most Panic shows, the real fireworks occurred in the second set.  Never before has "blow the roof off" have been such an appropriate metaphor -- with 13 musicians contributing to an immense rumble of sound that rolled along with purpose and power. Together, these two bands showed the People why NOLA is the home of funk.  Starting with Talking Heads "Swamp", a nice nod to the region's geography and one of Talking Heads' funkiest tunes, they dive right into the deep end.  Next, they continue the Panic tradition of taking a relatively unknown cover and absolutely owning it, blasting through Funkadelic's "Red Hot Mama", but wait... is that..? YES!  Stevie Wonder's "Superstition" pokes its dance party inducing head out from deep in the funk, complete with Halloween imagery ("When you believe in things that you don't understand...then you suffer") and oh so many pockets for horn breakdowns.  Some Jimi teases take us into the drum break, while "Climb To Safety" gets its proper coming out party on the flip side.  Few realized just how huge this tune could be at the time, but slotted in the right place and delivered like this, it snatched its rightful place in the pantheon of Panic jams at that moment.
A "Driving Song" encore always portends good things... but going Zeppelin after the dose of funk delivered at the start of the second set was exactly the right call.  This show set the standard for WSP Halloween gigs in the future.
Honorable Mention: 10/31/01 CHICAGO! (Zappa's "Joe's Garage", Temptations' "Ball Of Confusion" again with DDBB, Neil's "Cortez The Killer"), from the Jimmy Herring era 10/31/08 (Stones, Credence, Aerosmith...oh yeah!)
1. Phish 10/31/94 - Glens Falls Civic Center - Glens Falls, NY
You'll have noticed that the majority of entries on this list from the late nineties and beyond. That's because Phish essentially CHANGED THE GAME with their Halloween 1994 performance.  By the time Halloween had rolled around, they were 94 shows into a touring year which had seen them cross the country several times and play some of the most brilliant music of their career.  They coined the term "musical costume" as they engaged with fans to vote for a full album's worth of material.  Still, there were limited clues as to how exactly this would go down until they stepped on to the stage in Glens Falls, NY on Halloween night.
"Frankenstein" kicks the Halloween party off, before getting to versions of "Simple", "Reba" and yes even "Divided Sky" for the ages.  While "Harpua" wasn't quite the rarity in '94 as it is today, using its narration as a set centerpiece, including misdirection regarding the cover album and holiday-inspired storytelling, was a perfect choice, and finds Trey at his most lucid.
I've recently seen the second set described dismissively as "A long nice set of Beatles covers. Nothing more, nothing less".  While it may not have not achieved the same improvisational glory as the costumes of subsequent years -- ignoring the psychic connection that Phish forged with The Beatles in this context wouldn't be fair.  Forced to reach deep into several styles of music, using some of the self analysis they would eschew in later days, I argue that it made them as aware of what it means to be a "great" band than any other exercise.
Perhaps one of the only bands who could so confidently reproduce such a sprawling and ambitious album on stage, Phish shattered boundaries and pushed their their career long anything-is-possible theme forward a few steps. In a sense, it was an acknowledgement of their boundless technical prowess and even growing popularity -- a signal from a band on the rise.  They even managed to put some Phishy touches on these tunes, too: spreading lead vocals around, delivering a bluegrassy take on "Don't Pass Me By" and a dissonant jam in "Helter Skelter".  Then there's the "Revolution 9" spectacle, accompanied via vacuum cleaner, crash cymbals, and grand piano and culminating with a nude Fishman prancing through soap bubbles emitted from the stage.
What's more, the band is back with another whole set.  Bookended by "David Bowie" and "Antelope", songs that were entering their peak years during this performance.  With this one show, the bar had been raised.  The gauntlet had been thrown.  While other Phish Halloween shows have produced unforgettable music and performance challenges, this is the one that opened the floodgates.  It assured fans that Halloween was a date to circle on the calendar and put other bands on notice.  Halloween was a time to go big, put in hours of practice, maybe invest some money to craft a one-of-a-kind experience and connection with your fans.
Have you noticed that the very notion of Halloween itself has taken on a greater prominence in American culture since the mid-nineties.  Coincidence?
Honorable Mentions:  Really every Phish Halloween, since each one brings something new and memorable to the fold.  Ranking is nearly impossible.
Amazingly, the full video from this night is actually very watchable and available on youtube.