The Barn Presents Melvin Seals, Terrapin Flyer and Friends @ Brixies, June 17, 2011
The Barn is pleased to announce our next HUGE live music event, and we're just bursting with pride at the talent that we are bringing to the Western 'burbs.
For 15 years, Melvin Seals traded licks with Jerry Garcia in the Jerry Garcia Band, contributing to some of the most moving, inspirational and soulful output of Jerry's legendary career.  For one night only (June 17th), The Barn presents Melvin's only Chicagoland appearance at Brixie's in Brookfield.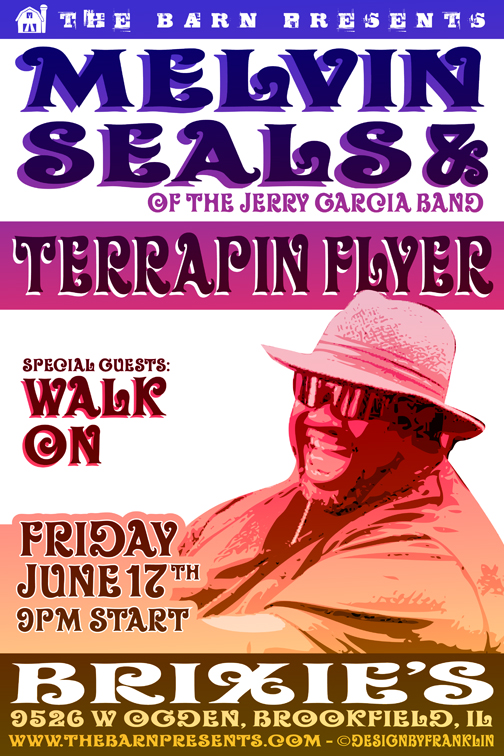 Tapping into the root of the American musical experience, the Jerry Garcia Band was Jerry's outlet for jazz and pop standards, gospel, R&B and his original tunes that were crafted from this mold, and starting in 1980 Melvin was with him every step of the way.  Melvin's organ playing added a distinctive voice, its majestic swells  and joyful romps adding an element which gave the music its sacred rarefied air. Deadheads had a saying:  "The Grateful Dead was like the circus but the Jerry Band was like church."
On Friday, June 17th Melvin kicks off a tour with Terrapin Flyer at Brixie's in Brookfield.  Starting in 1999, Terrapin Flyer held down the Sunday night residency at the old Boulevard Cafe in Logan Square and remains a potent force in the Chicagoland Deadhead community.  These guys live and breathe the music of Jerry Garcia and will provide Melvin with the foundation to explore, while extending and interpreting the catalog in the style which Jerry made beloved.  Joining Melvin and Terrapin on this night will be Jimmy Tebeau, bassist from JGB and The Schwag and all-around raconteur, and the remarkably talented Dave Hebert, of the Phoenix band Xtra Ticket.
Walk On opens the show at around 9:00 p.m.  Gear up for two big sets of Melvin with local guitarist Dan Kahn channeling Clapton, SRV and all things funky and bluesy with the total pros in Walk On, gigging in support of their forthcoming CD "Lucky Stars".
Tickets will be on sale soon, so check back to tomorrowsverse.com  for more information and for a ton of great web content regarding Melvin, Jerry Garcia, Terrapin Flyer, and Walk On in the weeks before this event.