The Barn's 2012 Holiday Mix - The Jamband Trilogy Concludes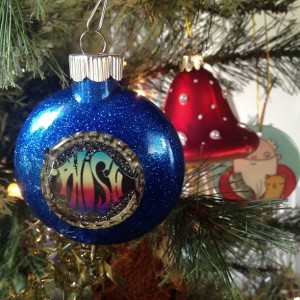 In 2010, when I first conceived of a holiday mix tape, the concept seemed like fertile ground -- there were a number of much celebrated holiday takes from my favorite jambands, and all I had to do was  assemble them.  The playlist just sort of fell together
A few leftover tracks turned into the seed for the 2011 mix, which took one step out of the jam world. while maintaining the spirit of the original.
The intent was to be the antidote to "bah humbug" -- proving you can get into holiday spirit without having to compromise what you listen to. But this year, in doing research for a follow-up, it became clear that just because a great band is playing a Christmas song, doesn't mean that it transcends insipid holiday mush. Trying to find good stuff while attempting to minimally repeat artists and songs meant the list of qualified candidates would narrow.
What you'll find on the 2012 mix are some mellower tunes and quirky picks, I've leaned a bit harder on original Christmas tunes than classics, and tried to anchor the whole thing on few huge jams.  It being the third in the series, it felt right to call this a trilogy and treat this installment as the epic conclusion, so I took a few liberties and went big.
If and when this feature returns in 2013 it will have a different look.  So for now, dive into The Barn's 2013 Holiday Mix!
The Stream
[box type="download"]Download entire mix (.zip mp3)[/box]
Here's what you're listening to:
Brendan Bayliss and Jake Cinninger of Umphrey's McGee have done a Chicago charity holiday show for a decade, so they've done their part to spread cheer  I was tempted to include "Santa Oddity", their take on Bowie's "Space Oddity" with North Pole inspired lyrics, their but couldn't find a decent recording, so I'll go with this pleasant "Have Yourself A Merry Little Christmas" with Michelle Hallman on vocals.
My Morning Jacket completes a trifecta, with its inclusion in all three Barn Holiday Mixes.  They are a band that certain can get in the holiday spirit; "X-mas Curtain" is a lovely original that finds its way into setlists throughout the year, and  contains some really thought provoking lyrics, apparently inspired by the band's early, hungrier, days.
This was a curious discovery for this year's mix.  Apparently, Keller Williams-inspired one-man-band troubadour Jed Luckless has used a performance space in the "virtual world" Second Life as a way to get his music out.  He hosts an annual Christmas show in SL to benefit the Dead's Rex Foundation and each year's gig has a few  songs worth checking out, including some clever Phish mash-ups ("Runaway Jingle Bells").  I chose to include "Sliver Bells" which features a tidy little jam over a looped guitar part.
I'm not sure what inspired Paul Simon, who is the poster boy New York Jew, to write the song "Getting Ready For Christmas Day", but I'm glad he did.  It's an upbeat, fun and catchy tune as recorded on So Beautiful or So What or performed live, as in this Chicago version from his 2011 tour.
Psych-folk is a term that seemed to gain in stature in 2012 - and count me among its advocates.  Woods is a band that really embodies the sound and I've become a quick fan.  Their "Christmastime Is Here" starts out conventionally, but they lean on delightfully weird chords throughout which elevates this version.
"My Favorite Things" was introduced to the world in The Sound Of Music, but its lyric imagery and melody have given it a second life as a holiday classic.  The ensemble that performs it here, the so-called Marijuana Jazz Band featuring Steve Kimock, Alan Hertz and other Bay Area musicians, goes all instrumental in this Christmas Eve show back in '99.  The penultimate song of the evening, this one clocks in at over 25 minutes and explores all the wonderful, jazzy places that it can go.
Another original song, this time by Al Schnier's Floodwood, a moe. side project that's rooted in the bluegrass idiom. Even the name of the song evokes the down home back-country sound:  "Hey It's Christmas".
It's just a snippet of a jam, but Bernie Worrell, adds a simmering funk touch to this solo version of "We Wish You A Merry Christmas". I thought it was the perfect lead-in to the short but explosive twist version of "Let It Snow" by the utterly unclassifiable Brave Combo.
Fusion kings Kung Fu, show off their chops with guests Jennifer Hartswick, Jeff Gitelman and Dan Edinberg on Donny Hathaway's "This Christmas" at Toad's Place in New Have on Christmas Eve Eve in 2011.
We enter the final mellow stretch of the mix with the The Ragbirds sparse, emotional take on John Lennon's "Happy Xmas (War Is Over)".   Blitzen Trapper plays it (relatively) safe musically, but get lyrically adventurous with their original tune "Christmas Is Coming Soon", which was generously offered as a free download.
Those familiar with with Louis Armstrong's classic "Christmas In New Orleans" might be surprised that George Porter Jr. has written his own track with the same title. The bass-master's name checks several prominent NOLA landmarks in his version that paints a vivid picture of the holiday in that great musical city.
John Popper tones down the harmonica-led bluster with a pretty solo acoustic "Silent Night" from way back in 1991, on the cusp of Blues Traveler super-stardom.
You never know what you're going to get with Bela Fleck & The Flecktones.  Two of the more recent trends have been holiday tunes and exploration of world music.  Why not mash them up as they did here with "What Child Is This?" and "Dyngyldai" with special guests Alash, the Tuvan throat singing ensemble?
And now the big finish.  "Papa's Home" has long been one of Widespread Panic's most beloved tunes.  Come December, you'll often find them dropping a version with holiday themed lyrics, like this one from 2000.  Among the choice lines: "To the North Pole where some young wishes go / Santa's bride mends his coat, keeps him warm / And the elves are very handy /They're always crackin' jokes..."
Finally... it's not strictly a holiday song, but as the weather takes a turn for the worse in December, I can't help but get in the mood for Phish's wintery "Seven Below" to help brave dropping temps and blustery days.  This one (2/20/03) came in the midst of a rare winter tour, and has been one of my absolute favorites.  The jam keeps on pounding away over the course of its 22 minutes -- in the right frame of mind, it can hint at blinding storms, frozen landscapes and gently falling snow.  A fine example of what was happening improvisationally in Phish 2.0.