Is Paul McCartney's Lost Christmas Tape Real?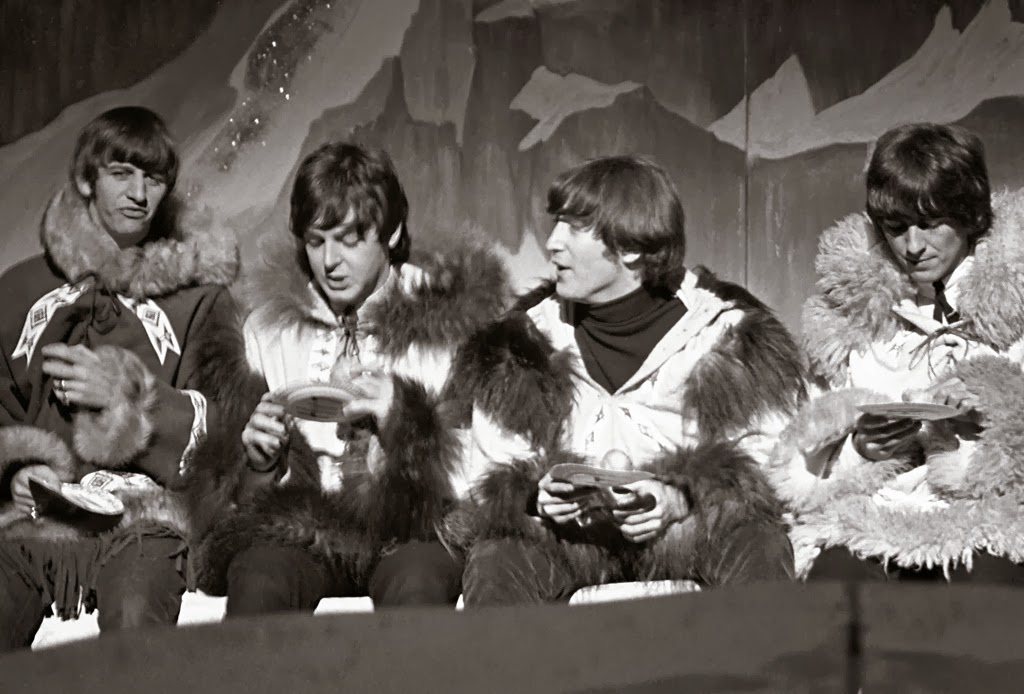 By: Alex Wood
It's no secret in Beatles lore that Paul McCartney recorded an album for his three fellow band mates in 1965 titled Unforgettable, a gift that contained homemade recordings, favorite songs of his at the time and, supposedly, much more.
The acetate recording supposedly surfaced recently on YouTube, thanks to DangerousMinds, but is it real?
McCartney hasn't had a say in it, but we can look at the facts.
Quotes Regarding Unforgettable
Though few direct quotes about the tape exist, fans can look to Richie Unterberger's biography The Unreleased Beatles: Music and Film for the most comprehensive quotes, according to DangerousMinds.
"Yes, it's true. I had two Brenell tape recorders set up at home, on which I made experimental recordings and tape loops, like the ones in 'Tomorrow Never Knows.' And once I put together something crazy, something left field, just for the other Beatles, a fun thing which they could play late in the evening. It was just something for the mates, basically," McCartney said. "It was called Unforgettable and it started with Nat 'King' Cole singing, 'Unforgettable…' It was like a magazine program: full of weird interviews, experimental music, tape loops, some tracks I knew the others hadn't heard, it was just a compilation of odd things. I took the tape to Dick James's studio and they cut me three acetate discs. Unfortunately, the quality of these discs was such that they wore out as you played them for a couple of weeks, but then they must have word out. There's probably a tape somewhere, though."
Another quote exists in Barry Miles' biography Many Years From Now.
"I would sit around all day, creating little tapes. I did one once called Unforgettable and used the Unforgettable Nat King Cole "Is what you are…" as the intro. Then did a sort of "Hello, hello…" like a radio show. I had a demo done by Dick James of that, just for the other guys because it was really a kind of stoned thing. That was really the truth of it."
Rolling Stone uncovered additional quotes from McCartney about the tape's creation.
"I used to experiment with [tapes] when I had an afternoon off, which was quite often. [The Beatles would] be playing in the evening… and there was often quite a bit of time when I was just in the house on my own so I had a lot of time for this. I wasn't in a routine. I could stay up till three in the morning, sleep through till two in the afternoon, and often did. It was a very free, formless time for me. Formative yet formless. I didn't have to be up for the baby, at that time there was none of that. So I would sit around all day, creating little tapes."
George Harrison also commented on the tape, saying, "It was a peculiar overall sound. John, Ringo and I played it and realized Paul was on to something new. Paul has done a lot in making us realize that there are a lot of electronic sounds to investigate."
The Tape Itself
While there's no doubt that the Unforgettable tape was recorded, is the same as what is currently making its rounds online?
The clips features 18 minutes of home recordings, beginning, as expected, with a young McCartney impersonating an American radio DJ, introducing Nat 'King' Cole's song. Though McCartney occasionally interjects throughout, the remainder of the tape is primarily recordings of other bands' tracks, as though it were a radio station.
The tape contains the following:
Nat 'King' Cole – "Unforgettable"
Peter & Gordon – "Someone Ain't Right"
The Beach Boys – "I Get Around"
Martha & The Vandellas – "(Love Is Like) A Heatwave"
Elvis Presley – "Don't Be Cruel"
Rolling Stones – "Down Home Girl"
Though it doesn't contain new material, it's certainly interested to hear what a "stoned" McCartney was into in 1965, less than a month after the release of Rubber Soul.
Questioning The Validity
Though the tape is being reported as authentic, a few questions have been raised.
Firstly, the 18-minute runtime doesn't make sense, as the original acetate would have been a full LP. However, it has long been rumored that John had recorded over the only known tape of McCartney's original, as he had done for other notable recordings, including the original demo for "We Can Work It Out."
If true, then we're likely only hearing the first side of the original LP.
If we accept the tape as incomplete, then we can also justify the tape not living up to the "experimental" nature that McCartney later claimed.
"It was like a magazine program: full of weird interviews, experimental music, tape loops, some tracks I knew the others hadn't heard, it was just a compilation of odd things," McCartney had said.
Yet this 18-minute recording doesn't contain any experimental music or tape loops, and there's absolutely no chance that the other Beatles members hadn't heard The Beach Boys' "I Get Around" before.
And where did the recording come from, exactly?
The tape was released by the His Master's Voice label in 2011, which inserted upgrades for the commercially available songs used on the tape while keeping McCartney's interjections the same. This explains the exceptional sound quality, despite the low quality acetate used for the original.
It is believed that the tapes were initially discovered when Yoko Ono sent Lennon's collection of unheard recordings to Westwood One in preparation for the Lost Lennon radio shows, which aired between 1988 and 1992 but never officially released Unforgettable.
The Conclusion
Based on the facts, this version of Unforgettable is authentic but incomplete.
Beatles expert Doug Sulpy has claimed to have owned a copy of this exact tape years before it was bootlegged, and confirmed its authenticity upon its release. Biographer Simon Wells is credited with having released its current incarnation.
But did the second side of the disc contain the "tape loops" and "experimental music" that would inspire songs like "Tomorrow Never Knows" on the upcoming Revolver, or did McCartney simply remember Unforgettable to be more adventurous than it truly was?
We likely won't ever know, but had might as well enjoy the first 18 minutes for what it is – "really a kind of stoned thing."
Listen to Unforgettable below.