The Prehistory of Furthur's John Kadelick: A Hairball Willie Stream and Download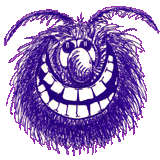 John Kadelick has been turning heads all over the country with Phil Lesh and Bob Weir in Furthur, and before that with Dark Star Orchestra.  But those of us in Chicago have been seeing John perform from way back, some of us even before the days of $5 cover DSO at Martyr's on Tuesday nights.
I remember catching Hairball Willie several times in the mid-nineties but didn't really even put together the pieces that it's guitarist was the infamous "Fake Jerry" the until this recording emerged.
According to the notes, it has quite the interesting lineage.  Chicago area taper Joe Perona recounts...
My old buddy Joe Fierce and I used to do audio for an annual Easter Seals benefit out in Batavia, a far west suburb of Chicago. For this one we had a dedicated recording board (Mackie 1604?) set up in a VW bus out in the parking lot with a home stereo receiver and a pair of JBL Control-1 monitors. The idea was to get a nice mix for the video which was to be broadcast on local public access. In the process, of course, we also recorded.  I came across an incomplete cassette copy of this show in my basement and called Fierce to see what he knew. He had the master DAT which was complete.  A highlight is Dream #11, the jam suggests that Phish also had some influence on these guys who played many GD songs.
John already has the makings his trademark Jerry Garcia phrasing and tone down on the delightful "Simple Twist Of Fate" and even gets to demonstrate his unique melodic sense on the original "What's Become Of Mary".  Bonus points for this show taking place in the suburbs.
Hairball Willie
VFW Hall, Batavia, IL
March 3, 1996

Slow Down, Seen Love, What's Become of Mary, band intros,  Brown Eyed Women,  See What Love Can Do.  Terrapin,  Simple Twist Of Fate,  U.S. Blues,  Dream #11,  Chinacat Sunflower >  I Know You Rider,  Unbroken Chain,  Man Smart Woman Smarter

John Kadlecik - guitar & vocals
Chris Jonson - guitar & vocals
Dale Woods - bass & vocals
R.J. Gouldin - keyboards & vocals
Dave Seagren - drums
The Stream