Toots Hibbert Stumps For Live Reggae Music In Chicago at House Of Blues Appearance [Photos / Video]
When Toots & The Maytals took the stage at House Of Blues in Chicago on April 4th, the packed house let the band's powerful reggae grooves wash over them.  But many in the crowd, as well as Toots, realize that reggae legends at huge clubs like HoB are disappointingly one of the only options for live reggae music in Chicago these days.
It's true that the crowd revelled in sing alongs on classics like "54-46 Was My Number" and "Pressure Drop" as Hibbert defied his nearly years and danced and jived to the music like a twenty-something (need proof, check the photo gallery below).  Yes, established reggae artists like Hibbert and his top shelf band have a venue for their art, but real twenty-somethings reggae artists are essentially frozen out of cultivating an audience in Chicago.
Enter Julie Collins of Rose Mountain Photo, who has been tenacious about recruiting friends, artists and fans in a campaign to help Chicago's Wild Hare -- a unique venue that brought reggae music and Caribbean culture to Chicago for 25 years.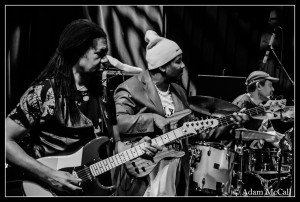 After shuttering the long standing Wrigleyville location in 2011, the club's owners have been struggling to obtain a PPA (Place Of Public Amusement) License for a new location opened in Lincoln Park (2610 N. Halstead) last year.  This is required for the club to host live music (and dancing) and has been denied twice by the City of Chicago -- edged on by a group of vocal neighbors, although Kingston Mines (open til 5 a.m.) and other clubs that feature live music operate just a few blocks away.
Despite the new club downsizing to a performance space for less that 200, the Wild Hare can serve a critical role in the community.  It has added a kitchen for authentic Jamaican cuisine, which only enhances the diverse cultural experience. Celebrating the live music of that part of the world is a natural extension.  Toots made his impassioned plea to Mayor Emmanuel backstage at the House Of Blues and Julie was there to capture it.
The old Wild Hare featured performances by Toots himself and and Jimmy Cliff.  Who knows what future superstars will make their way to Chicago in the future?  It'd be nice if they'd have a shot at performing.
Thanks to Adam McCall for additional reporting and the stunning photos collected below.