Video / Setlist | Zakk Wylde Jams 'Little Wing' In Crowd At Experience Hendrix @ Chicago Theater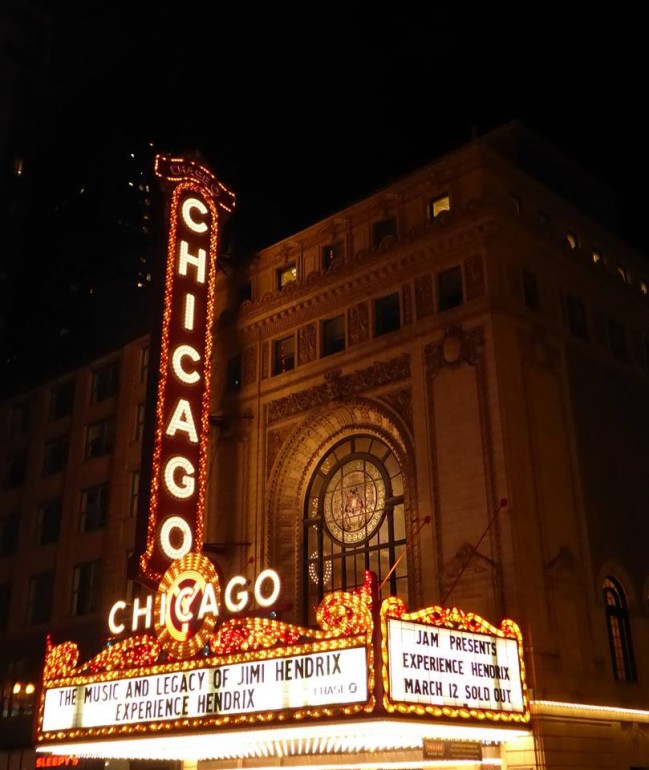 While classic rock continues to live on through tribute bands and reunion tours, the music of Jimi Hendrix can't be contained by a single band or artist.
The Experience Hendrix Tour seeks to rectify this, allowing multiple guitarists to celebrate Jimi's life by fronting a crack house band.  As you might guess, with a ton of talent and various styles, there's quite a competition to see who can make the biggest impact.
When the tour came through Chicago last weekend, former Ozzy guitarist Zakk Wylde took this cue to take the action into the crowd.  Wyatt Brake (
zepcowboy
) was on hand to capture the wild "Little Wing" solo at a great angle, and also checked in with the full setlist breakdown and a few photos below.
Set 1
Freedom (w/ Billy Cox, Dweezil Zappa)
Stone Free (w/ Billy Cox, Dweezil Zappa, Mato Nanji)
Foxy Lady (w/ Billy Cox, Henri Brown, Mato Nanji)
House Burning Down (w/ Ana Popovic, Dweezil Zappa)
Can You See Me (w/ Ana Popovic, Mato Nanji)
Wait Until Tomorrow (w/ Eric Johnson, Henri Brown, Noah Hunt)
One Rainy Wish (w/ Eric Johnson)
Third Stone From the Sun (w/ Eric Johnson)
Are You Experienced? (w/ Eric Johnson, Zakk Wylde)
Manic Depression (w/ Zakk Wylde)
Little Wing (w/ Zakk Wylde)
Purple Haze (w/ Zakk Wylde)
Set 2
Hear My Train a Comin' (w/ Doyle Bramhall II)
Angel (w/ Doyle Bramhall II)
Hey Gypsy Boy (w/ Doyle Bramhall II)
In From the Storm (w/ Doyle Bramhall II)
All Along the Watchtower (w/ Jonny Lang, Zakk Wylde, Mato Nanji)
Fire (w/ Jonny Lang, Eric Johnson)
The Wind Cries Mary (w/ Jonny Lang, Eric Johnson)
Spanish Castle Magic (w/ Jonny Lang)
Gypsy Eyes (w/ Kenny Wayne Shepherd, Noah Hunt)
Come On (Part I) (w/ Kenny Wayne Shepherd, Noah Hunt)
Voodoo Chile (w/ Kenny Wayne Shepherd, Noah Hunt)
Voodoo Child (Slight Return) (w/ Kenny Wayne Shepherd, Noah Hunt)
Louisiana Blues (w/ Buddy Guy, Mato Nanji, Billy Cox)
Close to You (w/ Buddy Guy, Mato Nanji, Billy Cox)
Hey Joe (w/ Buddy Guy, Mato Nanji, Billy Cox)
Them Changes (w/Buddy Guy, Mato Nanji, Billy Cox, Henri Brown)
Red House (w/Buddy Guy, Mato Nanji, Billy Cox, Henri Brown)