Will Full Court Press 3 Have A Zappa Flavor? All Star Jam @ Abbey Pub on 8/2/12 To Feature The Legendary Ray White
Update (7/30): We have learned lineup of one of the bands at FCP3 (and it looks great): Kris Myers of Umphrey's McGee, Ray White of Frank Zappa, Jesse Clayton of MathGames, Bryan Doherty of Digital Tape Machine, Nicholas Gerlach of Cosby Sweater
One of the trademarks of the Abbey Pub's Full Court Press series, whose third edition is due on Thursday August 2nd, is listing the bands from which the night's musical lineups will draw from, without many details about exact members or who will take the stage with whom.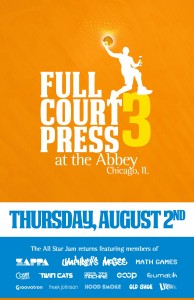 The obvious difference for FCP3 is the big news that notable Frank Zappa alumnus Ray White will be in the house.  Just as there is no mistaking his soulful and expressive vocals, there is little doubt that his presence will influence the entire night's precedings, no matter what combinations of musicians end up performing
In addition to White's storied tenure with Frank (and more recently Dweezil) Zappa, he is no stranger to the improvisation / jamband world.  He has logged time with Steve Kimock in the blissful KVHW, gigged with Melvin Seals, and collaborated with Umphrey's McGee, who will also offer a couple members to the festivities.
Umphrey's McGee keyboardist Joel Cummins and percussionist Andy Farag joined forces with Marcus Rezak to make some of the most inspiring music at Full Court Press 2 (click here for audio), and we are interested to see how Umphrey's McGee will represent in August.
Coming within days of the sad news of Levon Helm's passing in April, FCP2 featured a number of takes on Band classics ("Cripple Creek" and "The Shape I'm In").  I think it's a safe bet to think that Frank Zappa will be a looming presence on August 2nd.
With members of fusion-heavy bands like Digital Tape Machine, MathGames, Twin Cats, Groovatron & Freek Johnson also on board, the outlook calls for some seriously progressive leaning sets of jazz rock.  In the words of Umphreaks:  improg.
Cosby Sweater, The Coop, Eumatik, Hood Smoke, Old Shoe and will also send delegates.
Be sure to entire The Barn's Contest to win a pair of tickets to this unique event.  Click here for details.