Analyzing the Phish "S" Show With Charts and Graphs
Phish had fun with their setlist last night, reaching deep into their catalog to create two sets filled only with songs that started with the letter "S".  Rumor has it that the songlist was offered as a memorial to dedicated Phish fan and Green Crew member Scott Ian Nowak, who passed away last week.  Update:  Apparently, this was not an intentional memorial per Tom Marshall (via PT), but still a nice way to remember a friend for those who knew him.
Here's the setlist:
2011-09-02
Dick's Sporting Goods Park Commerce City, CO
One: Sample in a Jar, Sparkle, The Sloth, Sweet Virginia, Suskind Hotel, Strange Design, Stash, Sneakin' Sally through the Alley, Sparks > Scent Of A Mule, Stealing Time From the Faulty Plan, Shine A Light, Split Open and Melt, The Squirming Coil
Two: Sand > Simple > Steam > Soul Shakedown Party > Seven Below > Suzy Greenberg > Scents and Subtle Sounds > Slave to the Traffic Light > Silent In The Morning, Sanity, Sweet Adeline
Encore: Sabotage
They selected songs played not played in 463, 318, 285, 84 shows (Sparks, Sabotage, Sweet Adeline, Sweet Virgina respectively).  What's remarkable is that Phish has such a large repertoire, they could probably fill Saturday and Sunday's shows completely with "S" songs, too, and create legitimate setlists, with more recently played songs!
Just for fun, I broke down Friday's setlist and created a few charts and graphs to show what "might have been".
There are 62 more "S" songs performed at least once by Phish.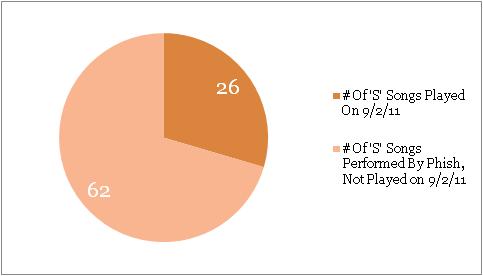 Here are the remaining songs, sorted first by number of performance ever, then by last time played.
But why stop at songs that Phish has actually performed? How about "Shrine" or "Splinters of Hail" from the Party Time disc? Or "Sky Train Wand" from Victor Disc? What about a new cover?