Andrew Bird Announces 4th Presbyterian 'Gezelligheid' Dates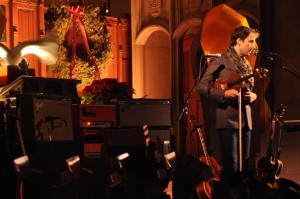 Andrew Bird's intimate 'Gezelligheid' December performances at 4th Presbyterian Church has become a tradition for the local songwriter, despite Bird having skipped the shows in 2014.
Luckily for fans, the violinist announced a four-night run in the beautiful downtown venue for 2015, taking place December 7, 8, 9 and 10.
As in past years, the performances will feature Ian Schneller's infamous horn sculptures. Local vibraphonist Jason Adasiewicz will open.
In a note on his website, Bird notes that Gezelligheid "began in a crowded bar in Amsterdam on a frigid night in February when a woman squeezed in next to me and said 'oh gezellig!' The closest translation of that word would be cozy, or the pursuit of those things that get us through the darkness."
He also notes that while the venue, lights and sculptures are a constant, "the music changes from year to year and is best summed up as whatever feels right."
The concerts typically find Bird experimenting with new songs and instrumentals. Guitarist and singer Tift Merritt was featured extensively during some of 2013's dates, while others were performed alone.
Tickets go on sale Friday at 10am, and are expected to sell quickly.