REVIEW / PHOTOS / VIDEO | The B-52s @ Genesse Theatre 11/11/16
Words: Lisa Torem | Photos: Philamonjaro Studio | Video: joeypgh1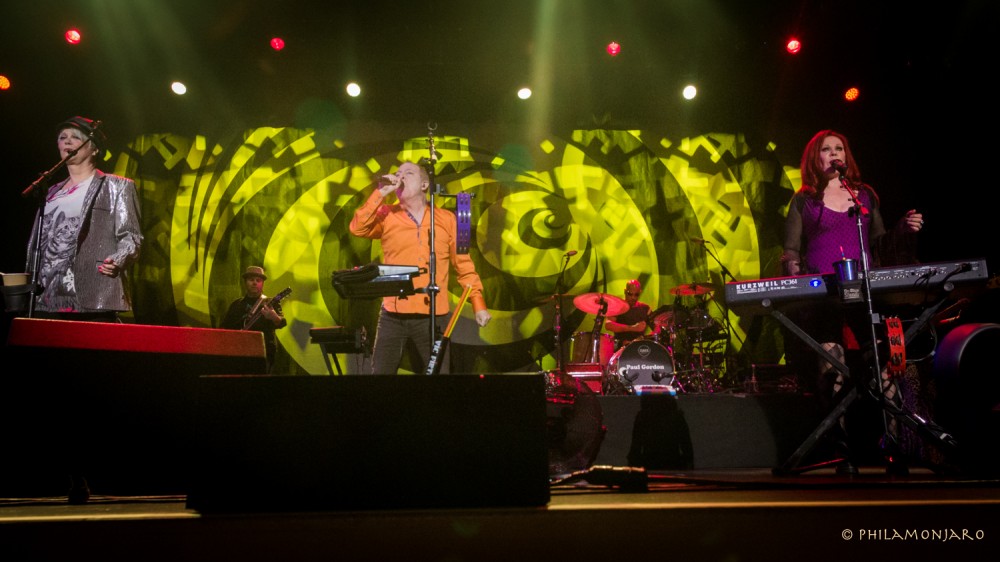 The gorgeous, gilded Genesee Theatre looks like it should host inaugurations, not new wave/pop idols like The B52s, who jacked up their careers by performing in grungy, underground clubs like CBGB's.  But once the swirling, psychedelic backdrop was exposed, and the lively main trio and their talented entourage bounced onstage, it all made perfect sense.
By early December, Cindy Wilson, Kate Pierson and Fred Schneider will have completed their current, much-awaited tour. In February, they will embark on an intense Australian schedule. Although the original lineup culled their skills forty years ago, demand for the second incarnation's contagious party music has barely dwindled. In fact, it was hard to actually see the stars, once a sea of jiving elbows and shoulders began to take over.
The concert was not sold out, but aisles were crammed with manic fans, anxious to move, groove and shout out the band's playful lyrics. But it took a while for it all to commence. First, singer-songwriter Nicholas Barron opened with a sharp set, mostly comprised of his percussive, guitar-driven originals. Of note, were the anthemic "Love Bus" and the sly "Dirt Rich." This once-upon-a-time busker doubles as a quick-witted commentator and a sandpaper-voiced stylist with an enviable range. Leon Redbone and Louis Armstrong come to mind. He ended with his own haunting version of the late Leonard Cohen's "Hallelujah," which drew a barrage of admiration.
Because there was a long break between the opening set and the main event, fans were getting restless. Fortunately, The B52s, once on, immediately swung into action with the wacky woos  and yeah-yeahs of "Cosmic Thing." As expected, Schneider added his own brand of schmaltz as he paraded around the stage, encouraging all there to expose their "honey buns."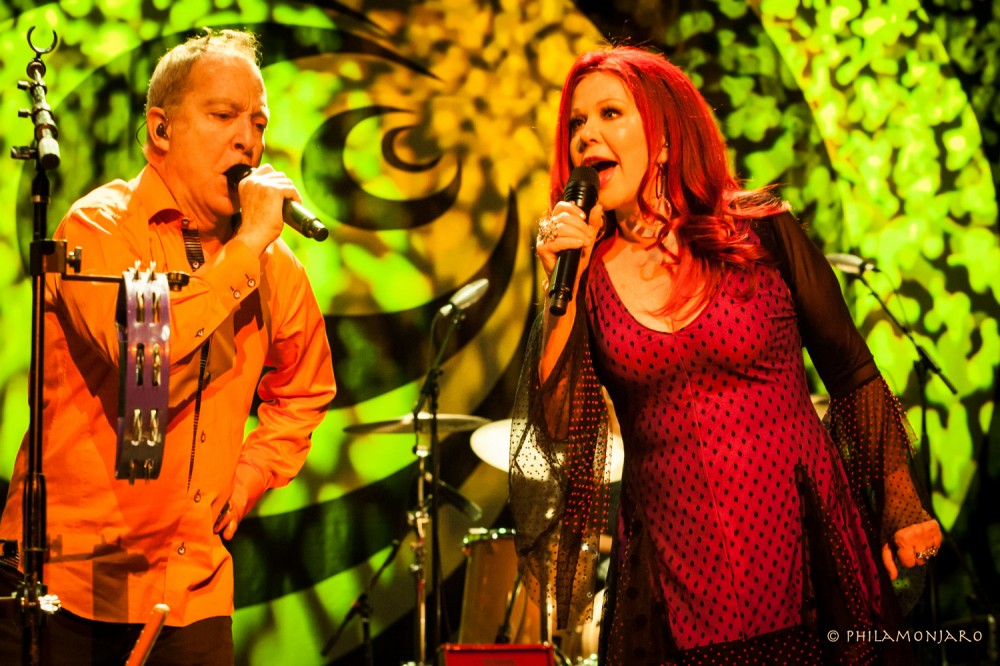 "Six or eight-thousand years ago, they laid down the law," he snickered, before they launched into zany "Mesopotamia." 
Bassist Tracy Wormwood (Sting, The Waitresses) has been an official band member since 2008, although a major contributor prior to that time. Her clear, sultry lines were an additional treat, but it was also delightful to sit back and cherish the fun and expert female harmonies. The sublimely scatological "Lava" illustrated how well Pierson and Wilson can still blend, and, too, how unique each woman's voice really is. It was here that Pierson really dove into her bag of winsome trickery.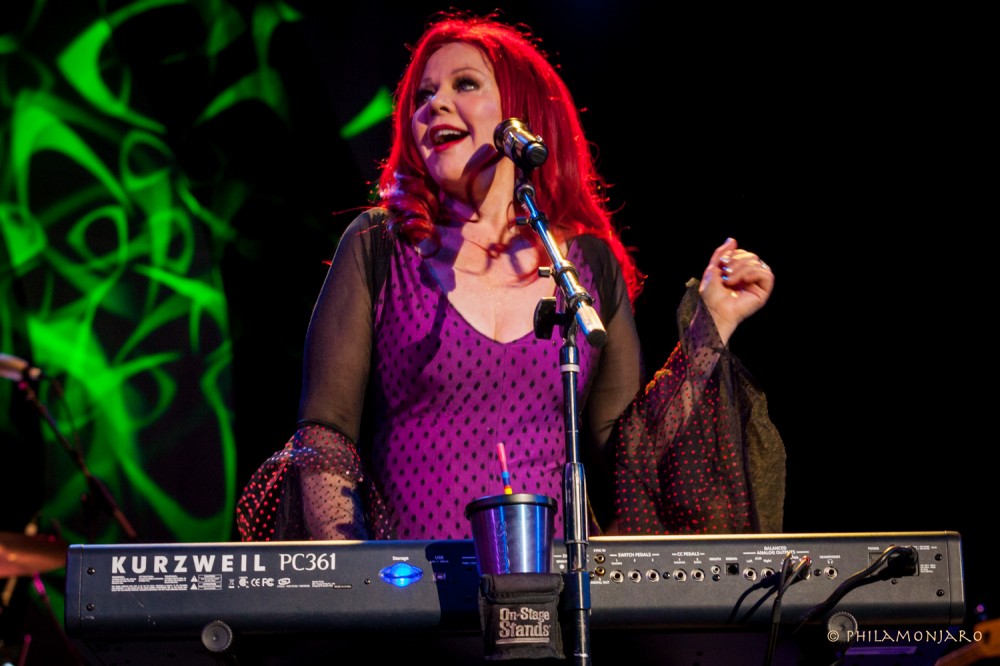 Schneider made a few wise cracks about the suburban Waukegan versus Chicago folks before they performed "Private Idaho," where he displayed an even more irreverent attitude. But it was not just Schneider's skills that kept things moving: Sterling Campbell's singular and explosive drumming kept every song vibrantly cantankerous.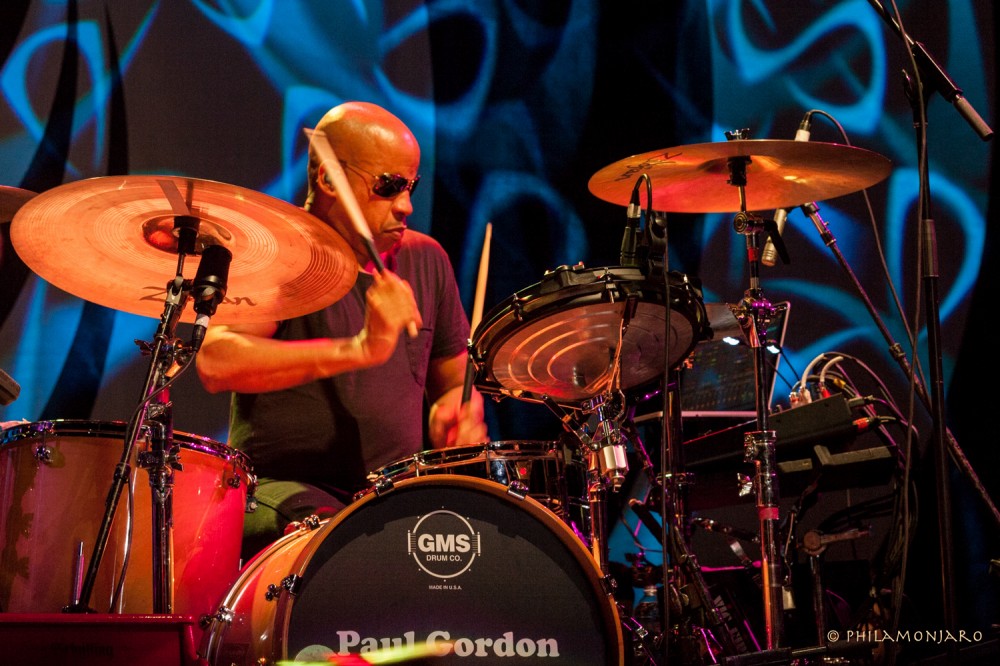 "Deadbeat Club" from the popular Nile Rodgers-Don Was co-produced Cosmic Thing was a great contrast as it showcased more of Wilson and Pierson's lush stylings and cool personas—Pierson displayed some especially entertaining dance moves as she shimmied up the scale.
"Roam" was another vehicle for strong vocals and a chance for the band to really pop. "52 Girls' carried a subtle, political tenor, given the recent election results! And, of course, Schneider didn't miss a chance to boost up our social sensibilities with his tongue-and-cheek jabs.
But soon he returned to his own shenanigans, waltzing around with an antiquated radio before hawking "Channel Z." "Dance This Mess Around" was tons of fun, too; loaded with killer electronic riffs and nonstop antics. "Love Shack" received its premiere in Paris in 1989, yet it sounded very much at-home in this Midwest Concert Hall. The lively, extended version allowed all on stage to intermingle and shine. This Billboard Hot 100 winner of 1989 still merits a big A for audience allure.
It almost seemed like the B52s had packed up for the night.
The more optimistic fans waited -  many were ready to go out and face the traffic, but for those who stayed the course, the encore was so worth waiting for.
The band drew from the late 1970s vaults for the delirious 'Planet Claire," on which Wormwood kicked honey buns and Wilson bowled us over with deep conga rhythms. Many YouTubers agree that this is an underrated, ahead-of-its time gem and it's hard to argue.
"606-0842" was written about a curious phone number scrawled on a bathroom wall. It lives up to all of yesterday's promises and still retains a contemporary pulse. The finale, "Rock Lobster," fired up another feverish round of flying elbows and wavering hips.
So what's the final prognosis? The B52s can party hard without breaking a sweat.  And after forty years, that's mighty impressive.