Review / Setlist / Video | Green Day @ Aragon Ballroom 10/23/16
Words: Alex Wood | Photo: @carlaske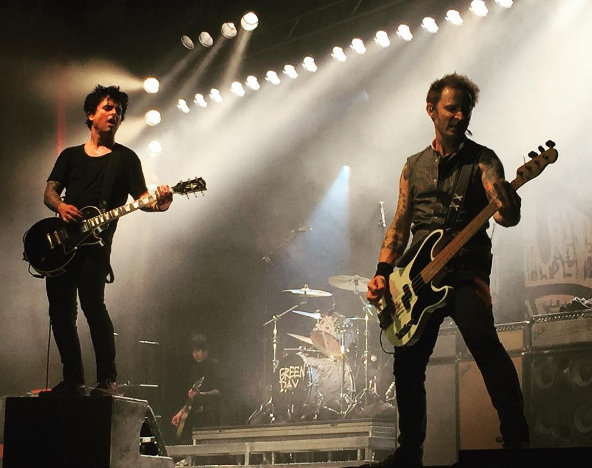 Sure, Green Day may not be your thing. They're inherently 'uncool' by most serious music fans' standards, and even lost a portion of their older fanbase with American Idiot and the records that followed.
But somehow the trio managed to remain relevant, even as the pop-punk genre they helped create faded into a brand of simple nostalgia, transforming the three-chord simplicity of songs like "When I Come Around" into arena-rock-epics-turned-overplayed-radio-hits like "Boulevard Of Broken Dreams," leaving peers like Blink-182 and Weezer in the dust.
The band played Aragon Ballroom in a short club-date run promoting their new album, Revolution Radio, and proved themselves to be anything but a one-dimensional nostalgic act, instead embodying everything fun about rock music in an impressive 31-song setlist.
Sure, new songs like "Bang Bang" and "Still Breathing" may not gain the group any new fans, especially when writing to a blog of primarily jam-band-fan readers, but hear me out: these guys still truly, genuinely rocked.
Musically, the band was accompanied by two additional musicians, fleshing out the songs to arena-ready proportions in the undersized 5,000-capacity venue.
Songs like "Longview," "Welcome To Paradise," "Scattered" and "Basket Case" pack the same punch they did in the 90s, a blast of punk energy leading to crowd surfing, fist-pumping and endlessly shouted sing-alongs from the enthusiastic audience.
American Idiot-era tracks like "Are We The Waiting" or "Jesus Of Suburbia" featured a more ambitious and musically technical approach, justifying the band's rise to mainstream status and abandon of the pop-punk scene as a whole.
Concise or intentionally sloppy, each song was performed as it needed to be, the band extremely tight and boasting passionate performances, undoubtedly not simply excited to be playing a small venue, but excited to still be playing at all.
Yet this gusto came not only from the music, but from the band's unparalleled on-stage personality.
Billie Joe Armstrong is the frontman of all frontmen, even at age 44.
The singer constantly paced stage, jumping atop his monitors to get closer to the packed crowd. He incited wordless singalongs, chants and cheers, keeping the audience as much a part of the show as the band itself.
The singer brought fans on stage, encouraging them to dive back into the crowd or sing with him in the microphone. He brought one eager fan up to play guitar for "When I Come Around," the young kid amazingly owning the role to the cheering crowd's pleasure.
There were costumes and masks dawned for certain songs, and a well-times interpolation of  "Twist and Shout," "I Can't Get No Satisfaction" and "Hey Jude" sang by Armstrong lying on his back on stage.
It was more than a performance. It was a show.
Of course Green Day isn't the greatest band, musically, that you've ever heard. Their new album isn't the best this year. Their next date at a massive venue may not even pack the same punch. But their show at Aragon proved that their legacy is justified, the band deserving to go down as icons in the history of rock 'n roll.
The world could use more bands with the purity and willingness for fun on stage as Green Day, at fact which I guarantee nobody at Aragon this Sunday would contest.
Check out the massive setlist and watch videos of the performance below.
"Holiday:" (featuring Trump diss)
"American Idiot:"
"Boulevard Of Broken Dreams:"
Setlist:
 1. Know Your Enemy
2. Bang Bang
3. Revolution Radio
4. Holiday
5. Letterbomb
6. Boulevard Of Broken Dreams
7. Longview
8. Youngblood
9. Armatage Shanks
10. Private Ale
11. J.A.R. (Jason Andrew Relva)
12. 2000 Light Years Away
13. Welcome To Paradise
14. Christie Road
15. Burnout
16. Scattered
17. Hitchin' A Ride
18. Waiting
19. Are We The Waiting >
20. St. Jimmy
21. When I Come Around
22. Basket Case
23. She
24. King For A Day >
25. "Shout / (I Can't Get No Satisfaction/ Hey Jude"
26. Still Breathing
27. Forever Now
Encore:
28. American Idiot >
29. Jesus Of Suburbia
30. Ordinary World (solo acoustic)
31. Good Riddance (Time Of Your Life) (solo acoustic)