Setlist / Recap / Stream / Download | Greensky Bluegrass @ Bell's Beer Garden Kalamazoo, MI 6/4/15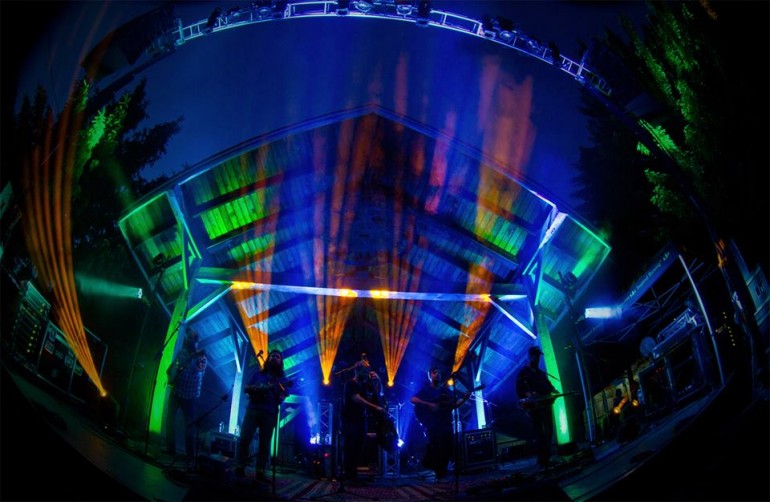 A pretty great show from the couch!  The audio stream sounded crisp and strong from the outset, as the familiar and seasonally appropriate chords of Alice Cooper's "School's Out" rang out.  The surprise debut as show opener set the tone and featured members of the opener Appleseed collective.  From there, it was a return to standard Greensky territory with a run through of If Sorrows Swim's "The Four".
But rather than lean heavily on the newer material all night, the setlist featured a nice distribution of songs from across their recorded output and growing live repertoire.  Three night runs suit this band!
Other first set standouts included a take on the Bob Dylan (made even more famous by JGB) classic "Señor" and the 1-2 punch of "Less Than Supper" and "Just To Lie".  "Train Junkie" featured a slight lyrical mis-step by Dave Bruzza, but a quick quote of "School's Out" was enough to compensate, as the band brought the set to a rousing finish.
The second set was a showcase for the band's improvisational prowess, with nice jams in "Leap Year", "Dry County" (a tasty segue into Pink Floyd's "Time") and an extended, funky intro for a cover of Prince's "When Doves Cry".  While recent The Voice finalist Joshua Davis won't be in the house until Saturday, his song "Dustbowl Overtures" sent the Thursday night crowd, and streamers around the world, home happy after just a quick break.
[box type="download"]Download Entire Show (zip .mp3) via archive.org[/box]
Video of "School's Out" with Appleseed Collective...

Posted by Doris Roggae on Friday, June 5, 2015
Set One
School's Out
The Four
Don' You Let Your Deal Go Down
Lose My Way
Señor
Worried About The Weather
Clinch Mountain Backstep
Less Than Supper
Just To Lie
Train Junkie
Set Two
200 Miles From Montana
Leap Year
Dry County >
Time
Hit Parade Of Love
Against The Days
Bringing In The Georgia Mail
Jaywalking
When Doves Cry
Encore
Dustbowl Overtures
Photo courtesy of Eric Fischer