Late-Night Roundup | Grizzly Bear, Pokey LaFarge, Liam Gallagher, Royal Blood, Blackberry Smoke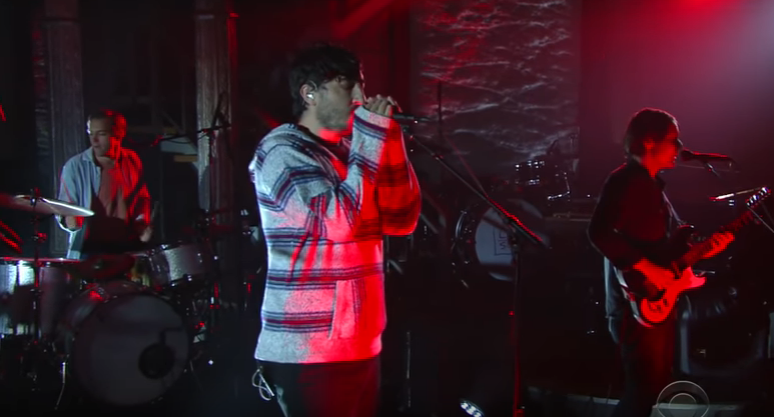 Watch some of Tomorrow's Verse's favorite bands hit the promotional late-night television circuit.
Grizzly Bear performs "Mourning Sound" on The Late Show with Stephen Colbert
After releasing the excellent Painted Ruins this week, Grizzly Bear stopped by Colbert's show to perform "Mourning Sound." The band's emotionally charged, calculated songwriting is matched by a dramatic light show. Layers of keyboards, effects-drenched guitars and spot-on vocals help the song live up to its studio counterpart.
Pokey LaFarge performs "Better Man Than Me" on Conan
Pokey LaFarge recently released Manic Revelations, his most mature and fully realized album to date. Horns, upright bass, intense harmonica and vocal harmonies back his nostalgic sound on this infectious performance. A truly fantastic performer in every sense, Pokey LaFarge is made for the spotlight.
Liam Gallagher performs "What It's Worth" and "Wall Of Glass" on The Late Show with Stephen Colbert
Oasis frontman Liam Gallagher is readying his much-anticipated debut solo album, As You Were, and stopped by Colbert's show to give fans an early taste of what's to come. The rollicking "What It's Worth" has a simpler, stripped-down feel than his old band, but the same conscious, sharp lyric delivery. "Wall Of Glass," performed as a web exclusive, is an upbeat rocker complete with harmonica that definite mirrors some of Oasis's
Royal Blood performs "Lights Out" on The Late Show with James Corden
Alternative-rock fans have been especially vocal about their love of Royal Blood since the recent release of How Did We Get So Dark. The hard-rock duo have a heavy, hard-hitting sound that mirrors bands like Queens of the Stone Age, effectively delivered with only bass and drum set, like White Stripes on steroids. If unfamiliar, look no further than this performance to realize just how incredible these guys are in their current state.
Blackberry Smoke perform "Waiting For The Thunder" on The Late Show with Stephen Colbert
Georgia's Blackberry Smoke has been creating a massive classic-rock sound inspired by their Southern roots for a decade now. This performance has everything Southern Rock fans could want, with stacks of guitar riffs and organ, aggressive vocals and crashing drums. It's pure rock 'n roll, and one hell of a late-night performance.