Review / Photos / Setlist | Of Monteral @ Thalia Hall 4/22/17
Words: Alex Wood | Photos: Zach Stone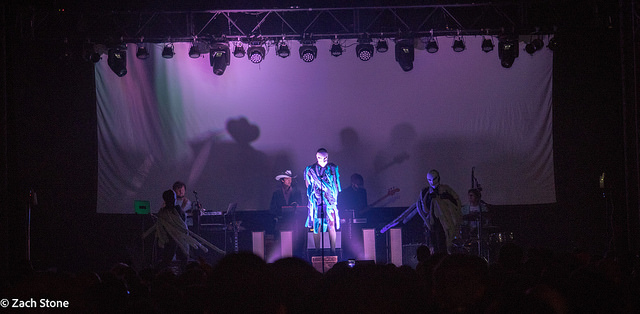 An unpredictable band with a definite attention to detail, Of Montreal has remained a relevant and exciting live act for more than a decade, carving out a much needed niche freak scene in the world of live music.
The band's performance at Thalia Hall showcased their glam-rock and electro-pop sensibilities, utilizing their prolific discography to combine new and old songs into a cohesive whole.
Singer-songwriter Kevin Barnes was backed by a four-piece band, standing in front of a screen with trippy art projected on it. The singer, dressed in drag, changed outfits throughout the show, and was joined by a team of actors that would use props throughout, giving the night a delightfully odd feel.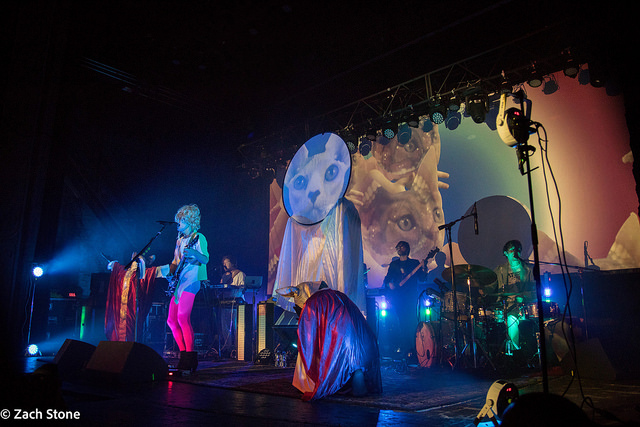 The band led with the guitar-centric "Gratuitous Abysses" from their latest record, the song playing like a long lost Ziggy Stardust track, combining classic rock with a overarching sense of fun.
Yet the new songs really shined on tracks like "Let's Relate," which moved Barnes' songwriting into dance-pop, the upbeat electronics handled perfectly by the tight rhythm section. 
This pop sensibility seemed to be highlighted in the setlist, with other songs like "Dour Percentage" and "Different For Girls" picking up the energy throughout, with much of the audience dressed in costumes or drag and dancing blissfully.
Covered by sheets by the actors on stage, Barnes literally changed outfits during "Dour Percentage."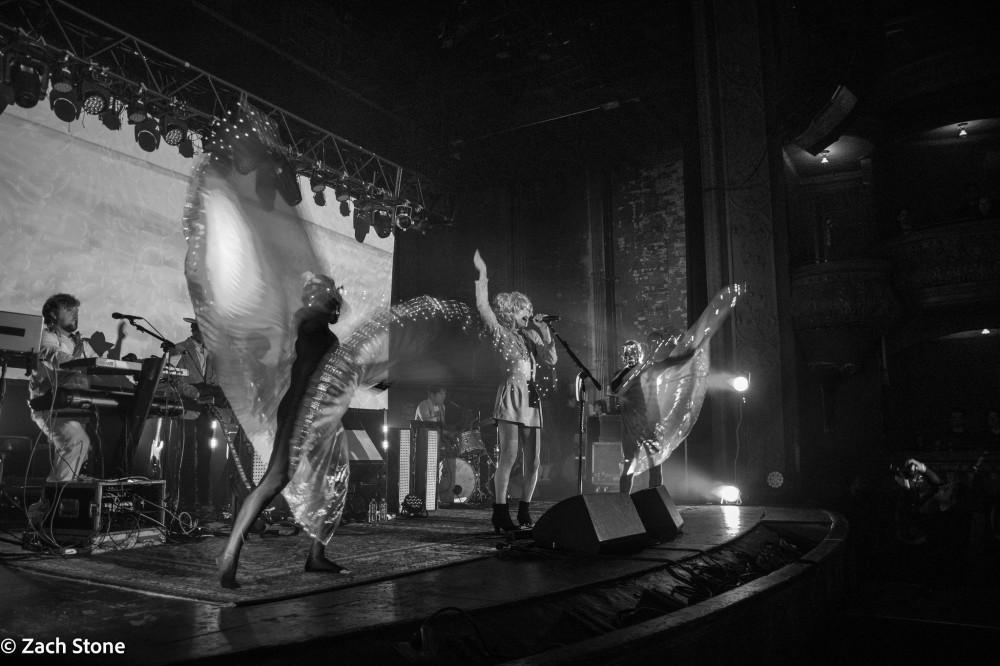 Fans hoping for older material were treated during the second half of the show, where Barnes leaned heavily on material from 2008's excellent Hissing Fauna, Are You The Destroyer.  
"Labyrinthian Pomp" and "Bunny Ain't No Kind Of Rider" were combined in a fuzzy, trippy run, with "Gronlandic Edit" soon following, its strange lyrics still becoming a sing-along.
"The Party's Crashing Us," the oldest song performed at the show, closed the set perfectly, its clean indie vibe characterized with a funky undertone that matched the band's newer material.
Yet the true highlight came from the encore.
Hissing Fauna b-side "Du Og Meg" acted as a startling opener, the infectious glam-rock track an unexpected rarity for longtime fans.
"Bassem Sabry" and "Heimdalsgate" acted as idyllic dance tracks, energy high and the audience embracing it, before absolute rarity "The Past Is A Grotesque Animal" closed the show. A ten-minute art-rock track featuring some of Barnes' best lyrics, the Hissing Fauna track felt like a true treat, and the perfect ending to a beautiful night of music.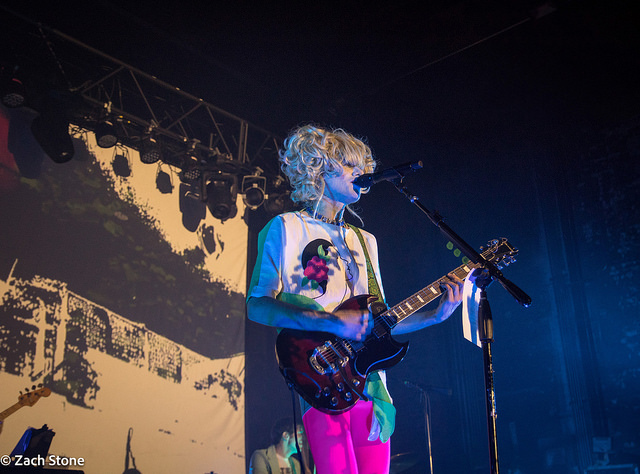 Setlist:
1. Gratuitous Abysses
2. We Will Commit Wolf Murder
3. Let's Relate
4. Enemy Gene
5. Dour Percentage
6. Fugitive Air
7. Ambassador Bridge
8. Empyrean Abattoir
9. Stag To The Stable
10. Different For Girls
11. A Sport And A Pastime
12. Labyrinthian Pomp
13. Bunny Ain't No Kind Of Rider
14. Id Engager
15. Gronlandic Edit
16. The Party's Crashing Us
Encore:
17. Du Og Meg
18. Bassem Sabry
19. Heimdalsgate Like A Promethean Curse 
20. The Past Is A Grotesque Animal
Zach's Full Gallery.... click thumbnail for larger version