Watch Eddie Vedder Cover Springsteen, Stones And More At Boston Benefit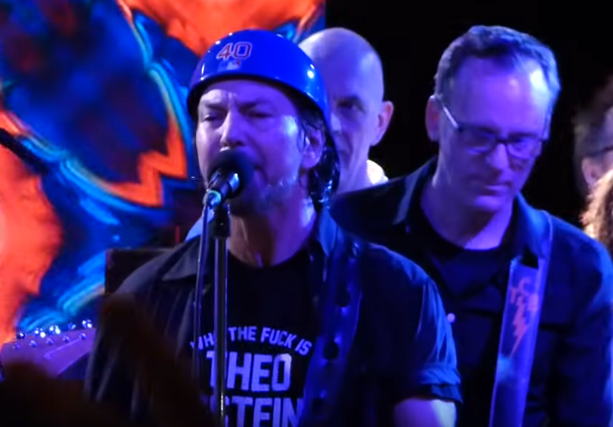 Last Saturday, Eddie Vedder performed at Boston's Paradise Rock Club as part of the annual Hot Stove Cool Music benefit concert, created by Chicago Cubs president Theo Epstein.
For the show, Vedder was backed by members of Letters To Cleo, Buffalo Tom, and Belly, as well as baseball reporter Peter Gammons.
Per usual, Vedder busted out some wild covers in addition to Pearl Jam material, including songs by Bruce Springsteen, The Who, The Rolling Stones, Squeeze, Aerosmith, Neil Young, Talking Heads, Split Enz, Pink Floyd and more.
Fan footage has surfaced from some of the performances, and finds Vedder in great spirits, ripping through the songs in the intimate space and performing the encore in a backwards cubs helmet.
Watch the videos below, including covers of The Who, the Stones, Springsteen, The Squeeze, and Bruce Springsteen, and scroll down to read the full setlist from the night.
The Who - "I Can't Explain"
Bruce Springsteen - "Bobby Jean"
Talking Heads- "Love -> Building On Fire"
The Rolling Stones - "Waiting On A Friend"
Squeeze - "Another Nail In My Heart"
Aerosmith - "Draw The Line"
Neil Young - "Rockin' In The Free World"
Setlist:
1. Corduroy (Pearl Jam)
2. Not For You (Pearl Jam)
3. Elderly Woman Behind The Counter In A Small Town (Pearl Jam)
4. Watch Outside (The Mono Men)
5. The Kids Are Alright (The Who)
6. I Can't Explain (The Who)
7. Bobby Jean (Bruce Springsteen)
8. History Never Repeats (Split Enz)
9. Love -> Building On Fire (Talking Heads)
10. Down The Drain (Will Dailey)
11. The Golden State (John Doe)
12. Wishlist (Pearl Jam)
13. Better Man (Pearl Jam)
14. Taillights Fade (Buffalo Tom)
15. Waiting On A Friend (The Rolling Stones)
16. Another Nail In My Heart (Squeeze)
17. Comfortably Numb (Pink Floyd)
18. Hard Sun (Indio)
Encore:
19. Draw The Line (Aerosmith)
20. Rockin' In The Free World (Neil Young)