Neil Young's "Stony" 1976 Album "Hitchhiker" May Be Released This Summer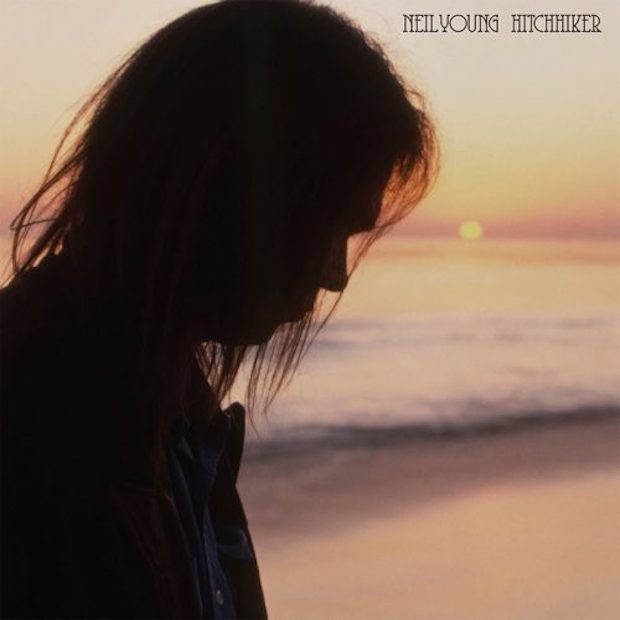 This summer, Neil Young is reportedly gearing up to release Hitchhiker, a long-lost album originally recorded in 1976.
Though unconfirmed by Young or Reprise Records, fansite Thrasher's Wheat has uncovered possible evidence of an imminent release. Young's art director Gary Burden recently posted an image that looked like the Hitchhiker album cover to his site, and UK record retailer Diverse Vinyl published a listing for the record with a release date of July 14, accompanied by the same image.
The listing including the following excerpt from Young's 2014 memoir Special Deluxe:
"I spent the night there with David and recorded nine solo acoustic songs, completing a tape I called Hitchhiker.
It was a complete piece, although I was pretty stony on it, and you can hear it in my performances. Dean Stockwell, my friend and a great actor who I later worked on Human Highway as a co-director, was with us that night, sitting in the room with me as I laid down all the songs in a row, pausing only for weed, beer, or coke. Briggs was in the control room, mixing live on his favorite console."
Little else is known about Hitchhiker, though Stereogum has posted a speculated tracklist, which includes "Powderfinger" (later released on 1979's Rust Never Sleeps) and the title track, which was later released on 2010's Le Noise.
Multiple other unreleased Neil Young albums exist, with Hitchhiker actually being one of the lesser discussed. Other include Homegrown, which was set for release shortly before 1975's Tonight's The Night, and Chrome Dreams, recorded in 1977.
Revisit the track "Hitchhiker" from Le Noise below, and check out the speculatory tracklist for Hitchhiker. 
1. Powderfinger
2. Hold Back The Tears
3. Human Highway
4. Hitchhiker
5. Ride My Llama
6. Lookout For My Love
7. Lotta Love
8. Fontainebleau
9. Campaigner