A Dog's Eye View Of Shoe Fest
By: Rosebud, with a little help from Carmel O'Farrell (@carmelocorn)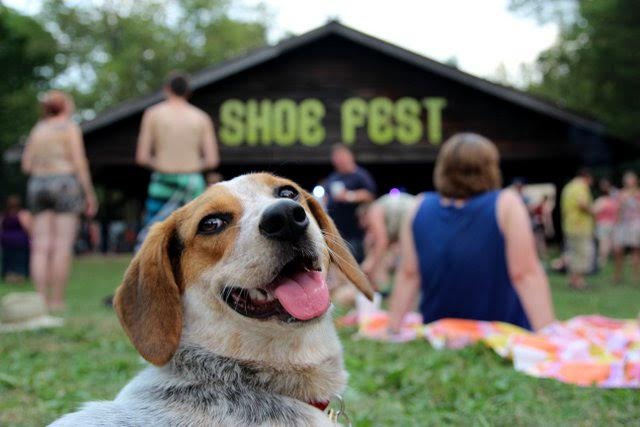 Shoe Fest kicked off its 5 year anniversary celebration on Friday of Labor Day Weekend amidst the cornfields of rural Manteno, Illinois. Camp Shaw is a kids' summer camp that gets transformed into a music festival once a year. Old Shoe asks all their friends to join them for an end of summer bash and everyone is invited, including dogs like myself! This fest was the best of both worlds combining every canine's love of shoes with their love of music.
My ticket was only $10 and I wore it around my collar so everyone knew I was a Shoe Fest approved doggy. This was my first time at a music festival but my human really seems to enjoy them. After checking in and stretching my legs, it was time to see what this family-friendly music festival was all about.
I could hear the sweet sounds of Thinner Teed as I walked through the row of vendors and towards the Bent River Stage. I ran into Bootsy along the way, a black rescue dog with white paws. Her human is Janis Wallin, the bass player in Family Groove Company who also played with JJ And Dre earlier that day. Meeting Bootsy was a bit intimidating since she is practically a celebrity in certain social circles but after a few minutes of smelling each other's butts, I saw she was just like any other dog.
Meanwhile, Thinner Teed was calling us to the Bent River Stage with their infectious, mind-expanding music. These youngsters have only gotten better over the years and their set at Shoe Fest was locked in and high energy. I sat back by the soundboard since that's where the music usually sounds best and tried to make sense of all that was going on around me. There were many other dogs at Shoe Fest and they all seemed to be having a great time, which made me more comfortable.
After sniffing around the grounds it was easy to see why so many humans come to Shoe Fest. The people there felt like family and welcomed me with open arms. With two main stages and no overlapping sets, I didn't miss a lick of music. Even though it was sweltering outside, water coolers and shady trees made it easy to cool off between sets.
We headed down a steep stairway, over the river and through the woods until we ended up at the Uncommon Pavillon Stage. Brainchild hit the stage and gave their all to a crowd filled with some of their most passionate fans. The band was eventually joined by Chicago Farmer for a cover of The Grateful Dead's "I Know You Rider. " With my name being Rosebud after Jerry Garcia's favorite guitar, this addition to the day's music really made Shoe Fest feel like home.

All this dancing and playing under the warm September sun made me hot, so I ventured down to Rock Creek that snaked through the festival grounds to cool off. I don't know how to swim just yet so I splashed in the water and tried to find some fish. My human then took me for a long walk down a trail through a tunnel of trees. Surrounded by nature, this was truly my happy place.
Horseshoes and Hand Grenades played next back at the Bent River Stage. This young stringband has had a lot of buzz surrounding them this summer after providing some high energy sets at many festivals throughout the Midwest. Their set was filled with many tunes both old and new as well as some rather interesting cover selections including a fun take of Meghan Trainor's "All About that Bass." The sun had just set when Shoe Fest's Artist at Large Allie Kral joined Horseshoes for a sit in of epic proportions. I was so excited to see her play, I was practically chasing my tail!
Ben Miller Band was probably my favorite set of the night. One of the lesser known acts on the lineup, they absolutely blew me away with their nitty gritty chops. From their cover of "Will the Circle be Unbroken" to the addition of a trombone player, this group's raw talent and down home feel was impressive. I found out from our dog friendly neighbors that this band had just got off tour with ZZ Top in Europe and this was one of their first shows back home in the States.
While I was hoping to make it through Old Shoe, I was literally dog tired. My human took note of my droopy eyes and dazed look on my face and we headed home. When I found out I missed their entire cover of Phish's "Story of a Ghost," I almost cried.
Overall my first festival experience was a huge success. Shoe Fest's family friendly atmosphere made it a place for all living creatures, including a hound dog like myself. I will surely be back next year ready to boogie my tail off.