A Look Ahead & Behind | Mountain Goats From Empty Bottle to The Vic [Audio]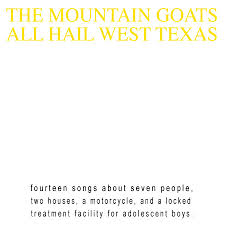 It has been a remarkable run for Mountain Goats, who headline a show Saturday, April 18th at The Vic.  Here's a look at an older recording from Empty Bottle that helps to put this achievement in perspective.
Back in 2002, the Mountain Goats released two albums, All Hail West Texas and Tallahassee. Though both are widely considered amongst John Darnielle's best songwriting, the albums were extremely different, with All Hail West Texas recorded, like most early Mountain Goats releases, straight onto a boombox, while Tallahassee featured a new, slicker production and a full band.
This recording finds John Darnielle touring between the two releases, promoting what would be his final lo-fi boombox recording, All Hail West Texas.
At one point during the performance, Darnielle describes the writing process of All Hail West Texas:
"I recorded it really quickly. My wife was up at hockey camp in Canada so it was just me and the guitar and the boombox for a couple weeks, and I wrote all these songs, and I would write them real fast. I would write one, and then move on and never listen to it again until it was time to make the record and sequence it."
The record's songs are simple but emotive, featuring only Darnielle and a guitar. The show's performances feature the same formula, with the songwriter alone, somehow making it through 28 songs in less than two hours, each one in the distinct style the writer had perfected over the past decade.
"West Country Dream" finds the singer raising his voice to a growling scream, striking his guitar heavily as possible to match the tone. In "Poltergeist" he reaches for the highest notes I've heard him hit.
"Snow Crush Killing Song" is a delicate ballad, Darnielle's sharp vocals cutting through his gentle strumming. "Jenny" becomes a strange sing-along, the audience screaming, "Goddamn, it's the pirate's life for me!"
Darnielle is talkative throughout, sharing anecdotes and stories about his songs and his life on the road, often taking requests from the audience and responding to their enthusiastic shouts.
The main set ends with "The Best Ever Death Metal Band In Denton," a song that was new at the time but is now regarded as a classic, the audience singing along throughout.
The five-song encore is worth downloaded the show on its own, beginning with the unreleased and underrated "My Favorite Things" and the extremely old "Going To Georgia" and "Going To Scotland." "Carmen Cicero" followed, a song that would later be recorded by Darnielle's side-project The Extra Glenns. He finishes with "Cubs In Five," a rarity and appropriate choice for the Chicago show.
Thirteen years later and the Mountain Goats will play The Vic on Saturday. Stay tuned for our review of that show, which should offer many interesting contrasts.
[box type="download"]Download Entire Set[/box]
- Alex Wood