A Phish and Beer Pairing, This Thursday At City Winery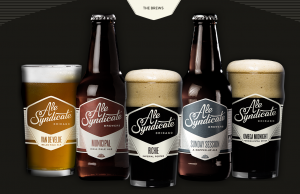 City Winery has made a habit of pairing their excellent wines with musical tributes to some of their favorite artists.
When it came time to paying tribute to Phish, beverage director Rachel Driver Speckan decided to leave the wine in the casks and introduce fans to the hand crafted brews of Ale Syndicate.
Chicago's finest Phish tribute act, Helping Phriendly Orchestra will supply the tunes on Thursday March 6th, and introduce the drink pairings from the stage.  Here's what's on tap:
1. Sunday Session A Hopped-Up Ale
2. Municipal India Pale Ale
3. Van de Velde Belgo-Pale Ale
4. Omega Midnight Foreign Extra Stout
5. Stay tuned - tbd
The brewers at Ale Syndicate, who have recently moved back to Chicago after a stint in NorCal, have this to say about their approach:
We've built a truly collaborative brewery that is more than the sum of its parts and far greater than we had ever planned. At Ale Syndicate Brewers, we believe in strong flavors, pure ingredients, and the power of coming together around something we love.
$25 gets you the five beers and a full night of Phish tunes.  Rather go for the wine, or save your energy for the rest of the weekend? $10 for the music only.
Or… enter our contest (feel free to sign up for one of our other weekend giveaways as well).  We've got one drink pairing package and 2 pairs of music only tickets.  Good luck
[Form id="9"]
For more info on the rest of these shows (and more) check out this page.