Album Review | Animal Liberation Orchestra - Tangle Of Time
By @312mrg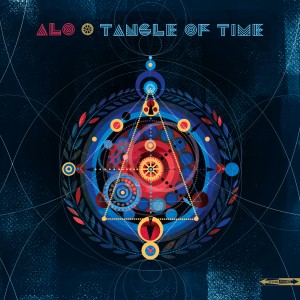 Unless you live on the West Coast, the chances of seeing ALO or any of their side attractions take somewhat of a hit. While they have been together for over 20 years, they still seem content on an organic and sustainable growth.
For the rest of the country, they may not bring their lively shows through town annually, that is unless they are supporting new material and an album release.
Tangle Of Time, released October 2nd on Jack Johnson's Brushfire Records label and accompanied by a 18-stop fall tour, is exactly what I'd come to expect from the band's playbook, but may be something different for those accustomed to their live reputation.
ALO is a group that continues to add superb studio snapshots to their growing catalog, now 8 albums deep . But it also exemplifies the qualities you don't typically find from a band that is renown for the live expeirence.
Tangle, like their other studio albums, appears built to satisfy a separate desire than the live show. If you have a negative connotation with the word "poppy", how's this? Approachable.
This ALO record is rooted in feel good and uplifting songs, and saves its darker spaces for sinister funk exercises -- fun with a "k". It is the yin to the live yang, capable of taking on different forms: in the car on a late night drive, the complement to your morning cup of coffee, a proper send-off to a long day, or simply reflecting on life while a comfortable breeze comes through an open window.
On Tangle, the band finds its footing as an emotional storyteller, unspooling tales beautifully through different voices, styles, and plenty of brushes, fitting so many different moods.
Tangle of Time is balanced and mature, with more vocal depth that perhaps any of their previous releases and grows with each listen.
Substantial contributions beyond the the most recognizable voice in the band -- keyboard, ukulele and accordionist Zach Gill -- highlight where ALO is heading. The musical growth and confidence of bassist Steve Adams, and drummer Dave Brogan are apparent, drawing closer to territory previous owned by Gill and guitarist Dan Lebowitz.
"There Was A Time" opens the album with a joyful ALO swing, while "Simple Times", "A Fire I Kept", "Sugar", and "Strange Days" channel a Randy Newman-like power out of Gill.
The studio nearly yields a potential signature live ALO jam on album's most promising launchpad: "The Ticket" . What first could be interpreted as a "This Must Be the Place (Naive Melody)" doppelgänger eventually runs off its synth heavy rails and finds a deep-space groove.
Adams' back up vocals throughout hint at that evolution and do moreso with every listen. He takes the lead on a pair of tunes he contributed -- "Not Old Yet" and "Keep On" -- providing the collection some vocal contrast without disrupting the flow or theme. Both are upbeat songs are about maintaining positivity and perspective.
Lebowitz' "Undertow" is a ethereal jam with a driving beat that showcases this underappreciated guitarists' chops -- it sounds like it could yield some serious tension and release eruptions this fall. Meanwhile, another Lebo song, "Push" provides a small glimpse into what Phil Lesh and Steve Kimock wanted when they included him on tours and shows recently.
Brogan's lone nugget standouts in more ways than one. While there is nothing threatening or unsavory about ALO, it is welcome if they at least present the capability of going there. Brogan's "Coast to Coast" conjures this space: dark and funky with plenty of deep pockets.
The maturity of Tangle of Time provides the sense of hearing a band without the pressure or rush of doing something for the sake of doing it. It is an album that blends purpose and inspiration to create a definitive document, that stands as a complement to its remarkable achievements on the road.
This is the first in a three part series, spotlighting ALO, Animal Liberation Orchestra, for The Barn Presents. Keep an eye out for our interview with keyboardist, vocalist and songwriter Zach Gill and then a review of their 10/14 Double Door show with New Orleans punk pop band Yojimbo.