Album Review: Jimmy Herring - Subject To Change Without Notice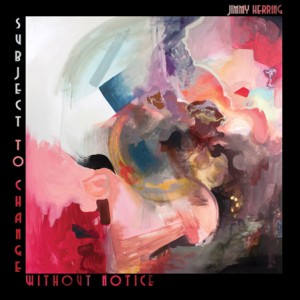 Jimmy Herring humbly offers his considerable musical gifts to those who enjoy a rigorous musical workout.  For a music writer, having Subject To Change Without Notice as the title of the guitarist's lastest release is like wrapping that gift with flowing ribbon and shiny bows.  The album's name easily suggests not only the confident stylistic swings that gives this album the gravity of a serious work, but also the vitality and reach of the music itself.  It can even be applied as meta-commentary on Herring's own role in numerous high profile and successful bands as he asserts himself yet again as a solo artist and bandleader.
A spin through the album is like a one-hour tour through the guitarist's notable career -- kicking off with "Red Wing Special", an up-tempo gypsy-jazz romp that evokes his seminal work in Aquarium Rescue Unit, it bristles with the high-flying fiddle work of Steep Canton Rangers' Nicky Sanders playing against Herring's Django Reinhardt-like leads.
It is followed with the one-two punch of "Kaleidoscope Carousel" and "Aberdeen" which recall Jimmy's stints in Widespread Panic and the Allman Brothers Band respectively.  With [longtime Panic producer] John Keane at the helm for this recording, it is not surprising that these mid-tempo swampy southern rock compositions reveal themselves as expansive and emotional instrumental passages.
By the fourth track, Herring switches gears entirely, turning his guitar's tone on its ear and playing as lyrically and fluidly as you'll hear on this release.  When it finally seeps in that you're listening to his take on George Harrison's classic Beatles track "Within You Without You", the band has shifted once again -- using the song's iconic melody as a launching pad into a full-fledged jam, stretching the tune over seven minutes long and finding spaces only hinted at in the sitar-drenched original recording.
On two other notable covers, Jimmy McGriff's "Miss Poopie" and Mahavishnu Orchestra's "Hope", Herring steers the band into the fusiony-funk that was front-and-center during his Jazz Is Dead period and during the brief but intense run of the Phil Lesh Quintet.  Keyboardist Matt Slocum unleashes a guttural clavinet assault in order to go toe-to-toe with Jimmy on "Poopie", as the core of his band does throughout the record.  Notably, drummer Jeff Sipe is willing and able to go anywhere that Herring chooses, establishing a dynamic rhythmic palette for bassist Neil Fountain as well.
The unmistakable banjo great Bela Fleck stops by on "Curfew", again tapping that joyfully dense ARU-like groove and offering a island in the middle of the album's jazzy second half.  Spanning harder bop ("Twelve Keys") and a mellow acoustic jazz space ("Emerald Garden", which also evokes Jimmy's tone from the recent Widespread Panic Wood Tour), before finally arriving at the epic Pat Metheny-esque soundscape of "Utensil Oceans", it is a jump-through-hoops mentality and incomparable technical prowess that make Herring the consummate jazz fan's rock guitarist.
His music, and this album, is great because represents an achievement.  Although the end product may sound like it just came spilling out of him, it is clear that Subject To Change Without Notice is the product of leadership, collaboration and deliberate challenges that are scaled by dedication and practice.
When Jimmy Herring makes an album, expect nothing less.
For a chance to see Jimmy Herring and his band live in Chicago for FREE on 8/31/12, check out this link.