Album Review: Kevin Daniels - Thirteen... Live In An Empty Room
Contributed by @WeirScrewed
A guy and his guitar-- what represents American folk more than that image? Add a slightly wild voice, a bass drum, an occasional harmonica, and a couple of friends and there you have Kevin Daniels' debut effort, Thirteen….Live In An Empty Room.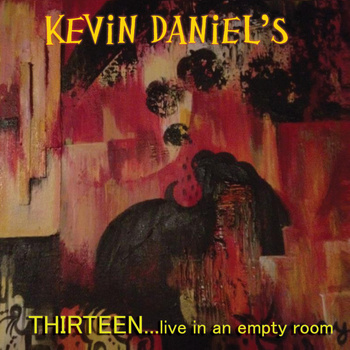 Starting off with sparse guitar melodies reminiscent of William Eliot Whitmore, "Crazy Kind of Life" starts off this album from Daniels. His raspy voice adds texture to the opening track before a kick drum begins to drive this song. The kick drum is used throughout the album to add a driving force to tunes like "Your Love" and "Seen You Wasted", which contains some nice mandolin work. "These Country Roads" is an anthemic track that evokes the open road after opening up and bringing in soulful harmonica before its quiet close.
"Front Porch Blues" borrows heavily from classic Americana sounds while still helping Daniels to craft his signature sound. "My Separate Ways" keeps the train moving across the prairie with its driving guitar/drum sound while showcasing Daniels' soaring voice as much as anything on this album. Perhaps the highlight is the aptly titled "Whiskey Weed and Cigarettes". This track, more than any other on the album, highlights Daniels' songwriting skills and would not be out of place on an American classic like Ryan Adams' Heartbreaker. The album closes out with the rootsy sounding "Devil's Dance", a song anchored by a deep bass drum and a vocal duet. The closer sounds appreciably different than any other song on the album without at all sounding out of place.
In Daniels' promotional material, he lists Bob Dylan and Chuck Ragan as his two biggest influences and that is an appropriate description- the folk/punk hybrid is present throughout all songs on this album. The anti-establishment ethic of both types of music are very similar and provide a backdrop for Daniels' signature sound. But to his credit, his songwriting is mature beyond his years and does not fall trap to sounding dated. The themes he writes about are universal- pain, love, loss, heartache,- and this album showcases this talents. Kevin Daniels' Thirteen..Live in an Empty Room is worth a listen.
Soundcloud Link http://soundcloud.com/kevin-daniels
Website http://www.facebook.com/KevinDanielsMusic