Album Review: Medeski Scofield Martin & Wood - Juice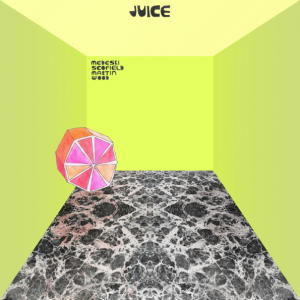 Medeski, Scofield, Martin & Wood's
Juice
is the perfect album for jam fans and jazz fans alike.
Taking a more laid-back approach than 2006's Out Louder, the four master musicians work their way through jazz, fusion and rock with a deceptive ease, making difficult compositions and inventive solos sound unbelievably easy.
Juice abandons the abrasive fusion songs like Out Louder's "Miles Behind" in favor of an Afro-Latin style, each instrument sounding straightforward and clean. Most importantly, the band digs up the same deep grooves they have since their formation.
Wood's bass lines are deep and melodic. Medeski's keys are constantly moving, the switch between piano and organ adding texture to the compositions. Martin's drumbeats are complex but precise and the backbone for the tracks' Latin textures. Scofield focuses primarily on guitar solos, a splatter of notes and melodies keeping the compositions alive.
Album opener "Sham Time" has a boogie feel with an active bass line and Scofield's guitar constantly shifting, Medeski later taking over with an equally vigorous solo.
"Louis The Shoplifter" finds the group focused on jazz, showcasing Medeski's skill on an acoustic piano. Even Scofield's quick guitar licks and full tone give off a classic bop feel. "Juicy Lucy" feels more modern, finding Scofield at his funkiest over a catchy, melodic groove.
Like Out Louder, Juice features numerous covers of popular songs.
The Doors' "Light My Fire" is performed exceptionally, with Scofield playing the infamous organ line as well as the vocal melody. Medeski's organ helps match the feel of the original song, despite the drastic compositional changes.
"Sunshine Of Your Love" is a massive eleven-minute jam with reggae influence, while "The Times They Are A-Changing" is converted to slow jazz, Dylan's melody constantly intact throughout.
Feeding off an energy created through collaboration, Juice is the trio's most consistent release in a long while, with Scofield offering an enormous contribution and taking the record to a whole new level.
Combining musicianship, creativity and collaboration, Juice is everything you could ask for from four of the most talented musicians in today's scene.