Album Review: Pert Near Sandstone - The Hardest Part Of Leaving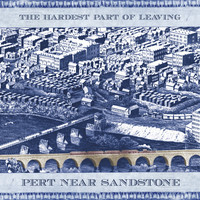 The Hardest Part Of Leaving
is evidence that Pert Near Sandstone understand the traditions of the bluegrass genre -- they channel old-time bluegrass traditions into a record both modern and timeless.
Unlike the work of Minneapolis bluegrass contemporaries Trampled By Turtles, the tracks remain relatively short and centered around the vocalist, recorded with a distinct live feel but rarely focusing on a single player's musicianship.
Fortunately, the songwriting delivers, offering unique and soulful songs that don't often lean on bluegrass clichés, or any cliches for that matter.
Though songs like "Wish This Was New Orleans" and "A Couple Off The Top" walk a fine line between light-hearted and inane, tracks like "His Island" go deeper, the lyrics a social observation of another's relationship.
"Look out for his island/ You can never swim therein/ He will only hold up there and be content with sin," they sing, observing that "every guy is great when you meet him."
The band remains within the stylistic confounds of the bluegrass genre but still explores within this context, providing variety without losing unity.
"Walk Right In Belmont" has an old-time music feel, fiddle running throughout the background. It's the kind of song that begs for backbeat handclaps, if not all-out square dancing.
"I'm Coming Home" is reminiscent of early country pioneers like Bill Monroe, while "25th & Riverside" sounds unmistakably modern. Piano creeps into "You're No Good To Me" for a light ragtime feel, while "In Between" is a dark, minor tune.
"Staggerlee" and "The Square" find the band playing into their strengths, combining timeless melodies with traditional, joyful backing.
Though traditional bluegrass fans seeking heart-stopping chops need not look here, The Hardest Part Of Leaving proves Pert Near Sandstone competent and able to produce a record that, above all else, is good, clean fun.
The Hardest Part Of Leaving is out April 15.
- Alex Wood