Album Review | TR3 - Like Some Kind Of Alien Invasion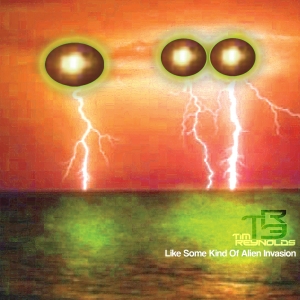 Like Some Kind Of Alien Invasion begins with a gurgle of electronic effects before jumping into a rowdy guitar riff, the hard-rock styling reminiscent of every arena rock band to pop up since Zeppelin.
In this way, "I.C.U." is the perfect introduction to TR3, best known as the project of Dave Matthews Band guitarist Tim Reynolds.
TR3 plays classic, unabashed rock 'n roll. There's no nostalgic feel, no shame or specific point of reference. The songs are confident and cocky, boasting skilled musicianship as natural as it is referential.
"I know you want me/ I know you love me/ do it again," Reynolds sings in "I.C.U." immediately before blasting into a high-energy guitar solo, the bass line bouncing constantly around the fret board.
Reynolds doesn't have a particularly notable singing voice, yet he doesn't need to. Throughout Alien Invasion, the vocals are coarse and rhythmic, moving songs forward with interfering with the music beneath.
Before the album's release, Reynolds spoke to me about his recording process, noting that the band took their time with this album, calling it "one of the most joyous and fun processes, even though the longest I've ever spent on a record."
"Everything I Believe In" features breezy acoustic guitar playing, the vocals simple but melodic, the real highlight a breakneck speed acoustic guitar solo by Reynolds. A delicate moment on the record, the song quickly becomes "In The Zone," another hard rocking electric number.
In his interview with The Barn, Reynolds noted that Alien Invasion was more "groove oriented" than past releases, something that certainly comes out in the record's instrumentals.
"In The Zone" chugs along like early ZZ Top, the lyrics simple to the point of sounding silly, yet all that matters is the crunchy riff beneath them. These are the kind of riffs aging jam bands would kill for, yet one could imagine Tim Reynolds could write ten a day if he tried.
"Mystery Calling" reaches a spacey jam combining acoustic picking with distant, effects-drenched guitar, the song nearly recalling Dave Matthews Band, stylistically.
Despite being limited to the classic power-trio format, Alien Invasion's songs constantly shift styles and tempos, ranging from acoustic ballads to psychedelic, progressive blasts of rock, yet each is comparable in its straightforward rock drive.
"Grania" is amongst TR3's most ambitious compositions, the instrumental track featuring clean, quick guitar runs comparable to early Phish. Long, winding guitar drones begin to overtake the song as the tempo increases, the track becoming "Something In The Air," a short collection of guitar drones and noisy effects, the song living up to the album's extraterrestrial name.
Like Some Kind Of Alien Invasion is TR3 to a T. It's everything fun about rock 'n roll, with an endless supply of guitar-forward grooves blending rock, funk and jazz into a coherent style of ceaseless of energy.
Though this power trio could fill an arena with its riffs, TR3 performs at SPACE on Thursday, Feburary 12.