Album Reviews- March 2015 Releases
By: Alex Wood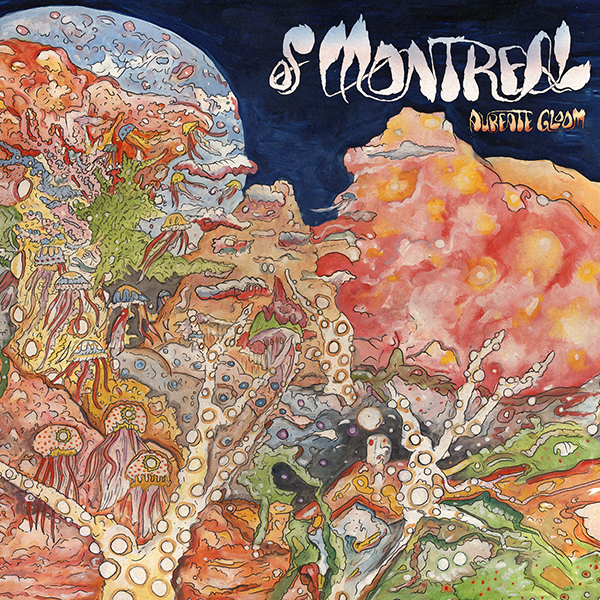 Of Montreal- Aureate Gloom [3/3]
Of Montreal's 13th studio album is perhaps amongst Kevin Barnes' most sincere songwriting. His extensive vocabulary expresses the emotional strains of divorcing his wife, Nina, an overarching subject of the album. Musically, the album finds Barnes and his band straying from the electronic, Prince-esque style of past releases and into a more guitar-based, David Bowie/glam rock style which fits Barnes' vocals well. Amongst the band's best releases of recent years, Aureate Gloom is yet another Of Montreal album that only Of Montreal could ever produce.
Lady Lamb The Beekeeper- After [3/3]
More music fans should be familiar with Lady Lamb The Beekeeper. Project of multi-instrumentalist and songwriter Aly Spaltro, Lady Lamb is a stark, emotional affair, straddling the worlds of indie and alternative rock with a heavy use of dynamics and build throughout. Songs on After range from catchy, melodic pop-songwriting to gritty, dark alternative, Spaltro's voice able to switch from a delicate whisper to a scream in a matter of seconds.
Moon Duo- Shadow Of The Sun [3/3]
Moon Duo, a side-project of Wooden Shjips, released another batch of acid-drenched psychedelic tunes this month with Shadow Of The Sun. The songs drive endlessly forward through repetitive, effects-smothered riffs, organs and guitars entering and exiting the mix. Comparable to early Spacemen 3 recordings, the songs will satisfy fans of psychedelic rock with plenty of fresh grooves throughout.
Matthew E. White- Fresh Blood [3/10]
The singer-songwriter has certainly been making a comeback recently, with the likes of Father John Misty taking the scene over like a tidal wave. Yet Matthew E. White's compositions stand up to the best of them. Fresh Blood's dense songs sound as though they were written on piano but turned into something as far from a simple piano-ballad as possible. Gigantic, dense arrangements surround the gentle compositions. Guitar, drums and piano are encompassed in layers of background vocals, horns and strings, Matthew E. White's vocal lines punctuating fantastic lyrics. With flawless production and impeccable songwriting, this is a subtle album not to be overlooked.
Will Butler- Policy [3/10]
Arcade Fire's founding member and multi-instrumentalist Will Butler released his first solo album, Policy, to much surrounding hype. The album features a set of catchy, clean rock songs, often with the same energetic bounciness that he brings to his primary band. The songs remain simple, yet are composed with an expertise that keeps the record from sounding repetitive or dull. While fans of Arcade Fire will certainly find similarities here, Policy is a record that stands on its own and proves Will's proficiency with or without the band.
River City Extension- Deliverance [3/10]
River City Extension creates massive indie-pop songs that often hide their complexity beneath infectious melodies and the simpler elements of their songs. Yet each song constantly shifts, introducing lush string arrangements, solos and new vocal hooks at a ceaseless pace. Deliverance is a sort of indie rollercoaster, with tempos, instrumentation and mood constantly changing. An interesting listen from start to finish, the album finds the band stretching the limits of their genre to an unparalleled density.
Kendrick Lamar- To Pimp A Butterfly [3/16]
Kendrick Lamar took over the hip-hop scene with 2012's good kid, m.A.A.d city, and all eyes were on the musician's next step. To Pimp A Butterfly was released eight days ahead of schedule, unexpectedly, and, frankly, blew good kid out of the water. Built around jazz, funk and R&B, the album is as expressive musically as it is lyrically. With a strong lyrical focus on black oppression and the culture he grew up with in Compton, California, the songs are as clever as they are emotional. Regardless of your opinion of major-label hip-hop, every music fan needs to hear this record.
Modest Mouse- Strangers To Ourselves [3/17]
Despite being Modest Mouse's first studio album since 2007, Strangers To Ourselves follows a strikingly similar formula to We Were Dead Before The Ship Even Sinks. Nobody expected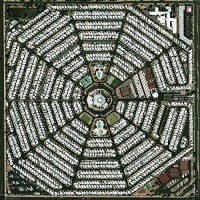 Modest Mouse to return to their roots, and nobody assumed another creative breakthrough like
Good News For People Who Love Bad News
, yet it's still somehow a surprise to hear such a straightforward album from the band after eight years away. This isn't to downplay the music; everything's in place. Brock's lyrics are witty and cynical and the band sounds big as ever, with dense arrangements and the occasional incorporation of electronics. The production is straightforward and the album is accessible, as a whole. Though no real revelations came through with this release,
Strangers To Ourselves
is far from disappointing and fans, above all else, will welcome the band's return.
Houndmouth- Little Neon Limelight [3/17]
Houndmouth may have perfected their sound with Little Neon Limelight. Mining the depths of roots rock 'n roll, the songs are twangy, catchy and dirty. Never excessive, each track sounds exactly as the band would perform it live, with no frills or tricks. The lyrics are colorful and packed with detail, surveying the world surrounding the band as they tour the country. Vocal duties are shared by the band, creating a massive, rousing sound in nearly every chorus. Rarely in modern times have roots traditions been revived with such passion and success.
Tobias Jesso Jr.- Goon [3/17]
Despite having played guitar and bass for years, songwriter Tobias Jesso Jr. learned piano for his debut record, Goon. The playing is competent yet simple, which suits the heartfelt songwriting well. Easily comparable to early Randy Newman, the songs shine with sincerity and earnestness, which helps them resonate easily with the listener. Catchy, emotional ballads that sound as classic as can be, Tobias Jesso Jr. is a name you'll continue hearing in the music scene.
Seth Avett and Jessica Lea Mayfield- Sing Elliott Smith [3/17]
When the Avett Brothers' Seth Avett and alternative songwriter Jessica Lea Mayfield announced a collaborative LP of Elliott Smith covers, there was reason to be skeptical. Though often covered, Elliott Smith's songs are rarely done justice, and seen as untouchable by most true fans of the late songwriter. Yet this record was done with grace, or as much respect as able, with the two songwriters simply running through a set of their favorite songs. Vocal duties are traded and guitar playing is simplified. Though hardly an essential listen, the record sounds like two musicians paying their respects to a favorite artist as modestly as able.
Courtney Barnett- Sometimes I Sit And Think, And Sometimes I Just Sit [3/24]
Courtney Barnett may be one of the best songwriters around today. Her songs are socially conscious and full of anxiety, a jaded view of the world around her. Delivered with a straightforward blast of rock, they come to life in a way that's entirely unique, despite being nothing particularly revolutionary. The album contains soft, quiet ballads and energetic electric tracks, making the album a compelling listen that never goes stale.
Jon Spencer Blues Explosion- Freedom Tower- No Wave Dance Party 2015 [3/24]
As the title suggests, the newest record from Jon Spencer Blues Explosion finds the band at their most upbeat and danceable. Still steeped in the electric blues, the songs land somewhere between 50s rock 'n roll and modern blues rock combined with a heavy dose of funk. Freedom Tower is simple fun, an impossible record to hear without wanting to dance or, at the least, tap your foot. It never slows down yet never takes itself too seriously. The riffs all rock and the songs never linger too long. After decades in the business, Jon Spencer Blues Explosion is having more fun than ever.
Earl Sweatshirt- I Don't Like Shit, I Don't Go Outside [3/24]
Earl Sweatshirt's newest record is a dense, dark set of hip-hop tracks. The beats are minimal and gritty, using only a layer or two atop each bass-heavy drum track. The lyrics are paranoid and cynical, but delivered with a keen sense of wordplay and witty worldview. The production is as simple as the music, highlighting the rapper's delivery and lyrics. The songs are short, as is the record as a whole, yet I Don't Like Shit winds up being a gratifying listen from start to finish, and amongst the year's best hip-hop releases.
Laura Marling- Short Movie [3/24]
For Short Movie, Laura Marling moved away from the soft, acoustic sound of past records to a deliberately electric sound. The songs don't lose their gentleness in the switch, as the songwriting remains as emotional as ever. If anything, the electric guitar adds to the darkness of her songs, which are thick with imagery and often particularly wordy. Regardless whether the song is a fragile croon or an upbeat, spoken-word delivery, the songwriting is phenomenal, personal and relatable, emotional yet occasionally detached, arrogant yet vulnerable. Short Movie is yet another phenomenal release in a string of great records from Marling.
Surf City- Jekyll Island [3/24]
Surf City combined garage rock with surf rock for a breezy set of songs as laid-back as they are energetic. Though indie bands often attempt this formula, rarely is such a quality set of songs achieved. With vocals and guitars soaked in reverb and drums and bass keeping a relaxed but upbeat pace, the record sounds stoned and effortless. Released just in time for the nice weather, Jekyll Island is the perfect soundtrack for an open-window ride through the city or a trip to the beach.
Sufjan Stevens- Carrie & Lowell [3/31]

After the dense, electronic sound of Age Of Adz, Sufjan Stevens scaled things back for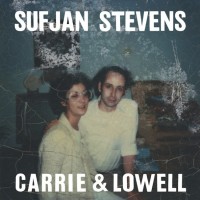 Carrie& Lowell
. The album is a set of sparse, acoustic tracks that highlight the singer's poignant lyrics, written in response to the recent death of his mother. Stevens hasn't released an album so minimal since his early years, and returns to the sound with confidence, as though to remind fans that the simplistic songwriting was always the basis for the gigantic compositions from
Illinoise
or
Age Of Adz
. Soft keyboards, tambourines and background vocals creep into songs clearly written on acoustic guitar, creating a mood that undoubtedly came from the depths of Stevens' feelings. A record of music as gorgeous as the songwriting, this understated release simply can't be ignored.
Death Cab For Cutie- Kintsugi [3/31]
Kintsugi is a return to form for Death Cab after two of their most experimental albums. The last album to feature guitarist Chris Walla, the record is surprisingly heavy on guitar parts, with clean riffs and picking forming the basis of most tracks. The songs aren't terribly far from older albums like Transatlanticism, outside of cleaner production and a more pop-forward rhythm section. Each layer of each song comes through clearly, with Gibbard's lyrics remaining as personal and open as ever. The first Death Cab album to truly sound like Death Cab in nearly a decade, Kintsugi should sit well with fans of the band.
William Elliott Whitmore- Radium Death [3/31]
Though William Elliott Whitmore always has one foot in American roots music, the other seems to stretch elsewhere, providing an edge that defines his soulful, Midwestern sound. For Radium Death, there seems to be a loud punk tone throughout, an aggression displayed by violent, distorted guitar below his howling vocal melodies. Unlike many of its predecessors, Radium Death is loud and boisterous, an album that's purposely 'in your face.' His gruff delivery is as moving as ever, the lyrics and music purveying a poignant perspective. This is highly affecting music, done with intensity.
Reptar- Lurid Glow [3/31]
Reptar seemed to streamline their sound with Lurid Glow. What used to be schizophrenic electronic indie music that could have been made in a bedroom has now become a pompous strut of indie-pop gleaming in its clean production. The songs are catchy dance tunes, each instrument track separated to an audible clarity. The songs now sound cohesive, instead of stretching in a hundred experimental directions. This leaves the band walking a tightrope between 'selling out' and 'find their sound,' and it will be up to individual listeners to decide on which side the band lands.