Album Reviews: Prince - Art Official Age & Plectrumelectrum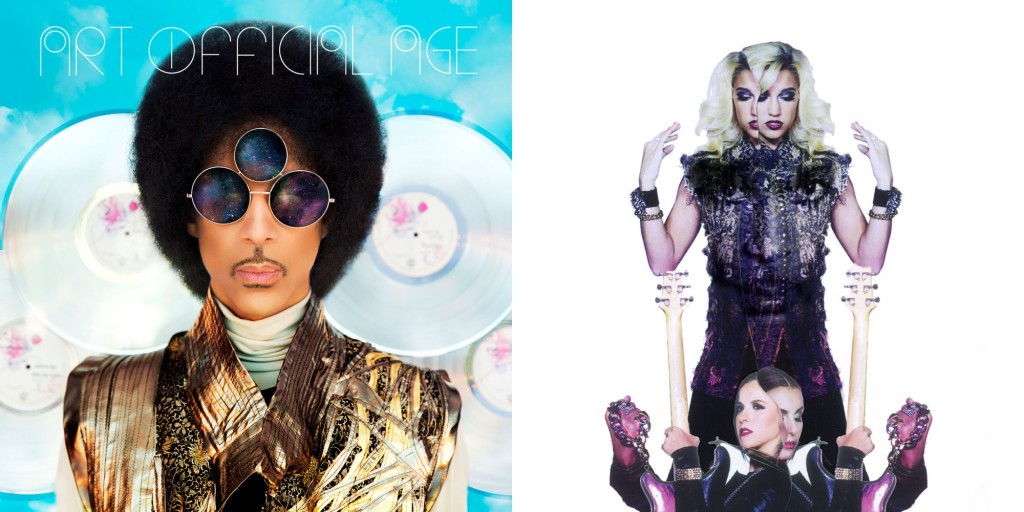 Upon Prince announcing the release of two new studio albums, fans had good reason to be as skeptical as they were excited.
Since the end of the 80s Prince struggled to win critics and fans over, often producing lackluster records that naturally couldn't live up to his classics. Fortunately, the new records show Prince in his best form in years, if not decades.
Demonstrating his notorious ability to shift genres and styles, Art Official Age sounds like the Prince album one would expect the artist to release, using electronic beats, keyboards and synthesizers to jump between funky, upbeat pop numbers and emotional ballads.
Plectrumelectrum, on the other hand, features Prince's female touring band 3rdEyeGirl. The trio's guitar-centered style offers a distinct stylistic difference from Art Official Age, featuring a collaborative feeling and a rock 'n roll backbone.
Perhaps the most impressive feat is that both sound like well-written and carefully recorded Prince records, either standing as some of his best work in more than twenty years.
Art Official Age balances Prince's classic 80s sound with a distinct modern influence.
"Art Official Cage" opens the record with blatant EDM influence. A huge drum sounds meets fake handclaps, only to become a rubbery, dub-step influenced synthesizer line, the song building up to a fast-paced dance track.
"Welcome home class, we've come a long way," he appropriately says at the song's beginning, in classic Prince fashion.
"Clouds" is funky with an odd, female spoken-word section, soaring guitar and an addictive vocal hook. "Breakdown" is the album's first ballad, using unbelievably high falsettos that only Prince could hit, the singer yelling over layers of emotional keyboards.
The album's consistency comes largely from the production. Every song is dense but clean, every layer carefully calculated, every decision conscious and essential.  Still, the album explores pop, funk, hip-hop and R&B, shifting styles constantly while remaining distinctly Prince.
"U Know" has strong hip-hop influence, its vocals a smooth rap matched by an equally smooth groove. DJ tricks chop the song up in the middle, smacking the listener over the head with a hip-hop-meets-EDM vibe.
Lyrically, Prince sticks to songs about love and sex, as one would expect.
"This Could Be Us" is a classic Prince love ballad.
"Take your energy/ Make you sleep for a week/ Sex with me ain't enough/ That's why we got to do it metaphysically," he sings. Soft harmonies conclude the track perfectly, musically and lyrically, stating, "you don't have time for me no more."
Art Official Age is, essentially, a modern record that wraps the sexiest, funkiest Prince into a single, cohesive album.
As though to prove that all Prince doesn't consist of clean electronic grooves, Plectrumelectrum showcases the artist's ability to shred on electric guitar, its songs rooted in classic-rock with dirty arena-rock riffs.
Opener "Wow" gets the point across perfectly, its riff heavy and its verses simple but precise. The chorus combines the hard-rocking guitar groove with a catchy vocal hook sang by the band, a perfect contrast to its softer verses.
"Pretzelbodylogic" is good, clean fun, its vocals light-hearted and its music hitting like 80s arena rock. As always, the vocal line is beyond catchy and Prince's guitar soloing is dirty and impeccable, precise yet loose, and eventually matched by a short bass solo and drum break.
3rdEyeGirl members share vocal duties with Prince, enforcing the collaborative nature of the release and offering variety. "Aintturninround" finds the female vocalists singing with a rough but funky delivery while "Whitecaps" is a soulful pop-ballad, its mellow, acoustic technique offering a breather amongst the harder rocking tracks.
"Boytrouble" is pure Prince, combining a funky bass line with rap lyrics, its vibe still lighthearted, while "Marz" is a blistering rock song, combining aspects of power-pop and punk for a hard-rocking track in a somewhat unusual style for Prince.
The distinction between the two records is best displayed in the inclusion of "Funknroll" on each album.
Plectrumelectrum turns the track into a funky jam with aggressive drums and quick, upbeat vocals. Fuzzy guitars take the forefront toward the end, with a strong bass line and constantly shifting beat becoming in-studio cheering and handclaps, as though to finish the album with the party atmosphere that pervaded it.
Though the Art Official Age version of "Funknroll" begins with the same heavy guitar riff, it gives way to a drumbox beat that recalls the Lovesexy era. The song keeps the 808-style beat throughout, swapping the straight funk of Plectrumelectrum's version for old-school 80s pop.
In one fell swoop Prince proved he's still a creative mastermind, combining musicianship, production and composition in a style that's uniquely Prince and simply unique as a whole.
- Alex Wood