Breaking Down The Phish At Wrigley 2016 Rumor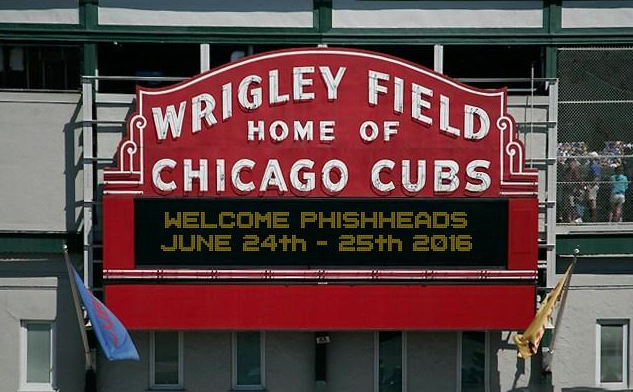 UPDATE [2/3]: It's ON!
UPDATE [1/23]: There's been a few new developments, which we break down HERE.
In 2005, Jimmy Buffet became the first modern musician to play shows at Wrigley Field.
Just about every year since Phish's 2009 reunion, somewhere on the Internet, somebody has suggested that Phish would play the iconic venue.  In December of 2015, the rumors are ringing loud and strong about a potential run at the Friendly Confines in 2016.  June 24th and 25th are the dates, with a proposed date at St. Paul's Xcel Energy Center to proceed in on the 22nd.
As we are apt to do around here, let's break down the rumor:
Is this feasible?
First thing's first... is the venue open on that day?  The venue's regular tenants, the Chicago Cubs, are on the road that day.  Not only that, 2016's only already announced Wrigley concert, James Taylor, is already on the books for June 30th.  As we've seen in the past, the Cubs like to schedule multiple music events during the same road trip to maximize the investment of the stage / concert infrastructure.
A list of rumored summer tour dates that circulated earlier this year was notable for it's lack of shows in the Chicago market -- especially since Phish hasn't performed here since the summer of 2014.  It seems likely that they would return after hitting a severely undersold Alpine Valley last summer in the shadow of Trey's appearance at Fare Thee Well over the July 4th weekend.
It's always difficult to ascertain the source / credibility of rumors like this.  But, this rumor seems to have some legs.  It appears to be coming from several unrelated sources all at around the same time.  There's probably still some uncertainty around whether it will actually happen, but it certainly doesn't sound like a complete fabrication.
At the end of the day, concert revenue is a huge boon for the Cubs, city, and neighborhood.  The list of acts that represent a good "fit" for Wrigley Field are small -- they need to be a large enough draw and attract the right demographic (sorry One Direction).  These generally are select classic rock or country stars and only a handful of these acts tour each summer.  This could be the right time for Phish to book.
Is this the "right" move for Phish?
While there has been a certain touring template for Phish, they have generally tried to mix things up so as not to stagnate from year to year.  A stadium show is always risky, especially given fan preference for smaller, more intimate settings, but there is always considerable buzz for "once in a lifetime"-type events.  Sometimes non-traditional venues can be attractive on their own, regardless of the setup.
They have typically toured using LiveNation's venue and ticketing infrastructure since management duties have gone to Red Light -- seemingly ruling out Wrigley (who typically is booked by Jam Productions) and uses etix -- but it's not unheard of for Phish to eschew LN venues once or twice on a tour.
Can they fill Wrigley Field?
A great question and one that maybe doesn't need to be answered.  Stadium gigs are few and far between for Phish these days.  Their booking strategy has erred on the side of creating artificial demand / scarcity rather than "room for all" type events to generate buzz and encourage early ticket buying.
But look at the acts who have booked (and even sold out) Wrigley in recent years.  They generally aren't stadium fillers either.  Billy Joel and Elton John aren't necessarily packing stadiums coast-to-coast.  Many of these acts are typically more comfortable in arenas, but use the drawing power of Wrigley itself.
Marketing this as a destination event could grab curiosity seekers, Cubs season ticket holders and plenty of brokers and speculators.  Even those that wouldn't touch a Northerly run might be intrigued by Wrigley Field.
The days of multi-night runs in farm fields, with long hours spent in parking lots, are being phased out in favor of vacations in urban areas with bars restaurants.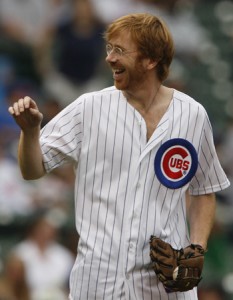 Is Wrigley a good venue?
For a baseball game?  Damn straight.  Probably the greatest combination of fun, history, location, and atmosphere in all of MLB.
For a concert?  That's another story.  I've only been to one concert there (Springsteen in 2012) and frankly it probably would have been excellent on the field -- taking in the enormity of the location, the ivy, putting you in place not typically experienced during a ballgame.  As it was, I was in the 200 section, under the upper deck, nearly a city block away from the stage.
It's just not designed for music, with many, many more bad seats than good.  Further, at capacity there can be a strain on already cramped facilities like bathrooms and vendors.  That said, the place is going through extensive renovation both inside and out -- I'm sure many of these issues are being addressed.
Does it matter?
I guess it just depends on how crotchety you'd like to be about it.
Looking at it this way.  A huge show can be quite appealing, especially when everybody gets in.  It'll be a great place to meet up with groups.
And don't let White Sox fans try to fool you... there is a bit of magic within those walls.  Being in a place that has seen so many great moments and memories counts for something.  You may not be a fan of the Cubs, but like many of the music venues that we frequent, there is something sacred here.  I'm sure Phish can play this up.
It's got impeccable access (if you don't drive) and a plethora of options very close for before and after the show.  I could definitely see a mini-Dead50 style pre-and-post show scene with legit national and local entertainment options.  Ideal for urban Phish-heads, and for out-of-towners, you'd be so close to so much the city has too offer.
And lets look at the alternatives.  All Chicago-area options have their drawbacks.
Northerly Island - weirdly isolated, difficult to get to.  In jeopardy of inclement weather canceling the event.  No view from lawn
UIC Pavilion -intimate size = tough ticket situation; can become unbearable hot during summer months
Toyota Park - too suburb-y; big, yet generic
Hollywood Casino Amp (Tinley Park) - way too suburb-y; awful pit of despair; aggressive law enforcement
United Center - never played here before; cavernous; a little too luxe?
Alpine Valley - technically not Chicago market; they can't seem to sell tickets here
So Wrigley it is?