Bubbly Q Giveaway - Labor Day at City Winery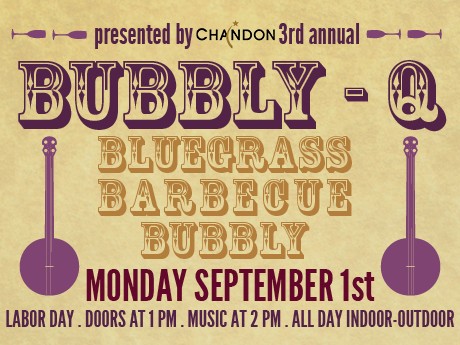 Now in its third year, the Bubbly Q is becoming something of a City Winery tradition.  Looking for somebody else to host your Labor Day barbecue, and have it paired with top notch live Americana music?  Look no further than their 5000 square foot outdoor patio.  You'll even be handed a complimentary mini bottle of bubbly courtesy of Chandon.
They also keep amping up the talent.  This year, Portland's Fruition will grab the headlining spot and play two sets (check out our interview with one of their principal songwriters).  On the more local tip, Old Salt Union (Belleville, IL) and The Way Down Wanderers (right here in Chicago) round out the bill.
The folks at CW have given us some tickets to give away to our readers.  All you have to do is drop us an email at info @ tomorrowsverse.com, or leave a comment below (let us know if you LIKE us on Facebook or FOLLOW us on Twitter and we'll give you an extra entry).  We'll pick the winners at random for a pair of tickets and notify you on Sunday.
Here's more information:
Doors at 1pm. Music at 2pm. Tickets are $15 and include entertainment and one delicious split of Chandon bubbly.  Enjoy music inside City Winery's intimate venue and outside on our lovely patio.

Schedule

1pm - Doors open
2pm - Way Down Wanderers (outside)
3pm - Old Salt Union (inside)
4pm - Fruition (Outside)
5pm - Way Down Wanderers (inside)
6pm - Old Salt Union (outside)
7pm - Fruition (inside)

"Stinky Onion B.B.Q. Co." presents a WHOLE ROAST PIG!

$8 Pulled roast pork right off the hog
$3 BBQ Baked Beans
$5 BBQ Pork Spare Ribs with House Made BBQ sauce

City Winery Chicago Presents:

$8 Duck Tacos
$7 CW Cheese Burger Sliders
$6 Fried Chickpea Slider
$3 House Made Potato Salad
$2 Grilled Corn on the Cobb