Cole DeGenova and The Heard Have You Covered In Case The World Ends... And In Case It Doesn't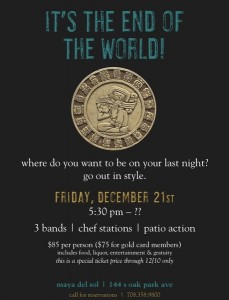 Two bands will be covering the near western suburbs on the weekend before Christmas, but the holiday may not be foremost date on their calendars. Instead, doomsday will be the more appropriate way to mark the occasion, when Chicago products Cole DeGenova & The People's Republic and The Heard blow it out on Friday, December 21st and again on Saturday the 22nd.
In what looks to be an event worthy of title End Of The World Party, Oak Park eatery Maya Del Sol complements the live music lineup with food stations manned by three area chefs [Exec Chef David Dworshak (Carnivale), Exec Chef Armando Gonzalez (Libertad), and Exec Chef Rhea Brown (Maya Del Sol)], open bar including some of their signature drinks and margarita fountain and a heated / covered outdoor patio. Oak Park resident and Grammy winner David Blamires round out the bill. Event starts at 5:30 and goes until past midnight or the end of the world (whichever comes first). Tickets can be purchased ($85) from Maya by calling 708-358-9800.
If they (and the rest of the world) survive, they will take the party just a few miles up the street to Fitzgerald's, where they'll be joined by Chicagoans The Shams Band to celebrate the proverbial dodging of the celestial bullet. At the wonderful Fitzgeralds, this will be a great chance to see these two great local funk and soul acts without the surrounding hoopla. If holiday plans will keep you in the burbs this weekend, we strongly recommend either of these two events.
Cole
The Heard