Feels Like Home: A Summer Camp Preview & 3-Day Pass Giveaway
By: Carmel O'Farrell - @carmelocorn | Photo: Kristine Condon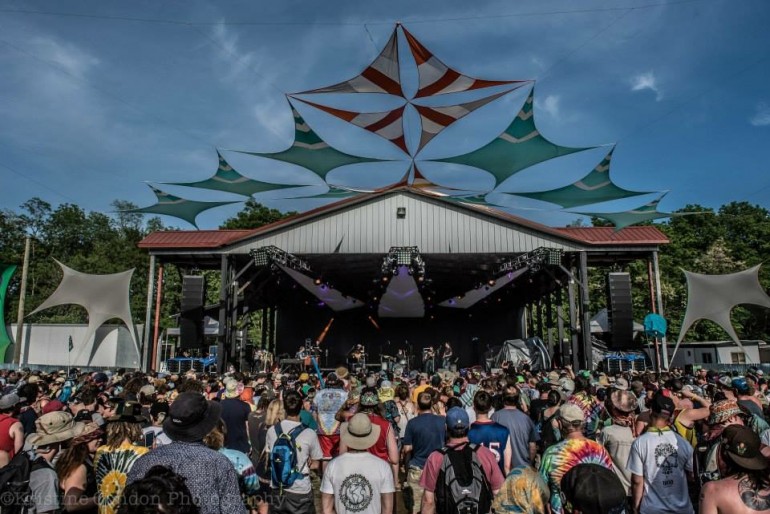 Like a fleeting circus, Summer Camp Music Festival comes around but once a year just as the weather starts to change and pale skinned music fans emerge from winter hibernation. For many like myself, this festival is a tradition and over the years we've become addicted to the escape it provides us. In a contest recently held on the Summer Camp website fans voted that disconnecting from reality for a weekend was their favorite thing about the festival. A telling sign of the times, no doubt.
Summer Camp isn't like other festivals. What started as an intimate gathering in 2001 has now become a fixture within the Midwest festival scene. Young bands dream of making it on the Summer Camp lineup, whereas weathered bands now call it home. Sixteen Summer Camps later, there must be a magic ingredient. To an outsider, it's hard to see past the unique, though cumbersome, lineup. Yet to the Summer Camp community, it is much more simple.
"It started in the middle of the corn field..." shared drummer Vinnie Amico of moe..  in a recent video produced by the festival.  "There was just something about this place. We didn't know what it was. Ian (Goldberg) wanted to build something up and here we are 16 years later."
If you try to dissect the "vibes," you will find elements unlike any other festival. Primitive camping away from the parking lot keeps the community concentrated. It also allows easy access to stages and vending. Traditions like Field Day and sunrise kickball keep with the Summer Camp theme, while the carnival rides will make most grown-ups feel like a kid again. The Soulshine Tent connects you to the culture of the festival and by the time Sunday rolls around, we are all one big family, one Ohana.
Umphrey's McGee and moe. headline Summer Camp, which has been a tradition since 2006. This means they each get five sets of music over the course of Memorial Day weekend. Besides jam staples like Keller Williams and EOTO, sub-genres on this year's lineup include EDM (Excision, Big Grizmatic: Big Gigantic, Gramtik and Griz), bluegrass (Yonder Mountain String Band, Greensky Bluegrass) and funk (Lettuce, The Nth Power).
"There are some old moe.down bands that are playing this year, we got Fishbone and Ani DeFranco," Amico shared. "Then we got Tom Petty and Mudcrutch, which is going to be just ridiculous."
Of course, it wouldn't be Summer Camp without throwbacks like George Clinton & P Funk and The Wailers, not to mention wild card acts like Americana singer/songwriter Jason Isbell, white boy rapper Lil Dicky, and The Tonight Show's house band: The Roots. Other lineup highlights include jam-scene heavyweights STS9 and Lotus, as well as road worriers like Dopapd, Tauk, and The Werks. Did I mention this lineup is STACKED?
The influence this festival has on the Midwest jam scene can not be understated. Not only does Summer Camp set a precedent for the rest of festival season, it also introduces up-and-coming bands to a unique community of music lovers. This symbiotic relationship has fueled a kinetic growth in the Midwest music scene throughout the past decade.
Yet despite the hefty lineup and the tens of thousands flocking to Three Sisters Park on Memorial Day Weekend, Summer Camp still manages to feel quaint. Once you make it through the security line it's like stepping into a story you never want to end. The community that surrounds this festival is as passionate as they are unique and for one long weekend a year they have a place that truly feels like home.
It's that simple.
Want a chance to win a three-day pass to the 2016 Summer Camp Music Festival?  Entering is easy.  Send an email to info @ tomorrowsverse.com with the subject line "Summer Camp" and in the body, tell us your full name and the reason that you think Summer Camp feels like home.
Find a link to this preview on our Facebook Page and like, share, and comment with your thoughts as well.  On our our Twitter Page give us a retweet. Be sure to give us a LIKE or FOLLOW, too.
Winner will be chosen at random and notified on Friday, May 6th.