Five Reasons Why It's A Great Time To Be A Panic Fan (Milwaukee 2013 In Review)
It was another fine fall weekend with Widespread Panic in Milwaukee.  Indeed, these are great times to be a Panic fan, and these shows really drove that home, so I'm offering a list of reasons why, with the Milwaukee run as my supporting detail.  Special thanks to Adam Misewski and The Riverside Theater for use of these excellent photos.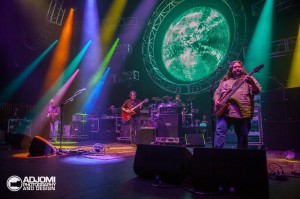 1. Their songbook is very deep and exceptionally well used. It's been a while since their last album and Dirty Side Down songs no longer dominate the rotation.  Nor do the old standbys.  Not that I'm complaining about the "Papa's Home" or "Pigeons" they offered in Milwaukee. Nowadays, it's a nice mix.  It takes a little longer for some of the bigger hits to come around again in the rotation, and that's okay. From a song list perspective, shows are more different sounding now that they've ever been.
And it's fun to be caught off guard. On consecutive nights, I saw a pair of deep blues covers ("Smokestack Lightning", "Spoonful") that I've never seen in 16 years of seeing the band. When they pull out "Happy" or even a George-era tune (I'm looking at you "Time Zones"), they reveal themselves as nice surprises, not tunes that have been beaten to death. Even Friday's Jerry Joseph sit in was a bit of a curveball; where I might have expected "Chainsaw City" or "North", they reached for "Light Is Like Water".
And let's not forget "Sultans of Swing", a great cover that they've pretty much let marinate since its debut on their 25th anniversary run. When it comes up, with Knopfler's signature solo nailed by Herring and the vocals sweetened by JB, you know it's special.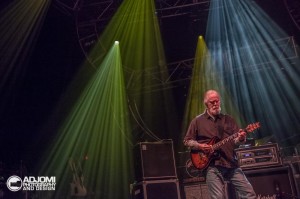 2. They are taking jamming seriously. How seriously? Enough to rip through a show opening "Postcard" on Saturday only to follow it up with a "Surprise Valley" which pushed 15 minutes. Very few bands committed to opening it up so quickly and for so long in the first set.
Scanning the sets, there's plenty of the hard-driving funk-edged rock jams throughout -- you can't jam out on "Arlene" or "Fishwater without Panic's bread-and-butter sonic element. But there's more. I've noticed in the 2013 shows that I've attended that the band is taking a bit more risky choices in improv. It was confirmed a bit while listening to JoJo explain in this video.  While Panic has always excelled at stretching those long, rhythmic rock jams to their limits, it seems Jimmy is pushing them a bit into a more unpredictable jamband-y space during some of their improvised material.
Don't get me wrong, they're not turning into some kind of swing band or anything. But have a listen to the jam out of "Mercy" from Friday's show. It features a slow build until a wild psychedelic space kind of just creeps up on you. Before you know it, it drops into "Smokestack", which continues to explore some of the spacey themes in a blues paradigm. The jam out of Saturday's "Rebirtha" showed a similar inclination, totally leaving the songs funk structure and catapulting into outer-space. I'm liking this new direction, which brings a more dynamic feel to WSP shows on a more consistent basis.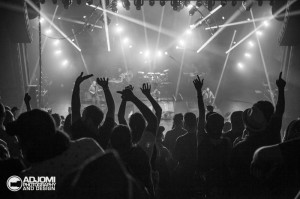 3. Widspread Panic is a band that knows how to leave the stage. Take a long look at the songs chosen for their set and encore closers (e.g. Saturday's "Solid Rock", "Henry Parsons", "Rock"). Now picture the energy in a tightly packed theater as they build up to their crescendos. The Panic crowd is one that is ripe to be whipped into a frenzy, and the band is happy to oblige, even teeing them up with slower tunes so that there's plenty of energy to expend as these finale's peak.
And the party continues right through the set breaks. The house PA dials up a crazy eclectic mix of classic rock, oldies, movie music, TV Theme Songs (Laverne & Shirley, Night Rider were both featured). The energy building up in the crowd as they cranked up the house speakers and entered the stage to the strains of The Who's "Eminence Front" was incredible.
On Saturday night, as they occasionally do, they blasted Talking Heads' "Burning Down The House" immediately after the final note and, as usual, the crowd didn't miss a beat. They boogied just as hard with the house lights up, as the crew broke down equipment, just like the band didn't even leave the stage.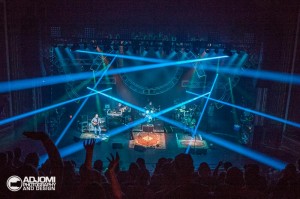 4. They've upgraded to the big boy light show. The quality of Panic's visuals is something that has ebbed and flowed over the years, sometimes hitting the mark, sometimes falling short compared to their jamband competition. The 2013 version of the stage set up stands up there with the best of them, with sweet high powered moving spotlights and an circular LCD screen standing tall at the center of the stage.
The result: an arena experience in a small theater. The rig itself looks liked it barely fit on the Riverside's stage It was a big engrossing look to go with a big engrossing sound.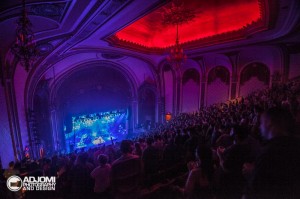 5. Through it all, they're a perfect band to pull off an experience like we just had in Milwaukee. Granted, I missed the first night (as did others... it was the only night of the run not sold out). But on the weekend, they definitely pack the place and they do it with hard core fans from all over the Midwest and, really, all over the country.  They foster an awesome passion amongst their fans, and in turn, the crave an experience where they can feel close to the band and each other.
Big praise for Milwaukee and The Riverside here. The theater is cozy, just ornate enough, and completely general admission -- all qualities you want to make an experience distinct. The midwest isn't exactly WSP country, but the mix of hotels, most of them pretty affordable and within easy walking distance, tons of options for fun both before and after the show and the in-show experience are kind of elevating the Riverside run to a bona fide "thing" amongst fans.
I think it stems from a genuine appreciation for what the Panic crowd brings to the local economy. It's pretty fun to kind of overtake the town and in this case, it leads to the fans getting treated with respect. It's so easy to grab a drink at the Riverside and it won't break the bank. Hell, you can leave and re-enter at anytime, including set break. There's a mini shakedown which operates unperturbed on the sidewalk across from the venue, right outside of a bar that's selling drinks to passersby. Quite simply, Milwaukee wants Panic fans to have a good time. JB announced that the band loves Milwaukee before Saturday's encore. The feeling is more than mutual.
Setlists
Widespread Panic
Riverside Theater - Milwaukee, WI
Friday, September 27th, 2013 (Stream Entire Show via panicstream)
Set 1:
Disco, Send Your Mind, Climb to Safety, Blackout Blues, This Part of Town, Time Zones, Holden Oversoul, Mercy, Smokestack Lightning > Love Tractor
Set 2:
Fishwater, Happy, Tall Boy, Space Wrangler, Light Is Like Water*, Arleen* > Drums** > Papa's Home** > Red Hot Mama**
Encore:
Expiration Day, The Take Out > Porch Song
* w/ Jerry Joseph & Wally Ingram
** w/ Wally Ingram
Saturday, September 28th (Stream Entire Set via panicstream)
Set 1:
Postcard > Surprise > Blue Indian > Ribs, Can't Get High, Visiting Day, Tortured Artist > Spoonful > Stop Go > Solid Rock
Set 2:
Thought Sausage, Pigeons, Up All Night, All Time Low > City Of Dreams, Rebirtha > Stop Breaking Down, Sultans of Swing, Greta > Jack > Henry Parsons
Encore:
May Your Glass Be Filled, Rock
All photos by Adam Misewski Creative - courtesy of Riverside Theater