Helping Phriendly Orchestra Headlines 2013 Rock 4 Autism Benefit At Cubby Bear North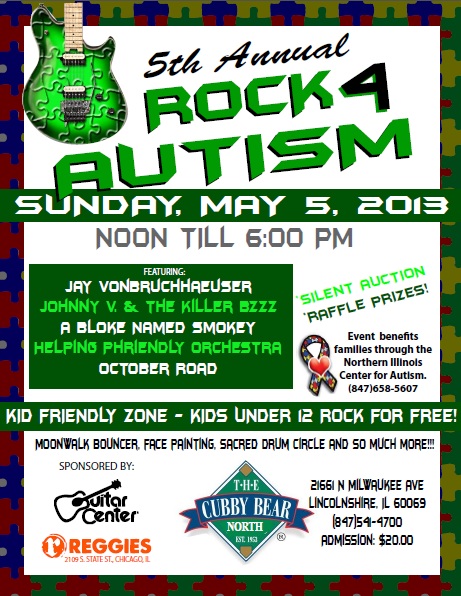 Phish and their community have never been shy about giving back -- from Waterwheel to benefit shows (VT Flood Relief, Voters For Choice) to various specialty LivePhish releases, even the fan run Mockingbird Foundation, charity has been a fine way to funnel the passion and resources that we devote to their art.
So it seems like Helping Phriendly Orchestra, Chicago's premier Phish tribute act, will emulate the band in more ways than one this Sunday, May 5th, at the annual Rock 4 Autism Fundraiser. As usual, they promise to recreate a Phish show, and this time they're doing it in support of Northern Illinois Center for Autism and the families it benefits.
We wrote all about last year's event -- and urge you to take some time to learn about this very worthy cause.  And even if your do decide to just show up for the tunes, this is a great opportunity. Because of members' commitments to other projects, HPO rarely plays gigs outside of Wednesday or Thursday nights in the city. Here's a Sunday show in the burbs which should bring their jams to a whole new set of ears -- it's even kid friendly so bring the family.
For city people looking to get up north for the event, Reggie's in the South Loop (who also are sponsoring in the event), will be offering their famous bus to shuttle folks back and forth from their club.
HPO rounds out a bill that includes 4 other acts and over 5 hours of music. Here's the complete lineup and schedule of events.
12-12:30: October Road
12:35-1:05: Jay Vonbruchhaueser
1:15-2:35: Johnny V & Killer Bzzz
2:45:-4:10: A Bloke Named Smokey
4:30-6:00: Helping Phriendly Orchestra
$20 donation
About NICA:  Serving well over 1,250 people annually in Northern Illinois and Southern Wisconsin, NICA continues to grow and assist people with autism and their family members. People with autism spectrum and related disorders of all ages and functioning levels of ability are able to receive assistance from NICA. Its members require a variety of services and support, based on their developmental level.  NICA currently provides the following support services: 
guidance to families via mentoring, tutoring and autism technique training to help them understand "What is Autism" and "What to do"?
medical support via dietary counseling and biomedical intervention information
vocational and life skills coaching to our teens and adults with autism spectrum disorders
a variety of support group and social group opportunities to our families living with ASD.
integrative community based programs and speaker presentations
 a nonprofit collaboration to connect families with appropriate services to meet their goals, including therapy services (Speech, Occupational, Physical, Aqua) and Mental Health Counseling