Review / Videos: Hideout Festival 9/6/14
Sun, Summer Jams & Braces – Saturday At The Hideout Block Party & AV Club Fest
By: Brian R. Brinkman - @sufferingjuke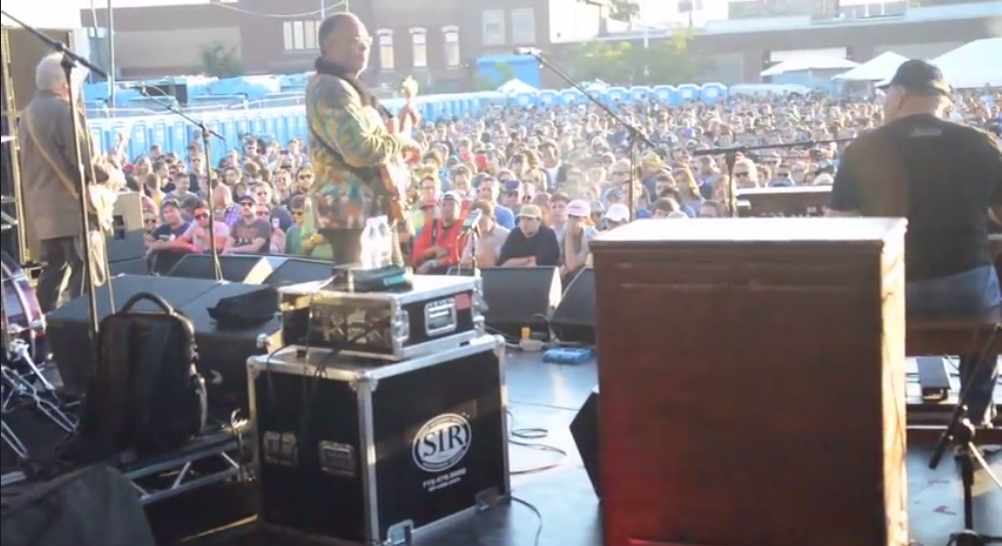 In its eighteenth incarnation, The 2014 Hideout Block Party & AV Club Fest proved one certainty about modern-day music festivals: space is always key.
Moreover, a consistent fluidity in the venue's beer and port-o-john lines makes a world of difference.
Sure, the awesome size of Lollapalooza does make you feel a part of something while singing "Wake Up" with 70,000 other indie-fanboys. And the continued cultural pull of Pitchfork Fest will always give off the impression of one being ahead of the game. But there was something so damned pleasing about spending a day at a music fest and not being trampled by some 25-yr-old financial analyst garbed in sparkles & feathers with every step I took.
Literally a hideout from both the urban hipsters of Wicker Park and the yuppies of Lakeview, the festival is a conjoined celebration -- put on by the bar that is its namesake, and everyone's favorite totally-serious AV section from a totally-satirical newspaper -- of all that is great about Chicago in early-Fall.
While Friday's five-hour festivities were hit with torrential downpours, there wasn't a cloud to be seen throughout the entirety of Saturday's all-day affair. Thanks to the storms on Friday, the temperature - which had been hovering around 95 for the past two weeks - was a perfect, Bears-mas Eve 77. Aesthetically, the setting couldn't have been much better for a weekend fest. There was ample room to move and groove, great food from such Chicago staples as PQM (their $12 Porchetta Sammy was perhaps the peak of the whole day), Wow Bao and Cheesie's Truck, and a continual flow of diverse jams that kept the crowd in a festive spirit, regardless if it was actually paying attention to the noise emitting from the stage.
We arrived mid-Sylvan Esso and were immediately warmed by the innocuous grooves that lead singer Amelia Meath and her producer Nick Sanborn sprinkled over the crowd. Fueled by populous lyrics, bubblegum melodies, and a beat that was as irritating as it was comforting, SE was the clear trend pick of the day. None of this is meant as too severe a knock, even if they do sound like what Beach House might without Alex Scally's spiraling guitar swirls and Victoria Legrand's haunting whisper. Truth of the matter is Sylvan Esso was ideal for the 4pm slot as I hung to the back, socialized and dipped into the first of my seven beer tickets. Point being, one would have to imagine the two will have to do some serious soul-searching, and evolving as a unit if they anticipate the same kind of support next summer that they received here from the ever-impatient 18-to-35yr-old-trendy-chick-demo.
In the same regard, Mac DeMarco's chain-smoking, baritoned-laugh, Cheeto-stained fingers, week-old-t-shirt shtick provided for the young males of the crowd exactly what Sylvan Esso's idyllic soundscapes did for the ladies. Remember that guy who played guitar on a couch on his porch in college? On a Tuesday? During mid-terms? With that adorably mischievous look on his face, and gosh-aw-schucks demeanor? The guy who looked like he couldn't care less about fulfilling his humanities credit when he could just strum some Neil on the old six-string on this gorgeous October afternoon….
Well, that's Mac DeMarco, except he's made a career of being that dude day-in-and-day-out. If what I'm describing sounds like the last show you'd want to spend your precious weekend hours at, while cursing over the literal stress in your life – and apparent lack thereof in DeMarco's – just know that DeMarco is no sloth when it comes to showmanship. His songs may sound like a lazy & stoned Wednesday, but when he and his band hook-up there's an undeniable groove that's as infectious as the stench of weed pouring from your buddy's dorm room as you walk by, contemplating skipping Psych 101 again. Perhaps the peak of the set came in its two loosest moments, when their bass player busted a string – probably the first one of those I've ever seen – and the band responded by playing a request of "867-5309," and later, during his swanky and cheeky ode to his ex-girlfriend, "Together," when DeMarco rode the crowd to the back of the fest, picking up a couple cigs along the way. Teasing The Dead all set long, DeMarco displayed a deep understanding for what he does best, while also proving he has plenty of room to grow. I, for one, can't wait to spin Salad Days during an Indian Summer Saturday this October.
The festival's next two hours were occupied by two aging groups that are essential listening in their own right. The Funky Meters proved to still be capable of holding down a groove that's as sultry and tight as a Brothel during Mardi Gras. Regardless the droves of brace-faced teens sporting David Bowie fans that wandered away from the grounds the second they realized these old dudes were gonna throw down traditional funk for an hour, The Meters proved capable of crafting a full-set worth of jams, covers and semi-hits. Moreover, they were a humorous generational divider in the number of middle-aged, tennis-shoed, jean-skirted Mom's that got down for the whole set while sipping on that crazy IPA all the kids are drinking.
Perhaps most confounding was the placement of The Dismemberment Plan's set. I get it, Emergency & I is a hugely important record in the annals of indie rock. It's up there with In An Aeroplane Over The Sea, Today, The Moon & Antarctica, and Crooked Rain Crooked Rain as essential 90's, lo-fi, guitar-driven indie rock records. Hell, this music all but built the Indie Bridge from Pavement to LCD Soundsystem.
But just as Pavement's 2010 headlining set at Pitchfork was preceded by generic old rock DJ yelling at the "kids" for not listening to Q101 when music was "important," The D-Plan was ushered in by an elder statesmen announcing the worthlessness of any music fan who's never heard the band's 1999 classic. For however much I tend to agree with this type of musical-patronization, I still find it to be mean-spirited in the setting. When Jason Caddell, The Dismemberment Plan's lead-singer, drunkenly stumbled through the band's most popular song ("What Do You Want Me To Say") early in the set, the lecture fell on even deafer ears.
The day, and the festival, was headlined by Philadelphia's The War On Drugs. Without bullshitting anyone, the band was introduced appropriately with: "These guys put out probably the best record of the year…" A night prior they connected with a tiny audience inside the Chicago Music Exchange through the personal introspections and warm melodies of their newest record Lost In The Dream. For as intimate as they sounded on Friday, on Saturday they sounded HUGE. Their ability to transition with such ease was as impressive as their record sounds with every spin.
Whereas in the intimacy of the CME their sound hugged you like a vinyl, here they sounded important and universal. The "Burning" opener carried the pop of Springsteen's 80's glory days, while the pulsating melodies rained down. "Under The Pressure" combined the abstract rhythms and melodic sprinkling with an anthemic spirit that felt big enough for Lolla's main stage. Even in their more hushed moments, "In Reverse" and "Suffering," their sound still carried weight and pressure. And in the album's biggest songs: "Eyes To The Wind," "Red Eyes," and "An Ocean Between The Waves," they sounded like an indie rock success story, one that will be talked about when one speaks of the essential sounds and themes of our current times.
In the "Brothers" encore, lead singer, Adam Granduciel mused, "Wondering where my friends are going, and wondering why they didn't take me / Lookin' out, the window of my room, I'm lookin' out where something once ran wild / I'm lookin' down at the window on the floor, babe, I'm lookin' down til I die." It was the kind of line that defines The War On Drugs. Completely personal and desolate in nature, yet somehow, when sung by a few thousands in a parking lot just east of the Kennedy, it feels communal. In the same sense that songs like "Wake Up" defined the wide-eyed frustration and hope of the millenials in 2004, songs like "Brothers" and "Under The Pressue" fit the mood of the now-30-somethings as they shift from the naïve hope of Obama to the more tangible, and cold realities of middle-age. Perhaps it was fitting that in a year when The Hideout Block Party became eligible to vote, they'd be headlined by a group that seems to ask what the point of all that voting actually is.