How Do We Love Phish? The Barn's Phish Tour 2012 Preview
That we love Phish has never been a question.  Why we love Phish is a topic that has been hashed out countless times in conversation, on the web, and in print.  But how we love Phish -- it's the type of relationship status that might be described as "It's Complicated" on Facebook -- is something that I was encouraged to explore before they kick off their 2012 tour of America.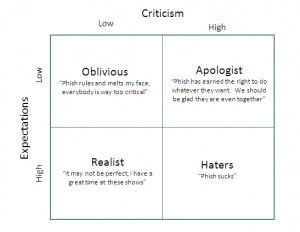 As I mentioned in the precursor to this piece, a mixture of expectations and ability to think critically about what we hear can often produce very different "types" of Phish fans. That a band can produce such a rich body of work, worthy of such analysis, is what separates them from so many of their peers.  The ability to parse the history, compare and contrast, is part of what makes fandom fun, interesting, engrossing and worthwhile.
The generation that propped Phish up on their shoulders rode along with them to landmark success in the '90s no longer have the freedom or flexibility they had in their twenties. The predominate question is whether Phish is providing new fuel for our passion or are just coasting on our predisposition to love them and memories.
As rock scribe Rob Mitchum pointed out recently in Consequence of Sound:
"At shows, sometimes they're really stressful to me. A friend of mine gets really stressed out, and I have this internal battle going on all the time where I really want to enjoy the experience. At the same time, I am hoping so hard that they do something special. It's not just good enough to go to an average show... Sometime's [sic] "Tweezer" is totally amazing, and sometimes it totally fizzles. So I'm sitting there and part of my mind is listening and having a great time, and part of my mind is going 'keep going, keep going, don't stop'."
Undoubtedly, discussion like this will kick off again as soon Trey, Mike, Page and Jon take the stage in Worcester.  I wanted to use the blog to rationalize some of my own feelings with regards to the state of the band on the precipice of this tour and compare them with how other fans felt.  The survey included in the original post was my attempt to put some of the more complicated feelings into context -- we can still love the band but hope for a little more effort, right?
When you view some of the responses below, it is helpful to understand that this survey was indeed filled out by diehards, over 500 of them.  The average respondent will be seeing about 5 shows this summer and the majority had seen their first show in 2000 or before.  And yet some of the responses will surprise you.  Indeed, we collectively do want more from our Phish -- and it's not just grizzled old vets looking to relive our glory days.  There are some newer fans looking for that little extra push from the band -- and you'll be shocked at some would be willing to give up to get there.
First, let's look at where we stand as a fan base when the tour was announced, especially one that is so similar in composition and coverage as the past few years.  Yes, many of us are seeing less shows, but let's face it, there are less shows to go to.  In this respect, we are Realists, making an effort to have this richly rewarding experience in our lives, but not necessarily building our lives around it.   Though predictably, those that live outside of the East Coast (I included everywhere from Virgina to Maine in the "East Coast" bucket), may be more apt to travel far distances.
What was your reaction to the announcement of Phish 2012 Summer Tour Dates?

Could something a simple as a change in the touring template be a catalyst?  Most fans aren't convinced, though older fans would be more inclined to return indoors.  Do they know something that others do not?
Which would you prefer?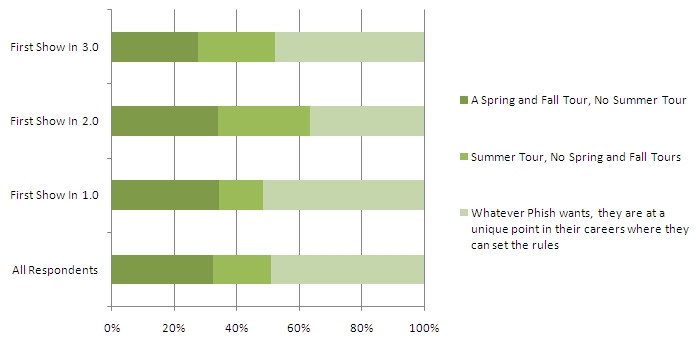 Throughout Phish's career, tours represented a progression.  Each one sounded different -- spawning a sense of urgency around attending, about catching a glimpse of what is new.  Without a new album (though the lure of fall recording has been offered), and new material that finds its way onto setlists only a handful of times per year, development of a "sound" does not appear to be a priority.  This can be quite a sticking point.  Part of the issue is that, with many fans seeing dozens of shows over the course of several decades, we've chased all the songs and come out on the other side.  There is a reason that the 8/15/11 Chicago show is so widely lauded.  Its highlights come in unusual places: "Waves", "Undermind", "Steam".  Realists acknowledge that we're unlikely to see YEMs, Bowies, and Rebas that rival the magnificent version from the mid-nineties... but that's not a reason that we can't fall in love with new, open-ended material that satisfies a similar hunger.
How do you feel about the amount of new material performed in 3.0?
More than 50% of the respondents (across all types of fans) think that selected song retirement would be a good option.  Spectacular playing has emerged out of "Rock and Roll" and "Drowned" in this era, but "Golden Age" and "No Quarter" can be similar platforms, giving fans something new and different to analyze and get excited about.
Should Phish consider retiring any of the material in their current rotation?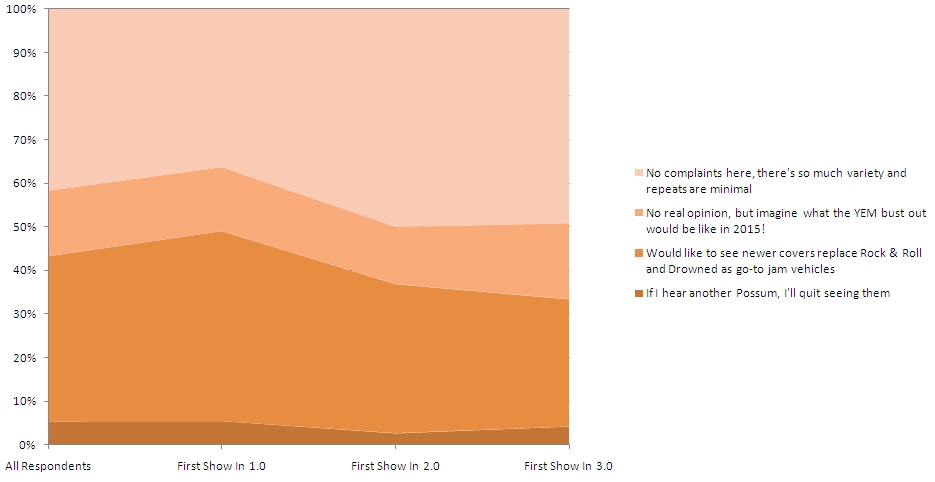 One tried-and-true source of new material has been Halloween, though Exile On Main Street and Watiting For Columbus tunes have yet to become the rotation staples as some of their 90s counterparts.  That said, the debate rages on as to whether Halloween, a holiday which demands intense practice and the potential for an injection of new material / approaches to the music, or New Years Eve, a holiday that represents a celebration / milestone for what has been achieved in the prior period, is a more worthwhile event -- splitting nearly 50/50 amongst all respondents.  Interestingly, East Coasters lobby much harder for NYE, given the traditional locations, where those in other parts of the country lobby for a Halloween show, perhaps hoping that one is played in their region.
If Phish could only play one of these holidays this year, would you prefer: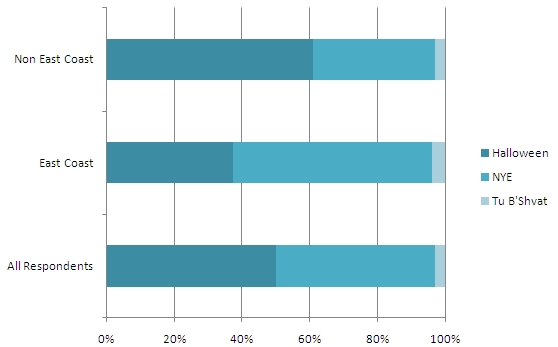 And so we come to the hypothetical question that inspired me to create the survey in the first place.  Where do you make the trade-off between Phish being what you want and what they want?  In 2012, do we view Phish as an institution, a rite of summer, or are we looking for more?  Is just having Phish around enough, or would we be willing to sacrifice a little to get a lot more?  While the majority did choose Phish every year, I was actually expecting much more of a rout.  Further, there was not a significant difference in opinions between newer fans a veterans.  Roughly 40% of fans would be willing to endure another hiatus to get to a place where Phish consistently in the words of the legendary poster "Destroys America" Hopefully, no such sacrifice will need to be made.
Which would you prefer?
Finally I pondered, if the guys come out swinging, proving definitively that they are building for the future and suddenly all my issues were resolved, could I (a Chicagoan) swing an as-yet-unplanned midweek trip to St. Louis to get some of the sweet sweet nectar.  Almost 30% of respondents but themselves in that boat.  With many tickets still available on the eve of the tour, Phish could make a wise artistic and business decision by bringing their "A" game in the first few weeks of tour.
Would positive performances / reviews from the first few weeks of the tour make your reconsider plans for remainder of the tour?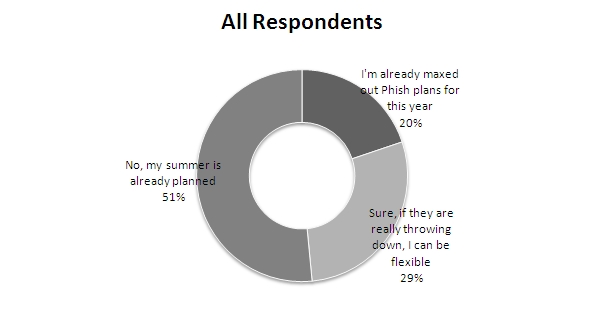 I leave you with a few more comments from our survey respondents.  Thank you to all who participated and check back here for The Barn's Phish Rotation Inforgraphic and Visual Setlists during the tour!
- Consider that many fans are phoney and will not answer this honestly.  They are the type who spell fans "phans" and and other f-words with "ph" to prove their fandom to themselves.  Phun to see the results anyhow.  (Yes, I know).
- I am thankful Phish is still together so I can experience it, and though they've evolved as a group, their music is still leaps and bounds better than the majority of what's out there, and I will continue to see them as long as they're playing.
- hoping for a monster summer, gonna be fun either way!!!!
- I hope they still care..
- 2011 was by far the best 3.0 year.  If they continue to build off that, 2012 will be rad.
- There are no more surprises at phish shows. From interesting jams to song selection. I find myself bored at most shows. Possum, dwd, and hood should be retired. Also maybe they could listen to a Bowie pre 3.0 to hear how the jam section is "structured".  When was the last time anyone got really excited about a show. I feel like I never hear anyone say you wouldn't believe what happened or u gotta hear this show. At best they have good moments in sets but not complete shows. Maybe the most interesting show in recent years that had people talking was the "s" show, but it's not like they tore it up.. I guess mostly it was nice cause they couldn't play possum.
- I wish the jams would build and you would get that feeling that phish was building towards something.....like 99
- they need to jam like '95-'98. its the jamming thats different, not the song choice, even though song choice pretty much ruined the 2011 NYE run
- I'll be seeing my 90th show next month and it's nice to see the 3.0 era settle down. Easier tickets, under the radar is how we all prefer it. NYE was a letdown, but last year was hinting at what's to come. I really think the jamming will be there and we'll see some special shows this summer.
- Phish fans are always going to disagree because of the generational gaps between the fans.  And most of the PT Phish fans think that their opinion is more valid than anyone who is under the age of 30.
- I hope the band writes more song like steam.  It is the direction they need to go to avoid becoming stale or nostalgic
- Phish has been IMO in a transitional phase ever since they got together. then again, they are arguably always in transition. I hope 2012 is the year where they settle into "the new sound" and styles of jamming, and really delve deep into creating new sounds and new jams. I think by playing a more shall I say judicious touring schedule, they will have time to pursue their individual interests (TAB, MGB) and in turn develop the sound of Phish into it's new form.