Little Big Fat: A History
I'm sure most readers of the blog are familiar with Mr. Blotto, after all, they've been stalwarts of the Chicago scene for 15 years and the headliners of our gig.  But, upon the announcement of The Barn's first event, some of you may be wondering: who, or what, is a Little Big Fat?
Fortunately, I'm uniquely qualified to tell their story, a story that has never before been documented.  This coming winter, the band will be celebrating the fourth anniversary of their first gig, and I've been a fan since the beginning, actually since before the beginning.
I had counted the three original core members of LBF as close personal friends for years, having known bassist Jeremy Brandow since our college days and through him, being introduced to his hometown chums from Bloomington, IL -- guitarists Nathan Breen and Jimmy Concklin.   Separated by geography (Brandow lived in Champaign, Breen and Concklin in Chicago), these good friends had known each other since childhood, did some jamming on occasion, but never formed a gigging band until LBF emerged.
Perhaps it would have made sense to conquer the musical world in their 20's, but as it was, these three friends were busy with other life pursuits, and it was the emergence of technology that allowed them to coalesce as a band and develop a body of original material while in their 30's.  After Breen acquired a portable hard drive-based recorder and 4-track mixer which allowed him to record and share musical ideas with Brandow effectively from 150 miles away, the wheels were set in motion in 2005.

Out of these early demos, worked out over the course of phone calls and emailed recordings, came the genesis of the first crop of original LBF tunes, including future live staples like "Monroe", "Mr. D", and "Grind".  Coming from a skeptic's perspective, I was all set to dismiss these recordings before I even heard them -- how could music made by my friends hold up to the professional musicians that I submerged myself in?  Imagine my surprise, delight and pride when I realized that the output was worthy of comparison, and in fact plugged an interesting hole in music that was currently being produced by the pros.

The tunes were challenging, the arrangements were tight, and there was a commitment to improvisation that jambands in the middle of the decade were reluctant or unable to undertake.   And so, the effort was christened Little Big Fat (after the son of Big Fat Bernie Gale, the boss in the 1995 mob comedy "Safe Men").
The final piece added was drummer Reid Deckert and the completed combo debuted with two sets of originals and covers at Wooden Nickel in Highwood to a rousing crowd of friends, family and a handful of strangers in February 2006.  The highlight of early shows was a ballsy cover of Led Zeppelin's "Achilles Last Stand", an eleven minute deep cut off of "Presence", which the band tackled with aplomb, Concklin ably stepping up to the vocal flourishes and Breen lending a definitive guitar crunch to the proceedings.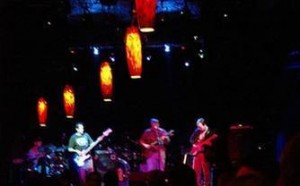 Throughout 2006 and 2007 group gigged sporadically, limited as much as by band members' physical distance and availability for practice, as by stagnation of creative energy.  It was an attempt to rectify this that spurned the next major phase of Little Big Fat in the fall of 2007, and with it a renewed interest in developing and reinventing the core of the early original material -- songs like "Fenner", "Hyde" and "Jer's Sink" took on greater depth and color, and the jams in tunes like "Monroe" grew to peaks of inspired lunacy.
Replacing Deckert with new drummer Joey Dorf and keyboardist Mike Clevenger, the band had a new palette to work from, and the inspiration was cranked up.  As a five piece, this iteration of the band saw the debut of crowd favorite, "Dr. Couey", a tribute to an expat friend, and the new instrumentation allowed them to pepper set lists with faithful, yet show stopping covers of Steely Dan's "Do It Again" and Pink Floyd's "Breathe", featuring full band extended jams that brought down the house at their gigs.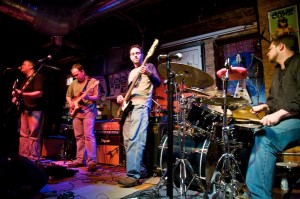 Then, two nights before a Benefit Show scheduled at Brixie's in Brookfield in March, 2008, Dorf unexpectedly quit the band, leaving them in the lurch for a two set headlining gig and causing a true rock and roll moment and an enduring part of the band's lore.  A friend of Clevenger's, Jeff Maslouski, was recruited to fill the drummer's chair on extremely short notice.  The band set up and rehearsed for two straight days in Breen's house, charting a dozen complex originals on paper and teaching him a bit of the cover repertoire.  The gig was triumphant, narrowly avoiding disaster and raising a bunch of money for Helping Hands Rehab Center in Countryside.
But this lineup didn't last long.  Elevated intra-band tension led to a parting of  ways with Clevenger and Maslouski.   And, in the biggest shocker, an increased demand on Brandow to make the long haul up to Chicago for practice, led him to resign from the band.
Many were dubious... could the heart and soul of the band survive without one of its founding members?  The answer would lie within the talents of newcomers Adam Cortese on Drums and Craig Urban on bass.  Though many fans still harbor intense loyalty to Brandow, there is no denying the depth of musical accomplishment and unique voices that these guys have added to the band.
Cortese is the timekeeper the band has been looking for since the beginning, finding equal comfort in stretching out, pounding out driving rock beats and nimbly navigating the landscape of the band's more trickily timed originals.  Urban's fierce bass runs and funkified ownership of the pocket, made this the most danceable version of LBF to date.
Starting in late 2008, the now four-piece LBF rounded out the repertoire with new originals "Moons on Mars" and "The Man From Bakersfield".  This combo also breathed new life into "Smokey Joe", a tune from the demo days that never saw deserved stage time.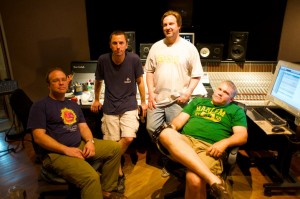 In the Summer of 2009, LBF went into the studio to record the definitive version of their signature originals, with the output set to be released as their debut album "Hover" in early 2010.
All the while, the band has been committed to keeping the live show interesting and exploratory by bringing in eclectic covers of tunes by bands as diverse as The Pretenders, (tons of) Zeppelin, Los Lobos, Ween, My Morning Jacket and the current show stopping centerpiece, a funked out, jam-filled take on  James Brown's "Super Bad".  Recently, the band has been working on more originals, some of which have yet to see their debut in front of an audience.

Ticket sales have been brisk as of late, so don't forgot to secure your space.  Just a warning: credit card sales will only be offered in advance; tickets will be more expensive (and cash only) at the door.
Hope to see you in a couple of weeks!