Local Bands, Hidden Gems Of The GD50 Chicago Before & After Show Scene
We've been adding events to our GD50 Chicago Events Grid since May.  Sure, there are plenty of national headliners on the list, but probably a bunch of other names you may not recognize.  Kelley Lauginiger (@peapodmcgee) was kind enough to break down a few of the acts that you can check out if you're into seeing a little something new this weekend.  She broke it down into local and up-and-coming / interesting national acts who'll be in town this weekend
Chicago Area Bands
Indigo Sun / Woo Park / Les Racquet - Double Door, Friday July 3 Afterparty, show at 9- FREE with RSVP!
Indigo Sun and Woo Park both bring their own brand of funk that is a force to be reckoned with.  Each are balanced by soulful lady voices, making them a very complimentary fit for one another. Be on the look-out for a huge multi-group collaboration.
NYC's Les Racquet rounds out the bill with a more jammy, though not necessarily jamband, sound.
Check Indigo Sun with their newest addition, Elli Sutter, Live at Reggie's 9.26.14
Check Woo Park jamming at Martyr's – super fire from back in December:
Joe Marcinek - Multiple Bands, Locations
Joe Marcinek is the hustler of Chicago music, and his hard work shows off in his diverse abilities.  Playing a variety of different instruments with different bands peppered throughout the GD50 weekend, make sure to catch him at least once because the man totally shreds.
He actually played Dead with Terrapin Flyer at the Abbey last night.  He'll lead his own band, conveniently enough called Joe Marcinek Band, on Friday  for a GD50 preshow at Reggie's and then do a post-party at Underground Wonderbar, Saturday at Double Door with Fresh Hops, or Sunday back with JMB at Clover's Sports and Leisure by the Grand Avenue blue line stop.
Word is he may even catch a Dead show in there somewhere.  The man is a total machine.
The Pod (Ween tribute) - Reggie's 6:00 preshow Friday, July 2
Feeling like a Blue Balloon?  Do you miss getting brown?  These guys will take you for a wild ride on the poopship.
The Pod is the bill with JMB at Reggie's, they bring major raging back in style to the tunes of everyone's favorite New Hope, PA boognish creators.  They keep it heavy and on point, but add their own flavor and have a blast doing it.  Plus, with Gener in town the previous evening, anything can happen! I'm not saying he'll show up for sure, but Deaner has jammed with these guys multiple times!
Out of Towners
Gene Ween with special guests Mariachi El Bronx (LA) - Concord Music Hall (part of The Music Never Stopped series) Thursday, July 2 8PM
Anything Gener piques my interest, but this one kinda takes the cake.  No one really knows what to expect, but I think that's the fun part.  In a weekend filled with little surprise regarding musical choices at Soldier Field, this seems like a good show to take you off the beaten path a bit.  There may be some Billy Joel tunes.  Opener Mariachi El Bronx boasts a boisterous, Southern Cal via Mexico sound.  Maybe these guys can get together for a "Buenos Tardes Amigos"?
Matisyahu and Friends-- with Marc Brownstein (Disco Biscuits/Conspirator), Chris Chew (The Word/ North Mississippi All Stars), DJ Logic - City Winery - Saturday, July 4, 2015, 11:59 PM (midnight)
These borderline religious experiences that are Matisyahu and Friends shows, are just so unique.  While DJ Logic tends to pop up unsuspectingly and destroy all expectations, the mix of Marc Brownstein's goofy-footed bold flavors with the soulful addition of Chris Chew, behemoth bass monster, makes me feel pretty good inside. One of the more dance-music-centric late-nights, this will probably rock as late as they'll let you stay.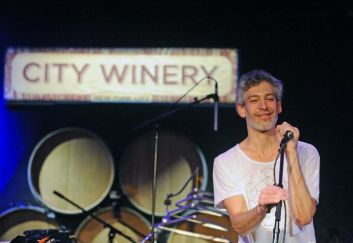 The Magic Beans: Nederland, CO
Shows:
Friday, July 3, 2015
GD 50 Pre Party!! @ Hard Rock Cafe Chicago
63 W Ontario St., Chicago, IL (United States) - Map
Set: 9:00 PM
All Ages
Saturday, July 4, 2015
GD 50 After Party!!!! @ Subterranean
2011 W North Ave., Chicago, IL (United States) - Map
Set: 11:00 PM
All Ages
Sunday, July 5, 2015
GD 50 Pre Party! @ Reggies Music Joint
2105 S State St., Chicago, IL (United States) - Map
Set: 1:00 PM
All Ages
Garnering more and more national attention as of late, The Magic Beans have been super busy and it's coming through in their fluid, yet, intentional precision.  They recently hosted their own Beanstalk Music & Arts in Bond, CO complete with JRAD and Hollingsworth/Kang, and have a jam-packed schedule all the way through summer that takes them to all corners of our great nation. Notably: Camp Bisco and every head's favorite Burlington destination, Nectar's.
Jabu Jabu's Belly-  Party: Volume 1