Review & Setlist | Joe Marcinek Band @ Martyrs' 2/27/16
The Kevin Bacon Effect with Joe Marcinek Band
Martyr's - Chicago, IL
By: @312mrg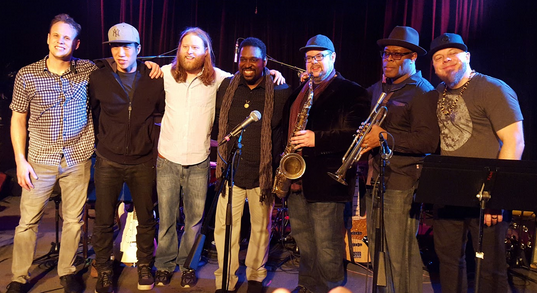 I had a talk pre-gig with Joe Marcinek and asked him about being a sort-of Kevin Bacon of the jam scene.  Considering the range of high-profile artists that routinely support his art or become members of the JMB, I thought it was a fair question.  He seems to know everybody, and have a knack to connect folks.
Joe responded to the question in much the same way that he humbly approaches his craft. "Ha! That's probably more Jennifer Hartswick than me."
OK, well since Bacon doesn't have a female counterpart, I'm just gonna stick with it.
Saturday night, a packed Martyrs' saw a triple bill packed with acts capable of headlining, with each worth the $10 ticket price individually. The two openers were there to support the guy they talked admirably of throughout the evening, and members of each had no problem jumping on stage to season the already special broth.
Marcinek's set was sprinkled with covers, a handful of his originals as well as one number from the uber talented Chicago jazz pioneer, saxophonist Frank Catalano. But the evening's festivities weren't about songs or song structure--  it was chemistry that produced spontaneous jams. The listening and communication between musicians appeared to be second nature.
Wanting to save that magic for the stage and audience instead of an empty room, Marcinek nixed any rehearsal or run throughs prior to the show.
Since the core talent that included Joe on guitar, Borahm Lee (Break Science) on keys, Pennal Johnson on bass, Frank Catalano, Ron Haynes (Liquid Soul, Lenny Kravitz and Game Changers) on trumpet, Kris Myers (UM) on drums and Rick King (Marty Sammons Blues Band) on percussion, there was plenty to summon.
Sit-in and guest spots included Marty Sammons, Al Sweet (Candymakers), and two female vocalists, one Candymaker siren and another JMB family member who was called to the stage during a rousing "Superstition".
Anytime I see Kris Myers in person, his technical abilities are visibly second to none.  It was great to see that skill work with the deep bass groove machine of Pennal Johnson, who was new to me.
Adding King to the churning rhythm trio was so tight a support section, that on more than one occasion Johnson stepped from shadows to lead the band. Johnson's bubbly, slap-popping bass solos carried some serious Vic Wooten qualities, and left no question why he was a part of this crew.
Ron Haynes and Catalano tilted the ensemble into the funk and jazz realms, but lent powerful charges to the blues and rock moments as well.
Even with the dominating lineup, the night was about Joe Marcinek. He puts these things together, and it always feels like a party. He shakes hands, hugs and chats with friends and strangers.  H makes everyone feel a part -- connecting minds via a circular flow of respect and energy. He never steps into the spotlight long or overstays that moment, despite shredding at nearly a standout solo per song ratio.
The Candymakers, from Davenport, IA, opened the night and made their Chicago debut a memorable one.  Sold as a funk outfit, they had more blues and soul to my ear. If you like Stax and Motown, coupled with a little Chicago blues, keep your eye out.  These guys have a unique and appealing sound that is missing in our circuit.
The Candymakers are an act with Daptone-like flair.  Front man Al Sweet reminded me of an all-eyes-on-me, Theryl deClouet-in-the-Galactic-day type draw.  Bret Dale is a bluesy, balls-out guitar player who was an equally dominating force on stage, offsetting Sweet's powerful and soulful pipes.
While the Candymakers displayed some blues chops, Marty Sammon's Blues Band took the stage between headliner and opener and OWNED the blues, ragtime, and New Orleans genres.
Sammons, formerly of Lubriphonic, took with him drummer Rick King, who killed it all night, sliding in and out of so many textures, grooves and genres.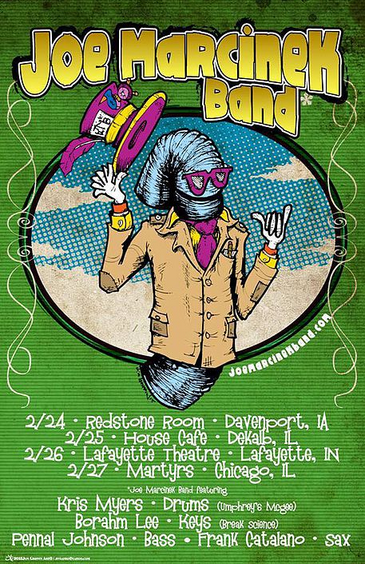 Joe always puts together a revue that exceeds expectations, this Chicago date capped the four night run through the Midwest with this troupe.  Sure, Joe still needs to promote his gigs with the names of his guest artists, but his name on the should be all anyone needs to know.
I'd make the same offer to anyone as I do any friend I've brought to see him:  just go and buy a ticket. At the end of the night if you don't dig it, it's on me.
Setlist:
George Washington
Cissy Strut
Sign Sealed Delivered (w/ Candymakers female guest vocalist)
Big Al
Both Sides
Superstition (w/ Marty Sammon and female guest vocalist)
Shakedown Street (w/ Candymakers' Al Sweet)
Jan Jan
Funky Bitch
E: Hyperbole (Solos from everyone)