Lotus & Spafford Team For Weekend @ The Vic | Review, Photos, Audio, Video
Words: Carter Stirtz | Photos: Ben Bowen (@benhertz)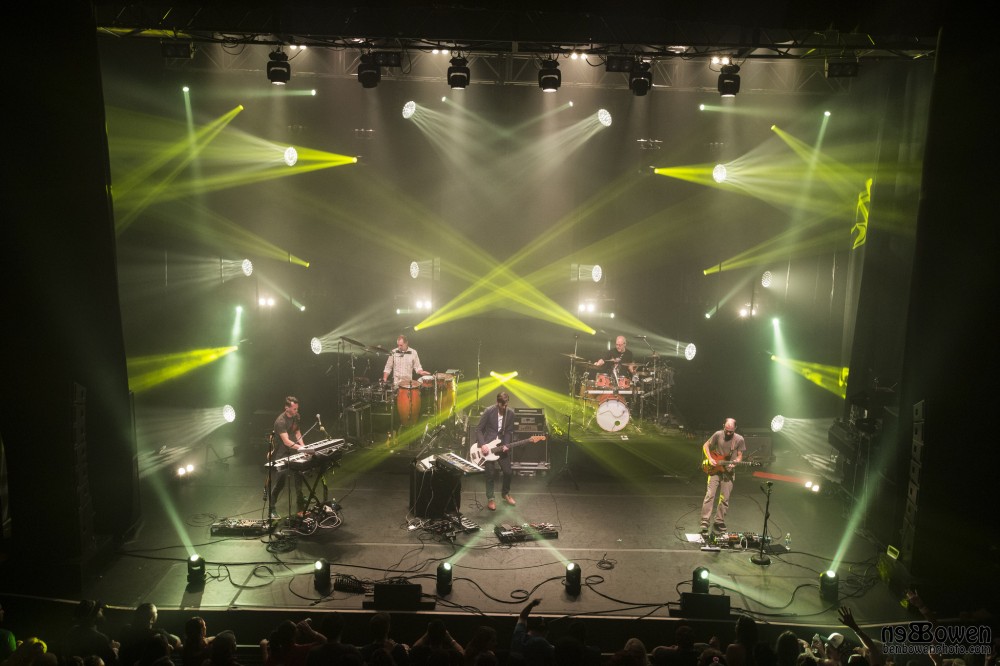 With perfect fall weather, a tailor-made venue, and two noteworthy bands, jam enthusiasts couldn't have possibly asked for more than what they got over the first weekend in November in Chicago.
Expectations were high for this run from seasoned veterans Lotus and the recently exploding Spafford.
Seemingly aware of this, Spafford wasted no time to show the early arriving crowd what was up, jumping right into a 14 minute version of "Electric Taco Stand". For a band just now reaching new audiences in many parts of the country, including Chicago, it's as much as a "fan-favorite" as they offer, and its quite clear why.
I'm not going to dance around comparisons to Phish.  Although nearly every young jamband can claim some influence from the Vermonters, it's a rare few that can channel, as a four piece, the controlled chaos of their most ambitious early-to-mid 90s jams.
With very steady rises to powerful peaks, the band relishes the opportunity to milk every ounce of tension in their improvisation, pulling the audience along into uncharted territory, before jumping right back into the composed material.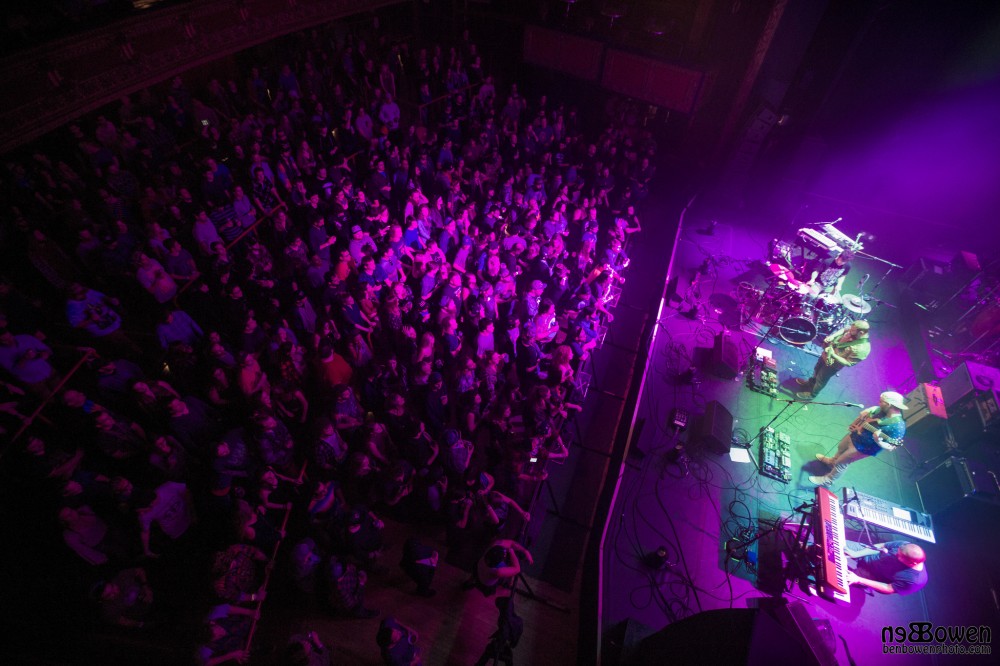 I spoke briefly with Brian Moss, guitarist from Spafford, after Friday's show and he agreed that while the jams went that way today, the band never does know which direction their excursions will take. It seems to be this laissez-faire attitude to improv that has put them on the cusp of nationwide recognition. 
On a big stage, with an attentive audience and just a couple of short sets to prove themselves, Spafford came away adding to the growing legend, digging right in to long, exploratory material and letting their interplay speak for itself.  Hard work and some luck have put them in a spot to win over bigger crowds, and they are playing their best cards to make it happen.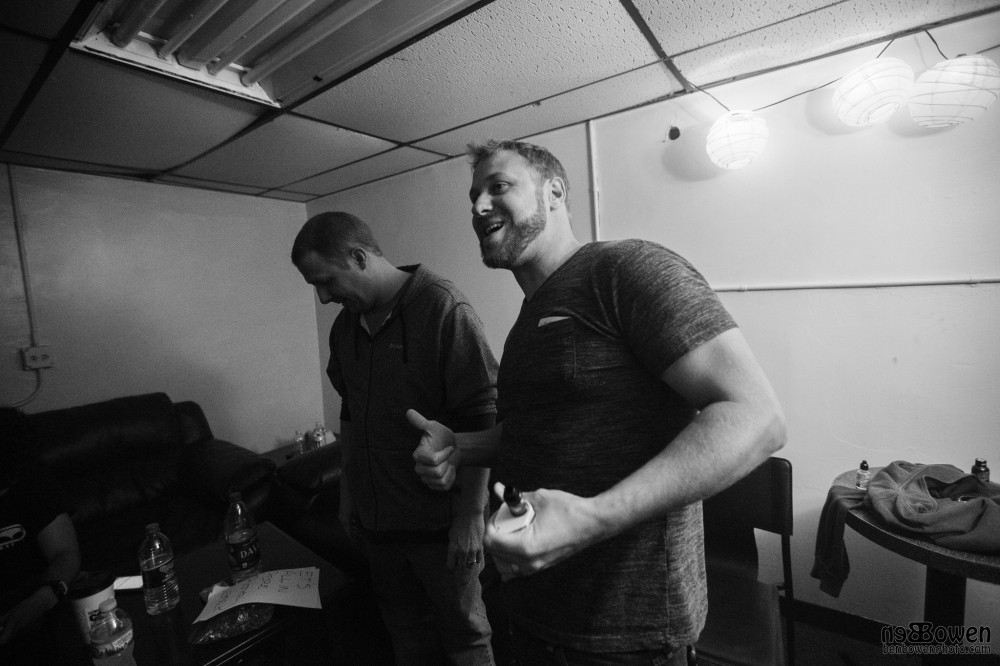 It's a spot where Lotus was years ago, and with another new album of material to integrate into the live show, they are facing challenges of their own.
With vocals on all ten tracks of Eat The Light and no song over six minutes long, the band was poised to take radically different approach on stage.  Contrast that with their first album, which notably featured fifteen minute instrumentals, and it paints a picture of a band in the throes of reinvention.
In the end, Lotus took a conservative approach, performing the new songs in the middle of each set, for which they brought out guest vocalist Gabe Otto. 
While at times feeling out of place with the old material, the performance of these new songs revealed itself to be a strength in time. The new songs added a heavy Talking Heads influence, both in the vocals and instrumental sections, with perhaps the most obvious example in the title track, "Eats the Light."   They even busted out The Heads' "Crosseyed & Painless" on Saturday.
With focus on melody and coaxing interesting textures via rhythmn, Lotus is an indie-pop band trapped in the body of a jam band.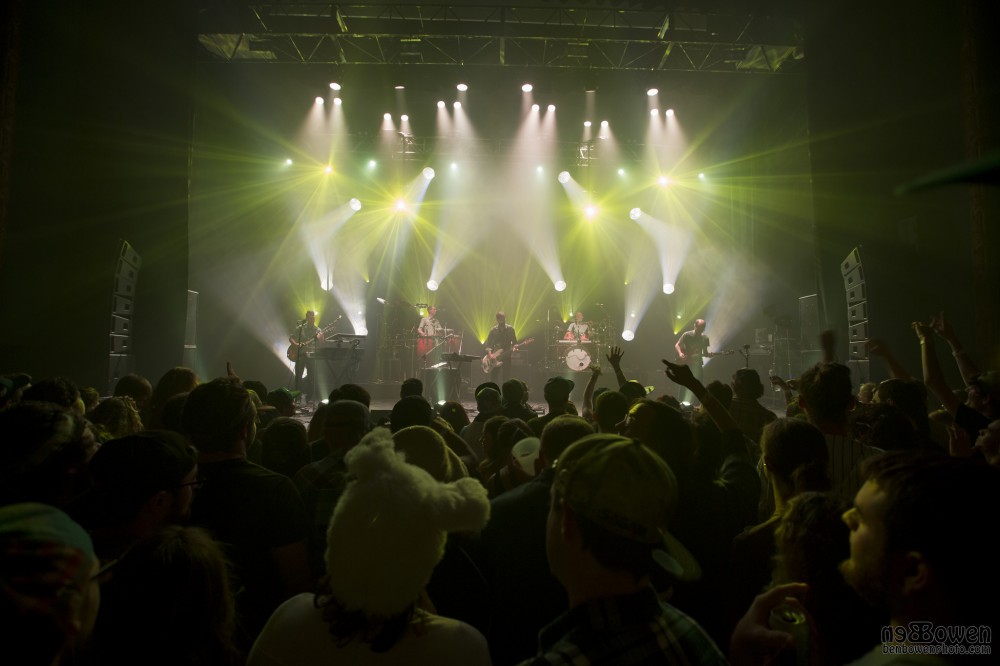 But the old Lotus definitely shined through on "Flower Sermon", clocking in at over fifteen minutes to close Friday's first set.
I'll sum up Lotus' jamming in one word: clean. Every note played has a purpose, and with and incredibly well-balance mix at The Vic, each rang through loud and clear.
With the exception of the near-dubstep, hard-rocker "Expired Slang," that constantly veered off in any direction, every tune could spend minutes settling in before it even began to increase in intensity. 
It's an improv style built around the present moment, driven primarily by the bass with a layering of melodic lines on top.  In this manner, the jams build themselves, reminiscent of Tycho or the new Trop House style that is steadily gaining popularity.
It will be interesting to see if Lotus continues along the path of incorporating more vocals into their live performance. But one thing is certain; Lotus let everyone know the jamming is here to stay.
Setlist: Spafford at The Vic Theatre, Chicago, IL – 11/4/16
Set: Electric Taco Stand, All In, People, The Postman > Weasel
Download Entire Set (via archive.org)
Setlist: Lotus at The Vic Theatre, Chicago, IL – 11/4/16
Set One: L'immueble > Expired Slang, Plant > Sunrain, Sleep When We're Dead, I've Been A Fool, Flower Sermon
Set Two: Blender, Lead Pipe > Greet The Mind, Pachyderm, Eats the Light, Marisol, Wax
Encore: Bush Pilot, Gilded Age
Setlist: Spafford at The Vic Theatre, Chicago, IL – 11/5/16
Set: Leave The Light On > Salamander Song, Backdoor Funk, America > Todd's Tots
 Download Entire Set (via archive.org)
Setlist: Lotus at The Vic Theatre, Chicago, IL – 11/5/16
Set One: Bellwether, Middle Road, Travel > Massif, Neon Tubes, Anti Gravity > Spiritualize
Set Two: Cold Facts, Lucid Awakening, Kesey Seed, Move Too Fast > Intro to a Cell, Crosseyed & Painless
Encore: Umbilical Moonrise, Disappear in a Blood Red Sky
Download Entire Set (via archive.org)
Photos: Friday
Photos & Video: Saturday
Videos via Brandon Grosz