Magnaball Music From Beyond The Main Stage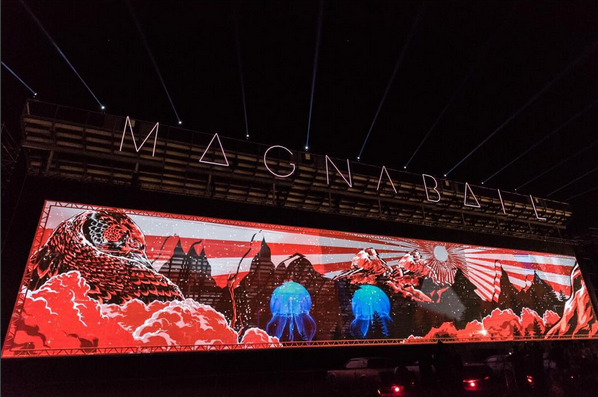 Here it is the Thursday after Phish's Magnaball festival and there's no shortage of opinions on the music at the three day festival.  We're gearing up to publish a couple of our own, but before we do, We published two reviews of the fest, one from a Phish festival veteran, Aaron Stein, and one from a writer attending her first Phish fest Carmel O'Farrell, and we also wanted to collect -- in one place -- some of the more remarkable things that didn't happen during the festival's 8 scheduled main stage sets.
1. What's a festival without a soundcheck?  In retrospect, this 45 minute improvisational jam really set the tone for what went down on the stage throughout the weekend.  It has to be up there with some of the best jamming of the era, and there wasn't even an audience for it.  Luckily, on-site radio station The Bunny had it's ears on and broadcast to the world.  Here's a ripped stream upped to YouTube by GratefuLSD
2. As great as the soundcheck was, it goes toe-to-toe with the "secret" 4th set on Saturday night, which had the advantage of both a live audience and a high-concept light show projected onto the festival grounds' mock drive in movie screen (which had shown movies the prior nights).
Here's the video that has tbe best picture quality, shot by LazyLightning55a -- regrettably, his battery runs out towards the end.
On the other hand, this video edited by thegreatboognish syncs the soundboard audio with a UStream video which was broadcast live to the Internet that night.  Missing the first ten minutes of video, but features the complete set's audio.
3.  The aforementioned Bunny continued the tradition of providing Phish 1.0 nuggets from the days before every show was available for download immediately after the lights went on.  The good folks at the Phish Spreadsheet ripped and upped each of these for our pleasure and I'm providing the track lists and individual download lists below.
Magnaball From The Archives Pt 1 (8/20/15)
All Things Reconsidered - 8/2/93
Tweezer > Big Ball Jam > Tweezer - 11/22/92
Melt the Guns > Macaroni and Cheese Jam - 9/27/85
Mike's Song > Simple - 11/16/94
McGrupp and the Watchful Hosemasters - 6/25/97
Split Open & Melt - 8/26/93
If I Could - 6/28/00
Magnaball From The Archives Pt 2 (8/21/15)
Ghost - 7/2/98
It's Ice - 3/17/92
Also Sprach Zarathustra > David Bowie - 8/17/93
Yamar - 5/23/00
Bathtub Gin > Makisupa Policeman > AC/DC Bag - 7/25/97
Magnaball From The Archives Pt 3 (8/23/15)
Mellow Mood - 9/8/00
Timber - 7/26/97
Reba > Somewhere Over The Rainbow > Reba - 7/3/94
Character Zero - 11/26/97
Wolfman's Brother > Sand - 9/11/99
Harry Hood - 10/20/94
4. In addition to the FTA shows, The Bunny provided dozens of hours of entertainment, as well as a vision into what the overly programmed SiriusXM JamOn could be if it broke out of its fairly rigid jamband playlist and went a little free form.  Lots of deep cuts, funk, jazz, indie-rock, oldies, and just plain weirdness.
Spotify User -- and let's face it, hero -- T.J. Harley took the initiative of putting together 54 hours of music into one playlist.  777 songs, embedded below.
https://twitter.com/tj_harley/status/635872281323962368
5. Finally, 3 hours of freak-out sound-collage music post Drive-In set late on Saturday night brought to you by RICKSHAW and DJ Cooley on The Bunny. No chemical enhancers required.