Magnaball Review [First Phish Fest Edition]
The Stars Align at Magnaball
Words & Photos: Carmel O'Farrell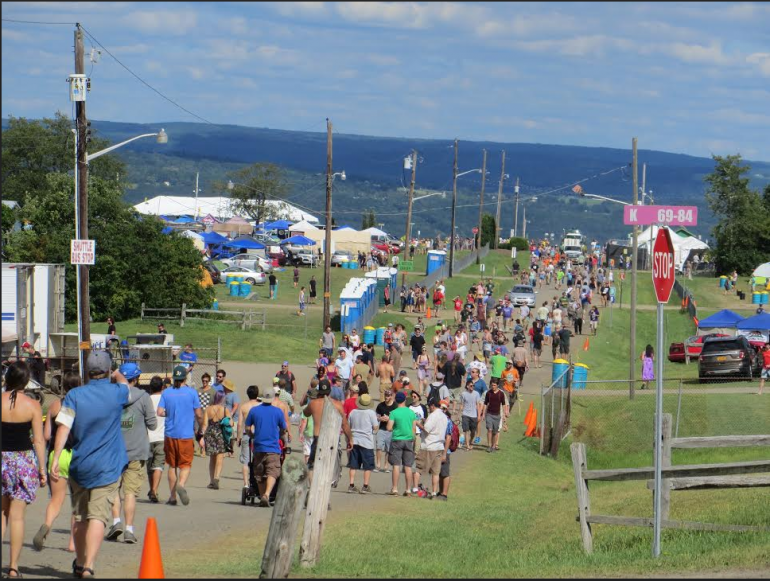 After two decades of seeing live music and traveling to over 20 different festivals, I've come to realize that many variables must be considered in order to create a perfect festival experience. But every now and then the stars align and the festival gods consecrate the sacred ground where a weekend long concert event will take place. Phish's Magnaball on August 21-23, 2015 was one of those situations. Perhaps it was a reward for all their hard work this past summer, or maybe the band just got lucky, either way the weather was perfect, the jams were cosmic, and Magnaball's setup was seamless.
This was my first Phish festival and my first time traveling to Upstate New York, so I really had no expectations. Watkins Glen International raceway is located amidst tree covered hills just south of the Finger Lakes. For Magnaball it offered a variety of camping options with neighborhoods named after old venues Phish had played in the past, many of them I had never even heard of since they were all before my time and closed down now. These camping areas surrounded the racetrack and each had its own set of showers, vending, and even their own special entrance into the festival venue itself.
Since there was only one band to see at Magnaball, days were spent exploring the festival grounds, meeting up with friends, and relaxing at the campsite. There was no real obligation until Phish took to the stage each night, which didn't seem to bother anyone. In fact, I welcomed the simplicity and freedom within my daily schedule as a refreshing change of pace. I didn't feel like I was missing out on anything and the best part about Magnaball was everyone was there to see the same band: Phish!
Walking inside the festival venue was like entering another world. There was a simplicity to the whole production which yielded an opportunity to reach people in a meaningful way.    Phish took this challenge to not just entertain us, but expose us to a whole other universe. By creating this special space and letting us choose our own adventure, there were limitless possibilities of things to explore.
Interactive art installations littered the festival grounds. The Laboratory was a two story circular building with a swinging pendulum at its center. From the second floor you could look over the whole festival and even watch the shows as they unfolded. Lasers latticed across the sky coming from the top of Laboratory, as well as the drive-in movie screen located on the opposite side of the festival grounds. A Ferris wheel spun bright lights high above the crowd throughout the weekend allowing passengers to ride for just $5. The tall evergreen trees also lit up with color making the whole space feel whimsical and welcoming, especially at night.
Then there was The Glurt Institute. It contained a cluster of white standalone rooms where strange science experiments and abstract art stimulated the imagination. There was even an ear garden where you could speak to strangers and listen to their stories through enormous green ears that popped up like long stemmed flowers.
Staying connected at Magnaball was also easy and Phish clearly set themselves apart from any other festival with their own newspaper and local radio station. The Ball Street Journal was released daily for free and featured everything from interviews and show reviews to games and crossword puzzles. Daily schedules and updates were also included in this publication and many of the authors were well known within our community.
Then there was The Bunny, a 24 hour radio station that could be found on the local 104.9 FM channel, LivePhish.com, and Sirius XM satellite radio offering up tons of old school funk tracks mixed with some of the best hip hop out there. The radio hosts informed us of festival updates, weather, and even featured some interviews with the folks who helped Magnaball come alive. The Bunny also live streamed the Phish shows each night for anyone not at the festival but still wanted to listen.
While all these elements set Magnaball apart from any other festival I have ever been to, at the end of each day it was the music that pulled this fest together like a Persian rug.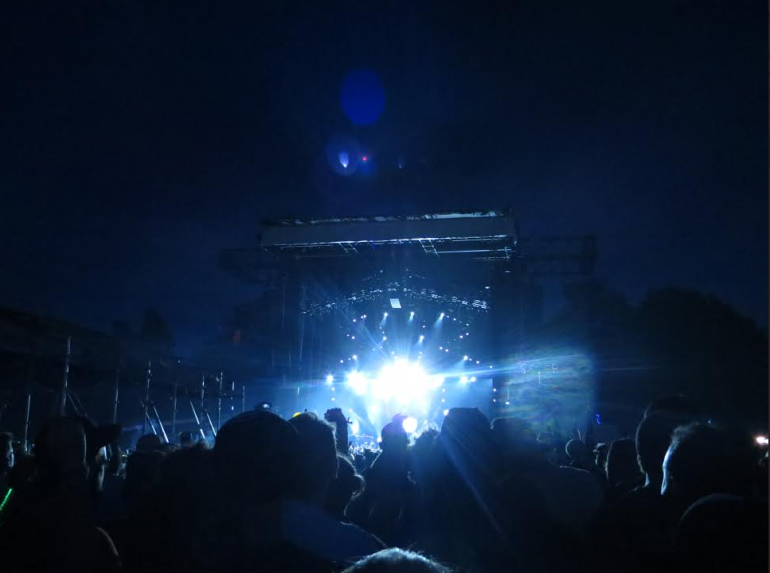 Over the course of the weekend Phish served up a variety of both new and classic songs, with splashes of improvisation throughout. Friday's first set kicked things off with a gradual build of slow and steady jams. Bust outs included "The Man Who Stepped into Yesterday," as well as bassist Mike Gordon's "Mock Song" which hadn't been played since 2003.
Saturday was a marathon day. There were three scheduled sets of music, but the rumor of a secret late night set was on everyone's lips. Music started around three in the afternoon and featured all that you would expect from a daytime Phish set. The band opened with "Divided Sky," patiently warming things up for the long night ahead of us. With a few hours to kill between the first and second set, we headed back to our campsites to recharge and refuel.
It has been over ten years since my first Phish show. I jumped into the jam scene headfirst back in 2004 when they were on what was supposed to be their final tour as a band. For many, these were the dark years where Phish's music came second to the party. Luckily, the old days of rampant heavy drug use are long gone. Just like their fans, Phish has grown up over the past three decades. Now that the band has refocused and started touring with their families, they have found a way to make music on their own terms.
But just because the scene has cleaned up, doesn't mean the fans have forgotten how to party. Throughout the weekend fans saturated the concert sky with glowsicks, tossed beach balls over the crowd, and there was even an Imperial march that took place just before Saturday night's third set. I was part of the latter along with three hundred other red light sabers that approached the stage with the intention of taking Phish's third set to the Dark Side. And it worked! Phish consequently delivered one of the best sets of the weekend.
The most impressive moment within the third set was one of the band's newest creations: "Blaze On." It is a song about redemption, but with a catchy beat and uplifting, fun lyrics - something Phish has seemed to master over the years.
It was a perfect capsule of where Phish is presently within their careers. And, heym they jammed it out, which was obviously well received by the crowd of fans that clung on every note. After 30 years of playing together, this band knows what works and by no means have they stopped challenging themselves.
Eventually it was time for Phish secret set, which was the weekend's highlight for myself as well as most Magnaballers. It took place at the massive drive-in movie screen that hung from the back of the racetrack's bleachers. Word had spread throughout the day and the area around the drive-in movie screen was filled with folks on blankets beaming in anticipation.
Suddenly the ambient music that filled the air cut out and the movie screen showed a blurry, nostalgic "And Now... It's Show Time." Silver painted cars that sat patiently waiting in front of the screen began to ignite with lights and smoke billowed from underneath the iridescent flames. Though you couldn't see them at first from behind the screen, you could hear Phish come across the speakers as they leaped into an all improvised set -- like a musical where the band was hidden away in the orchestra pit. In fact, Phish didn't appear on the screen until about 20 minutes into the show. Their shadows strobed in the shadows under the bleachers and eventually their faces appeared distorted and smeared as they each took an inspired, emotional solo.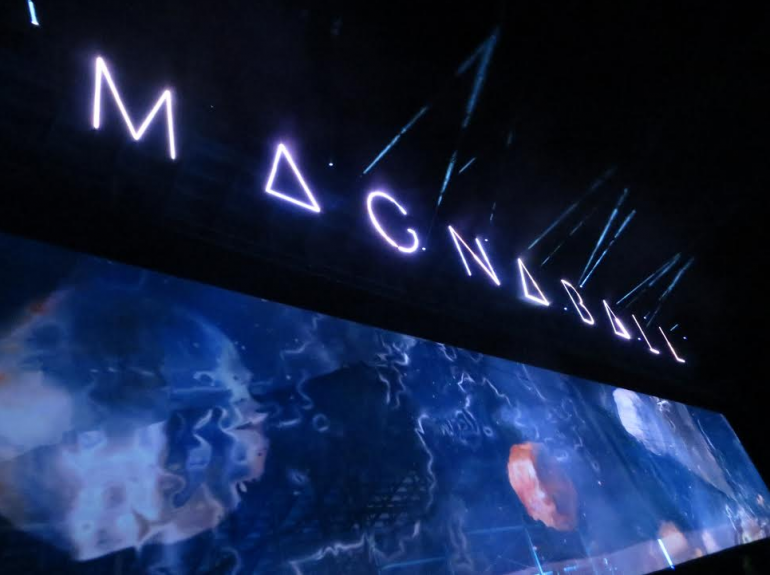 The Magnaball sign above the movie screen changed colors and emitted lasers that stretched across the whole festival. That, combined with the smoke pouring out of the drive-in cars, helped bring the experience to every edge of the festival grounds. This level of improvisation both musically and with production was beyond innovative, evoking a rainbow of emotions and making everyone there question their place within the universe. There were no characters, only intergalactic scenes that followed some sort of story arch. At its climax you come to realize the main character is you and the theme of the movie is mind expansion. Overall, this special set was a musical journey of magnificent proportions. It was awe inspiring and hard to compare to any other musical experience out there.
Sunday was more of a typical Phish show filled with classics like "Maze," "Reba," "Stash," and "Character Zero" in the first set. During the vacuum solo in "I Didn't Know", Trey thanked everyone involved with Magnaball's production. Acknowledging all that was done to create such a wonderful event almost brought the lead guitarist to tears as he genuinely thanked them for all their hard work.
When compared with other festivals, this was truly a seamless event where all the interworkings that took place behind the scenes were hidden from us festival goers. The one thing I did notice time and time again was this band made throwing a festival look easy.
Phish encored their final set with one of the most anticipated song of the weekend: "You Enjoy Myself." One of my favorite tunes ever, Phish's trampoline jam topped off with a massive fireworks show. By the song's end they brought back a quote from Phish's Halloween '14 cover of Disney's The Chilling, Thrilling Sounds of the Haunted House: "and you thought there was going to be a huge explosion, didn't you?"
But the fireworks continued for at last 15 more minutes after Phish left the stage, encouraging us to stick around and explore the grounds once more before ending our adventure at Magnaball.
The drive-in theater area blared a funky disco beat and we congregated under the bright lights of the movie screen to dance and live it up one last time. The only part of Magnaball I had yet to experience was the Ferris Wheel but the line wrapped around the vending area and was filled with people who, like myself, didn't want the festival to end. Not hopping on that carnival ride sooner my only regret of the weekend.
It's obvious Phish truly enjoys playing music together these days and this past summer had presented the most focused version of this band to date. Magnaball was clearly a celebration of how far they've come and an experience fans won't soon forget. Afterall, it's easy for the stars to align when Phish has the ability to construct their own universe. Needless to say, the bar has been set once again by the Phish from Vermont and Magnaball will be difficult to top.
Ed.: For another take on Magnaball, from a fan who not only attended, but was infamously acknowledged from the stage at Phish's first festival (Clifford Ball in 1996), please check out Aaron Stein's review.