Millenium Park Summer Music Series Announces Performers
By: Alex Wood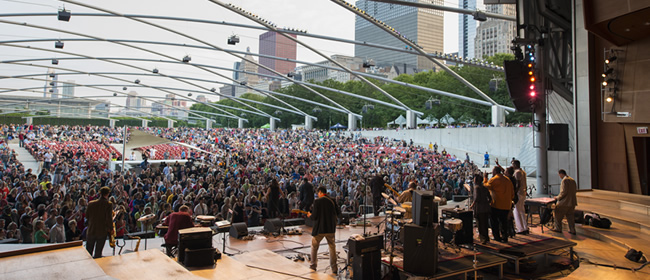 After previous reports that city officials would combine the Downtown Sound and Made In Chicago: World Class Jazz free concert series, the official lineup has arrived. With 18 concerts and more than 28 artists from around the world, Millenium Park's Pritzker Pavilion will be packed with good music in 2017.
Beginning June 12 and running through August 21, the series begins with multi-instrumentalist blues artist Otis Taylor, and ends on a yet-to-be-announced headliner.
The free concerts will take place on every Monday and Thursday throughout this time, with the exception of the weeks of large events like Lollapalooza and Taste Of Chicago.
Highlights from the series include alternative-country heavyweights Drive-By Truckers on July 20, New Orleans favorites Hurray For The Riff Raff on June 22, and progressive rock masters Jaga Jazzist on June 26.
Read the full lineup below and mark your calendars. 
Monday, June 12: Otis Taylor with Ben Sollee & Kentucky Native
Thursday, June 15: No BS! Brass Band with Dayme Arocena
Monday, June 19: Gregory Porter with Tomeka Reid Quartet
Thursday, June 22: Hurray for the Riff Raff with Matthew Santos
Monday, June 26: Jaga Jazzist with AfrotroniX
Thursday, June 29: Lady Wray with Zeshan B & The Transistors
Monday, July 10: Natalie Prass with Angelica Garcia
Thursday, July 13: Toto La Momposina with Xenia Rubinos
Monday, July 17: Big Thief with Overcoats
Thursday, July 20: Drive-By Truckers with Honeysuckle
Monday, July 24: Amadou & Mariam with Frank Waln
Monday, August 7: Gaby Moreno with Centavrvs
Thursday, August 10: Youssou N'Dour with Bassel & The Supernaturals
Thursday, August 17: Joshua Nelson with Tone Ross & INSPIRED
Monday, August 21: To Be Determined
The Park District has also announced a Tuesday night music series -- and although most are not expressly music related -- music lovers may enjoy The Blues Brothers, La La Land, Wayne's World and The Five Hearbeats (if you're alright with Kenny Loggins, Caddyshack).  And if you just like quality film in a unique location, here's the whole list.
June 13: "The Blues Brothers"
June 20: "Caddyshack"
June 27: "Julie & Julia"
July 11: "El Norte"
July 18: "La La Land"
July 25: "Network"
Aug. 1: "Bend It Like Beckham"
Aug. 8 "Full Moon" double feature:
• "Ghost"
• "The Shining"
Aug. 15: "Hidden Figures"
Aug. 22: "The Five Heartbeats"
10 a.m. Thursday, Aug. 24: "Snow White and the Seven Dwarfs" 80th Anniversary family daytime screening
Aug. 29: "The Princess Bride"
Sept. 5: "Wayne's World"
Screenings being at 6:30 pm.