New Developments For A Potential Phish @ Wrigley Field Appearance
UPDATE [2/3]: It's ON!
[Update 1/29] Another group of rumored dates still has Wrigley in play for both June & July.  Posted inline below.  Also, news about another Wrigley concert.
[Update 2/1] And another set of rumored dates... this time from the notorious AttyAtLoew on PT.  Wrigley still alive.
All circuits were lit up last month when we published a breakdown of the Phish at Wrigley rumor.   Now, there are some developments in the story which, depending on how you interpret them, may serve to confirm or deny the rumor's veracity.
New Date, Multiple Sources
Here's a little photo that made the rounds on social media earlier this week.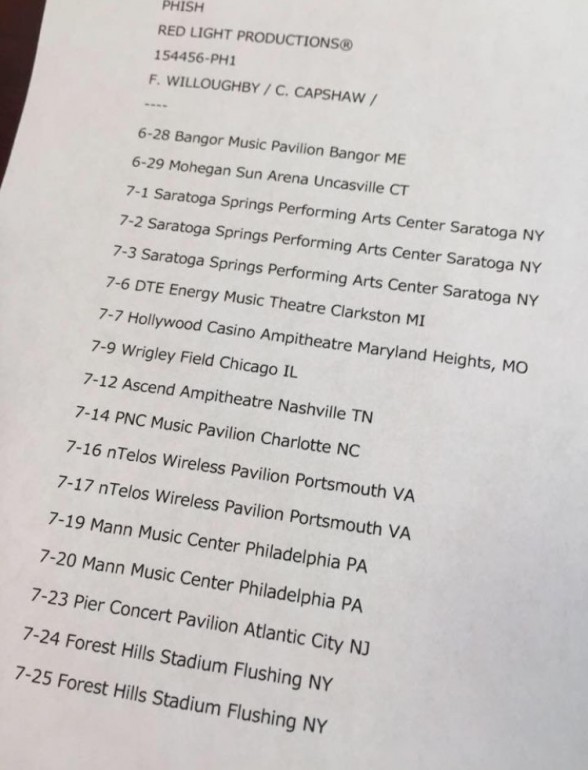 These types of things are always a bit strange and suspicious.  In what type of circumstance would one have the opportunity to snap a picture of a complete list of printed-out tour dates with the name of the band and its management prominently displayed?
[1/29 Update.  Another batch of rumored dates, this time from phishrumors.com via PT has 6/24&25 + the July date with a potential second July date]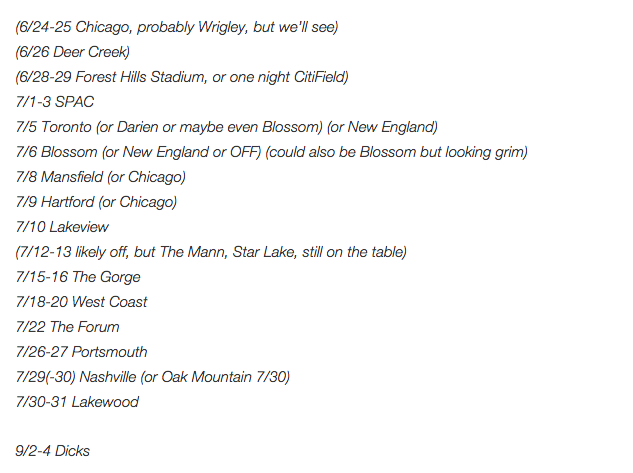 [2/1 Update: another set of dates]
In any case, there's Wrigley Field again, pushed now until July (yes, still when the Cubs are on the road...this time just before the All Star Break).  The rest of the dates seem like they follow the logic of a Phish tour, although even more highly concentrated in Northeast than typical tours.  Atlantic City, which had been heavily suggested in other rumors is on there, too, and the paucity of other Midwest, and even the total lack West Coast / Southern, dates, seems to bolster and stadium play in Chicago.
In itself… not newsworthy.  But the same information came to me (Wrigley on 7/9) from a different source.  That source had no knowledge of this photo or the remaining dates.  Seems to be more than just a coincidence.
Jamming, or Pearl Jamming?
Chicagoans rejoiced earlier in the week when Pearl Jam announced a pair of shows at the venerable North Side ballpark for late August.
But Phish fans with a passing knowledge of recent history, or a deeper understanding of local ordinances may have had reason to panic.
In 2013, the Chicago Cubs and the City of Chicago reached an agreement by where no more than four concerts were to be held at the venue over the course of a season.  With previously announced shows by James Taylor & Jackson Browne (6/30), and Billy Joel (8/26), the pair of Pearl Jam shows brings the season's total to four. [1/29 Update.  Country star Luke Bryan is also scheduled to perform on 8/27].
Check out the language in the ordinance.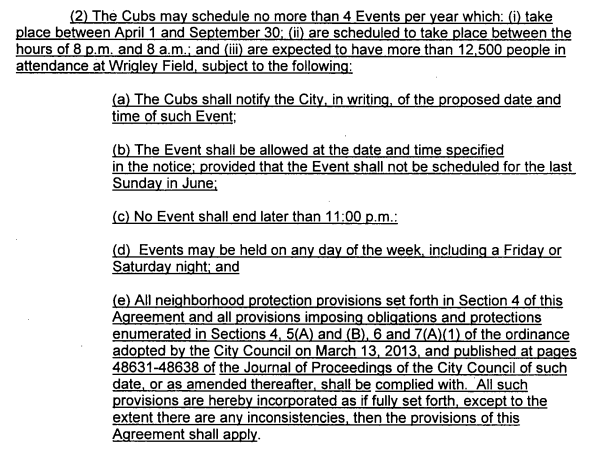 So should we give up hope?  Not entirely... A bit further in that ordinance is a bit of fine print.

Meaning a fifth concert is possible.  But only if the Cubs give up a night game. [1/29 I guess fifth is already announced, but what about sixth & seventh?!]
Or do they even have to?
Looking at the Cubs published schedule there are 39 games that are presently scheduled with 7:05, 7:15 or To Be Determined.  The five TBD games are typically listed on Sunday and are versus the Cardinals and Pirates, division opponents and fellow 2015 NL Playoff teams – likely as they are potential candidates for ESPN games of the week, which airs on Sunday nights.
So even if all five of the TBD games were selected for ESPN night games, the Cubs will play 39 night games, four less than the 43 allowed via the ordinance.
Now granted, with 81 home games, and crazy spring weather – early season day games are sometimes postponed and rescheduled for nights later during the year.  Is four enough wiggle room?  Will the Cubs give up a potential night game if push-came-to-shove to allow for an additional concert?
With the Cubs looking to be big time contenders in '16, maybe those seats will be filled regarless of when potentially rescheduled games take place.  Maybe they can take a gamble on scheduling another concert.   Will it be Phish?
Stay tuned.