Night Three of Andrew Bird's Gezelligheid Run Offers Contrast with Tift Merritt Collaboration (Setlist / Review 12/11/13)
Words / Photos: Alex Wood
Despite sharing a similar setlist to the previous night's show, Andrew Bird's third Gezelligheid date at the Fourth Presbyterian proved to be another unique experience in his "cozy" concert series.
The set began with Bird performing Pulaski At Night tracks "Hover" and "Ethio Invention," the performer carefully combining swooping legato violin loops to create a swelling intensity. Runs of notes plucked on the violin became peculiar melodies for Bird to solo over indefinitely.
Every decrescendo is followed by another crescendo. Every melody becomes a harmony.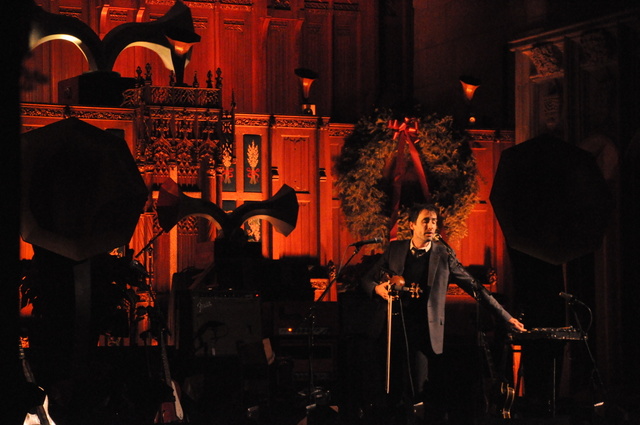 As the applause fades following the instrumental introduction, Bird fumbles with his pedals on stage, nearly losing balance trying to manage his elaborate setup. Finally looking up, he smiles at the crowd and breaks into the grandiose build-up of "Hole In The Ocean Floor," a long, dramatic song that feels like a precursor to Bird's recent EP I Want To See Pulaski At Night.
The soft, sad melodies play like a funeral requiem, filling every molecule of free space the gorgeous venue offers with its lush, warm sound.
In a sense, this first portion of Bird's performance is how Gezelligheid will always sound in my mind, its delicate-yet-elaborate somber tone fitting the warm but dim 140-year-old venue.
And perhaps Bird feels similarly.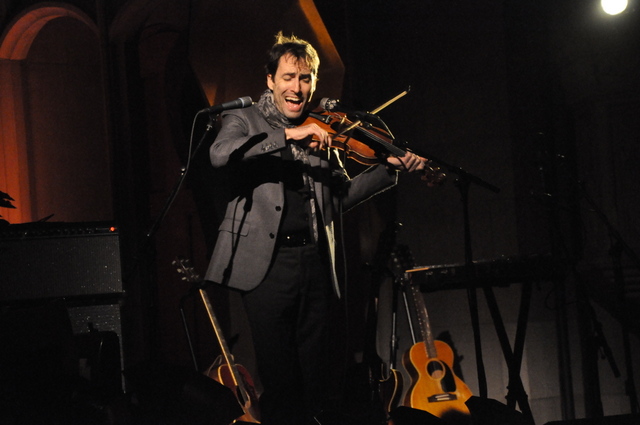 After performing "Why," a track that provides a sort of comic relief amidst the darker, heavier tracks, Bird said, "I never saw that song as part of the Gezelligheid experience. But it's kind of therapeutic."
But as should be the case for Gezelligheid, anything goes.  Bird returned to a more serious tone for "Lit From Underneath," an instrumental he referred to as the "theme from Gezelligheid" due to having played earlier versions in years past.
Even more pop-oriented tracks like "Plasticities" were given extra depth by the songwriter. Bird created a percussion rhythm by tapping his violin with his bow, using this loop to layer roughly ten violin parts on top of it, creating an enormous sound in size and scope. By the end, Bird was on his knees making noise with the pedals, experimenting as he might when practicing alone.
Bird called collaborator and recent band member Tift Merritt on stage for the classic combination of "Sweet Bread" and "Dark Matter," her tremolo-heavy, tattered orange and white acoustic guitar adding a dark, spacious background to Bird's performance.
Predictably, Merritt's presence throughout the remainder of the show led the music in a different direction than Bird's solo performance the night before.
"Three White Horses," a highlight of Tuesday's solo show, was shorter and more structured with Merritt's addition and none the better for it.
Tift Merritt's guitar playing remained in the back of the mix, sometimes nearly inaudible over Bird's violin, making vocals her primary contribution.
Blind Willie Johnson's "Jesus Gonna Make Up My Dyin' Bed" found the two trading vocals like a song by The Civil Wars, Bird stomping loudly on the floor for rhythm. Though less sparse and emotive than Bird's solo performance, the song's effortless change of tone was a testament to Merritt's value.
Merritt's biggest contribution came during "Dear Old Greenland," harkening back to the days of Andrew Bird's Bowl Of Fire. With Bird contributing little more than strummed chords, Merritt's vocals took the spotlight for a beautiful rendition of the song.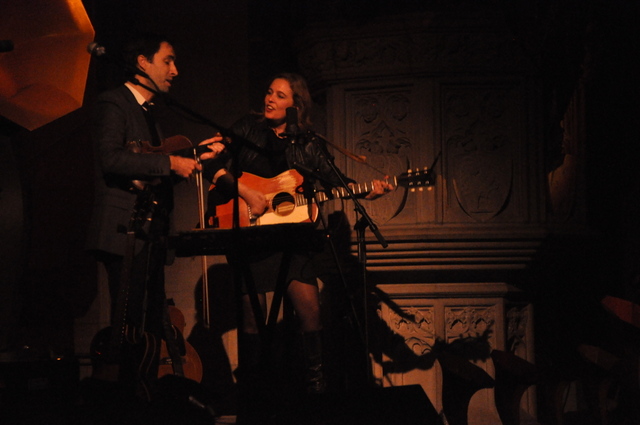 The comfortable, strong chemistry between Bird and Merritt matched the feel of the show, Merritt giggling and speaking to Bird as if no one else was in the room. She constantly stared Bird in the face, swaying dramatically to the music even when she wasn't performing.
Though Merritt's rhythm guitar provided additional opportunities for violin solos, it often restricted Bird from looping his tracks, giving their performances a more straightforward folk feel. Instead of layering his violin lines, Bird would switch from strumming to bowing to plucking over Merritt's simple chord structures.
Songs worked best when leaning on the strength of Merritt's vocal harmonies, such as the haunting, slow take on "Orpheo Looks Back" and Carter Family cover "When The World's On Fire." Her harmonies on Townes Van Zandt's "If I Needed You" emphasized the aching sorrow the songwriter intended in the original.
While songs with Merritt would never grow to the epic, massive proportions of the aforementioned solo "Plasticities," her presence effortlessly changed the vibe of the show to the coffee-shop folk of Bird releases like Hands Of Glory.
It wasn't until Merritt left stage for Bird's closing performance of "Weather Systems" that the show returned to the delicate tone of the opening songs, a fitting ending that naturally left the audience wanting more.
Setlist:
1.) Hover I & II
2.) Ethio Invention No. I & II
3.) Hole In The Ocean Floor
4.) Why?
5.) Lit From Underneath
6.) Plasticities
7.) Darkbreads
8.) Three White Horses
9.) Pulaski At Night
(intermission)
10.) First Song
11.) Jesus Gonna Make Up My Dyin' Bed (Blind Willie Johnson cover)
12.) Dear Old Greenland
13.) Waiting To Talk
14.) Cathedral (Handsome Family cover)
15.) Give It Away
16.) Headsoak
17.) Orpheo Looks Back
18.) Danse Caribe
19.) If I Needed You (Townes Van Zandt cover)
(encore break)
20.) When The World's On Fire (The Carter Family cover)
21.) Weather Systems