Notes From The Jazz Underground Turns Two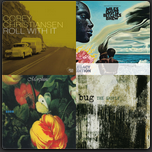 This installment of
Notes From The Jazz Underground
features the playlist from September 27th, which marked Paul's 2nd anniversary doing the show.  After launching the program Sunday afternoons against Paul Buckley's nationally renown jazz radio show, Abella was able to find his voice on Friday evenings.
This week's playlist features a bit of everything that makes the program special.   New releases.  Old classics.  Local bands.  Crossover acts like Phish and Zappa.  A crazy jazz remix.  It's all here.  A perfect representation of why this block was once referred to amongst DCB staffers as "Paul's Rubber Room".
Notes From The Jazz Underground runs Friday nights on WDCB 90.9 FM.
Complete Playlist
| | | |
| --- | --- | --- |
| Track | Artist | Album |
| Sideways | Corey Christiansen | Roll With It |
| John McLaughlin | Miles Davis | Bitches Brew |
| You Look Like Rain | Morphine | Good |
| Dark Matter | Bug | The Gadfly |
| Miles Jam #3 (featuring Charles Gayle) | Rollins Band | Weighting |
| Fly Me To The Moon (Kaskade Remix) | Astrud Gilberto | Verve Remixed: The First Ladies |
| Lowell | Kneebody | The Line |
| Willie the Pimp | Frank Zappa | Hot Rats |
| Sunrise | Trombone Shorty | Say That to Say This |
| Code MD-2 | Frank Russell | Circle Without End |
| Wages of Weirdness | The Dixie Dregs | Live at the 1978 Montreux Jazz Festival |
| Ostinato | Herbie Hancock | Mwandishi: The Complete Warner Brothers Sessions |
| Don't Let the World Pass You By | Spare Parts | Blue Minor |
| Tryin' Ain't Dyin' | Eddie Harris | That Is Why You're Overweight |
| Footloose and Fancy Free | Bill Bruford's Earthworks | Footloose and Fancy Free |
| First Tube | Phish | Farmhouse |